Southside Kitchen may earn a commission through affiliate links in this post. Read disclosure.
I really enjoy a good sauce with my food and today I'm sharing my Roasted Capsicum Sauce recipe. It's very easy to overlook sauces but they offer an easy opportunity to elevate a simple dish. This roasted capsicum sauce has a rich, smoky flavour and is a great accompaniment to dishes where you would normally serve tomato sauce. I always make this sauce when I make my Beef Sausage Rolls as it's the perfect flavour combination. Trust me, everyone will want to know how it's made when you serve this sauce at a party!
Overall this is a very easy recipe to pull together. All you need is a roasting pan and a food processor. There's very little prep work required and the food processor does all the heavy lifting. What more could you ask for? Let's jump right in…
Preparing the sauce ingredients
The first step is to prepare all the ingredients we'll be using. Start by softening and removing the skin of the almonds. This can be done in the same step by simply filling a bowl with boiling water and letting the almonds stand for about 10 minutes. Then drain away the water and squeeze the nuts between your fingers to remove their skins and set them aside.
Next it's time to roast all the red ingredients. I say red specifically because you definitely want to use red capsicums for this sauce. If you use the green or yellow varieties, it affects the final sauce colour. Remember, the eyes eat first! A murky brown sauce is nowhere near as exciting to eat as a rich orange one. Place the chillies and capsicums on a small roasting pan and drizzle with a little olive oil. Roast in a 200ºC oven for about half an hour – or until the capsicum is starting to brown on top.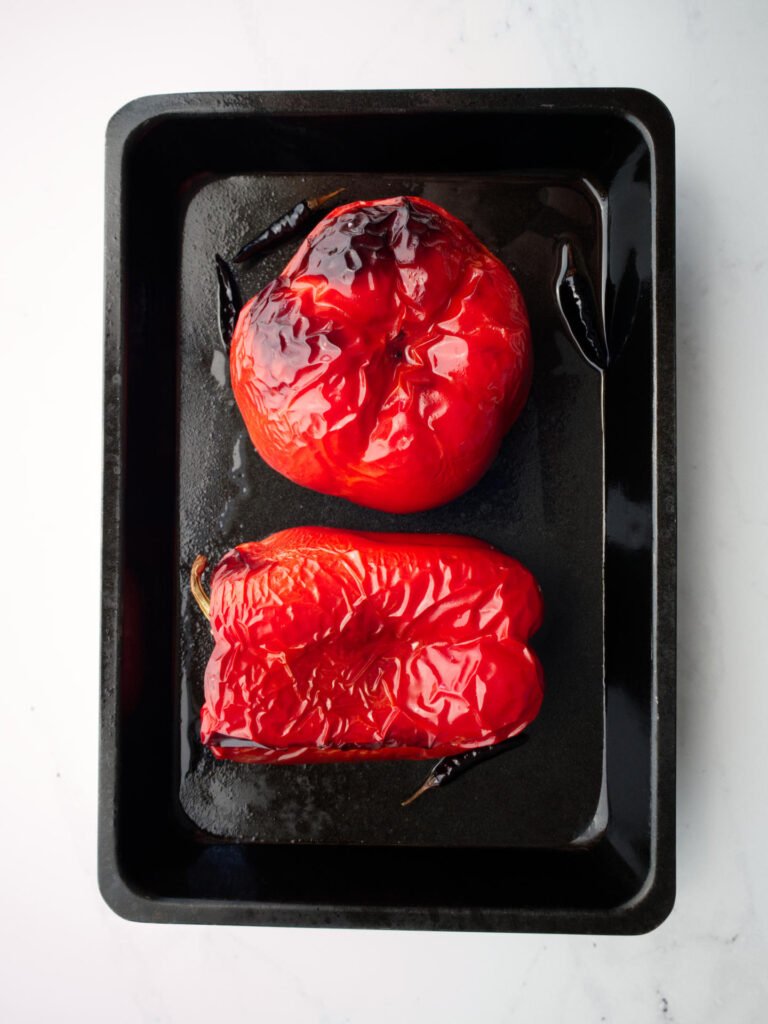 You'll see that the chilies will go quite black, but that's okay. At this point, add in the cherry tomatoes and shake the pan to coat them in the residual oil. The trick is not to soak everything in olive oil. We are aiming to soften and char everything rather than fry it. The roasted capsicum contains a lot of natural juices and we don't want to drown that out with the olive oil.
Roast in the oven for another 15 minutes, or until the capsicums are starting to blacken on top. Don't be too concerned about the black skins – the capsicum flesh underneath will be fine. Just be sure to roast for long enough so that the skins split and can easily be removed.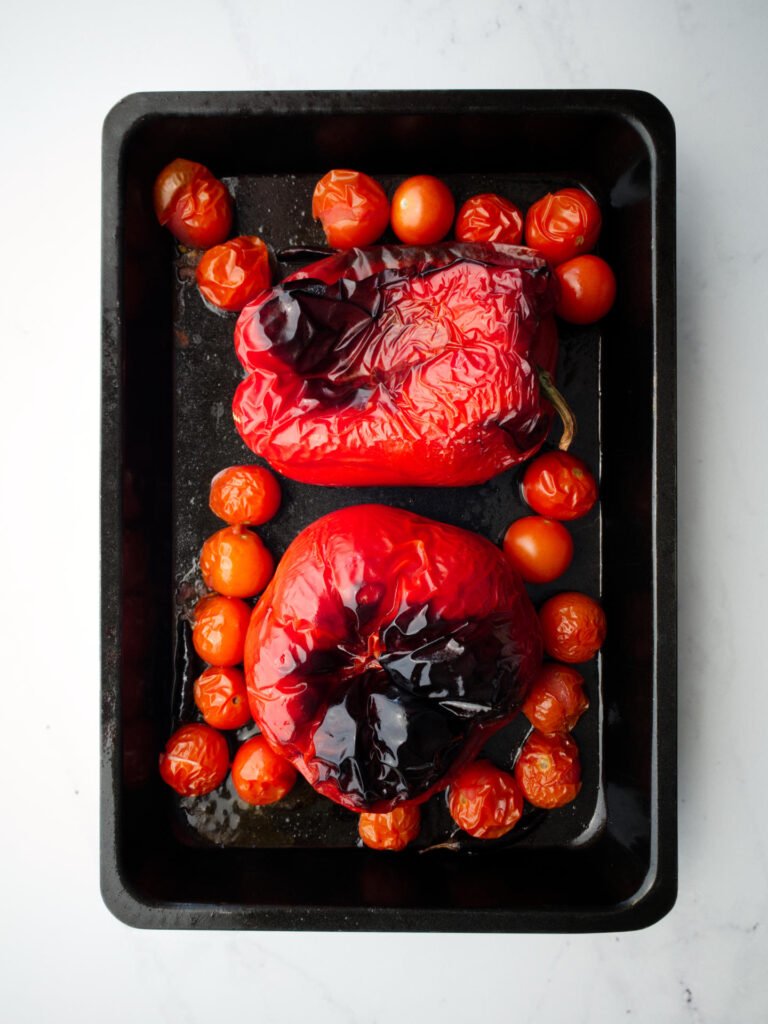 Remove the tray from the oven and set aside for a good 5-10 minutes to cool.
⭐️ Enjoying this recipe? Subscribe to my newsletter to be one of the first to receive my latest updates direct to your inbox.
Time for whizzing
This is the fun part! It's time to transfer everything to the food processor. Before doing so, peel and de-seed the capsicums. This can be a little tricky as the capsicums will be slippery and hot from the oven. I like to use a chopping board with a gutter as the juices will spill from the capsicum and can make a bit of a mess.
Work slowly and carefully by peeling off the skin in strips. Some bits will remove very easily, others can be quite stubborn. Remove as much as you can, but don't be too fussy if there's the odd piece that can't be peeled off. Be sure to remove the stem and any seeds as these do not go into the final sauce.
Transfer the capsicums to the food processor. Keep as much of the capsicum juices as you can, but again don't be too fussy if you don't get it all. Too much liquid will make the sauce too runny. I generally just go with whatever is in the capsicum when I transfer it to the food processor stays and anything that fell out onto the board stays out.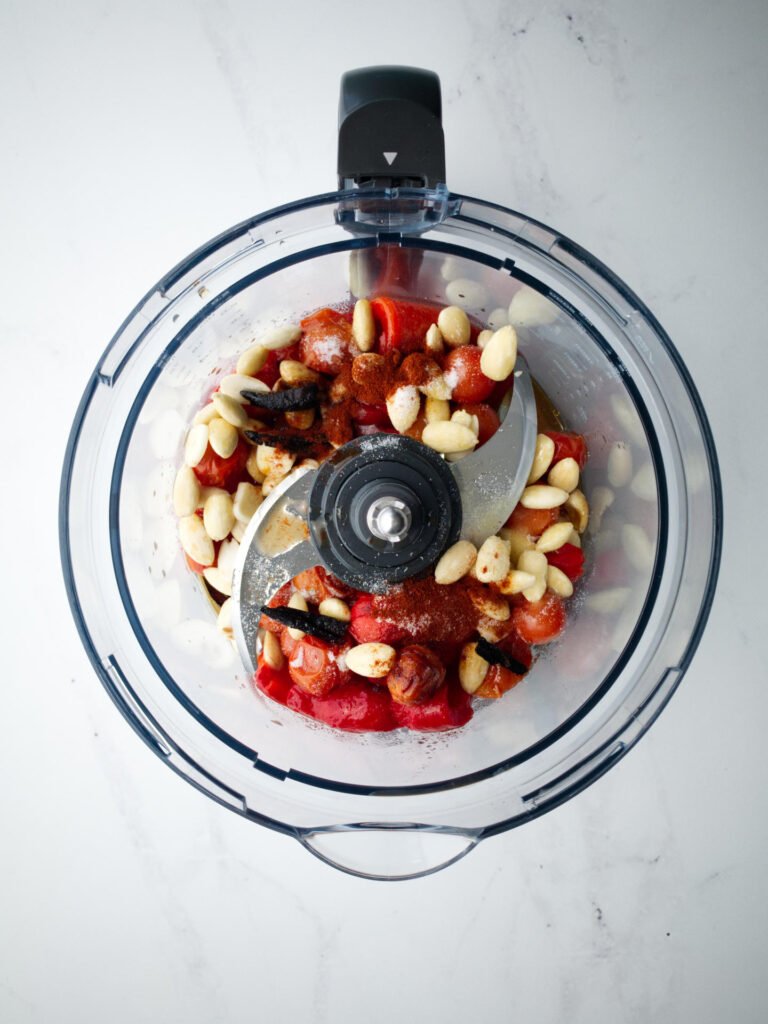 I also like to deseed some of the chillies at this point. You can make the sauce as mild or spicy as you like. If you put the chillies in with no seeds, the sauce will be a warm flavour and will hardly taste spicy at all. It's a great option if you have fussy eaters to please.
The level of spice depends a lot on the heat and type of chillies you use and it may take a bit of experimenting to get the flavour right. Keep in mind that if you add all the seeds in, the sauce will be hot. It comes down to personal preference and your particular use for the sauce. You can always add more chilli in later if you think it needs it, but you can't take them out!
I grow my own chillies and they are quite spicy so I usually deseed about half of them and find that this is a good level of heat. The final sauce is mildly spicy but has a well balanced flavour that partners with most things.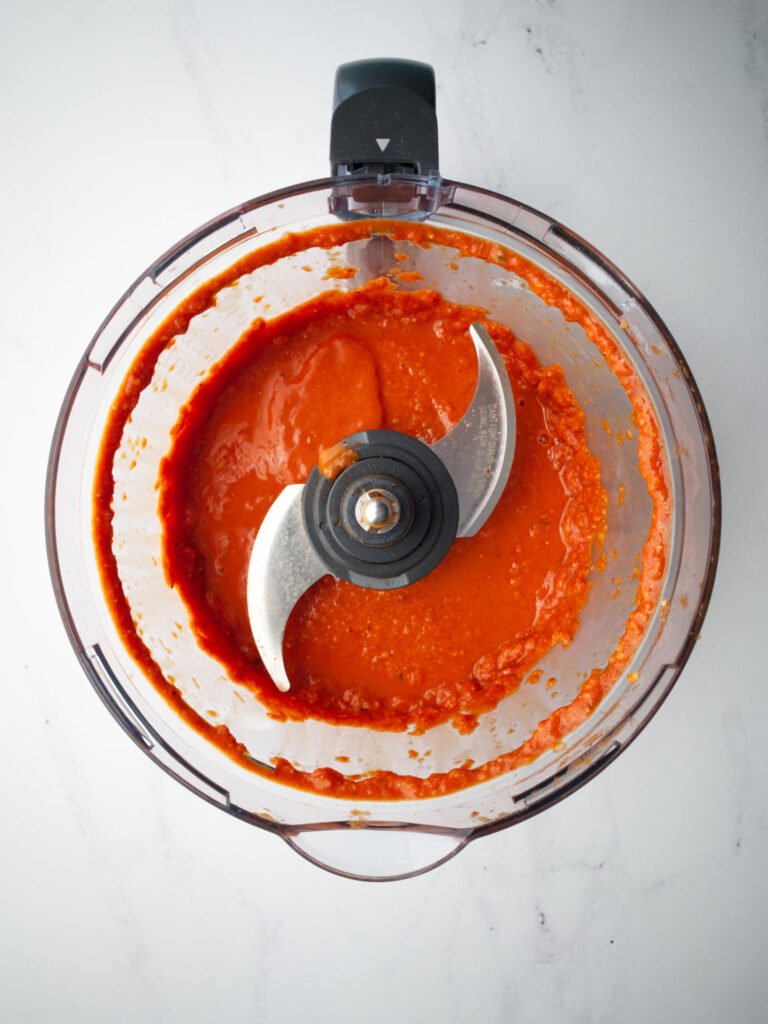 Add in all the remaining ingredients and blend until smooth. The liquid smoke is my secret ingredient as it adds an extra hint of smokiness that gives the final sauce an edge that you don't get from smoked paprika. The roasted capsicum sauce should have a nutty consistency and not be too runny. Taste and adjust the seasoning as necessary before transferring to a serving bowl.
Smoky roasted capsicum sauce
I like to serve the sauce in a ramekin alongside the main dish and top it with a little extra smoked paprika for garnish. The sauce can be served immediately or stored in the fridge for up to five days. I prefer to chill it overnight as it helps to thicken the sauce before serving. It's also an easy recipe to prepare in advance so you don't have the headache of trying to make this on the day you want to serve it.
I hope you enjoyed this recipe for my Roasted Capsicum Sauce. Be sure to let me know if you try it and what you like to serve it with. The sauce goes great with my Beef Sausage Rolls or can be used as a fun burger topping in my Kangaroo Burgers with Potato Wedges recipe.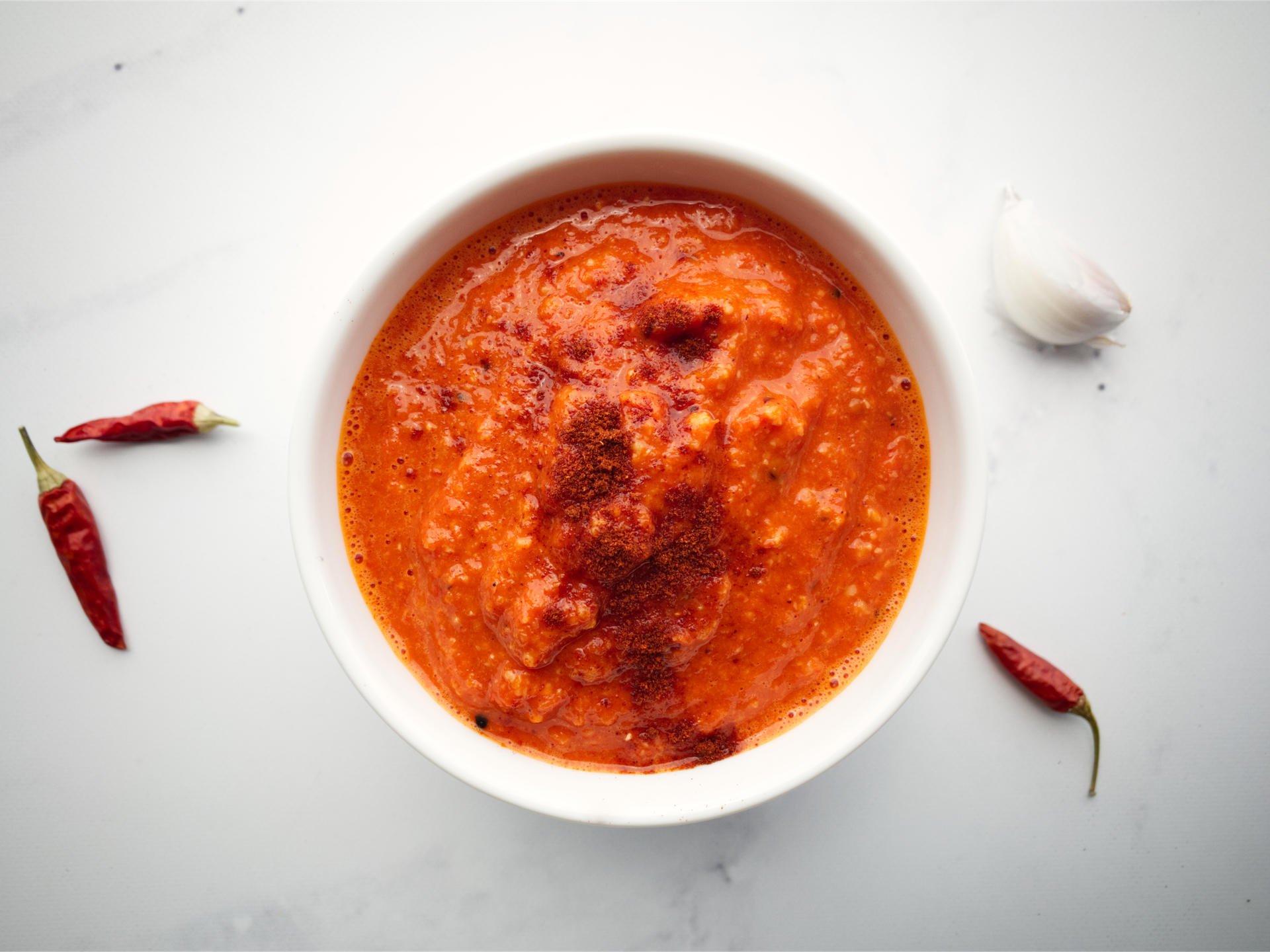 Roasted Capsicum Sauce
This simple roasted capsicum sauce has a rich, smoky flavour that is a great replacement for plain old tomato sauce.
Ingredients
70

g

almonds

2

large

red capsicums

4

small

red chillies

2

tsp

olive oil

,

for roasting

150

g

cherry tomatoes

1

clove

garlic

,

roughly chopped

1

tbsp

olive oil

2

tsp

caster sugar

2

tsp

sherry vinegar

1

tsp

liquid smoke

1

tsp

smoked paprika

sea salt

,

to season

black pepper

,

to season
Instructions
Preheat oven to 200ºC. Soak the almonds in boiling water and stand for 10 minutes to soften. Drain the water, remove the skins from the almonds and set aside.

Place the capsicums and red chillies in a small roasting pan and drizzle with olive oil. Roast for 30 minutes or until the capsicum starts to brown. Add the cherry tomatoes to the pan and roast for a further 15 minutes. Remove from the oven and stand for 5-10 minutes to cool.

Peel the capsicum, remove the seeds and transfer the flesh to a food processor. Deseed the chillies depending on how spicy you want the sauce and transfer to the food processor. Add the remaining ingredients and blend until smooth. Taste and adjust seasoning as necessary.

Transfer to a serving bowl and garnish with a pinch of smoked paprika. Serve immediately or refrigerate until required.
Calories:
85.4
kcal
,
Carbohydrates:
6.8
g
,
Protein:
2.3
g
,
Fat:
6
g
,
Saturated Fat:
0.6
g
,
Sodium:
122.4
mg
,
Potassium:
213.8
mg
,
Fibre:
2
g
,
Sugar:
3.8
g
,
Vitamin A:
1370.2
IU
,
Vitamin C:
71.3
mg
,
Vitamin K:
6.3
µg
,
Calcium:
24.9
mg
,
Iron:
0.7
mg