Southside Kitchen may earn a commission through affiliate links in this post. Read disclosure.
Today I'm making a simple homemade tomato-based Pizza Sauce that will take your pizzas to the next level. The last few months I've been working on perfecting homemade pizza. Historically pizza has one of those things that I'll order in, but with the current pandemic, I wanted to learn how to make something better at home. I cover how I make Pizza Dough in a seperate post, but let's jump in and take a look at the base sauce.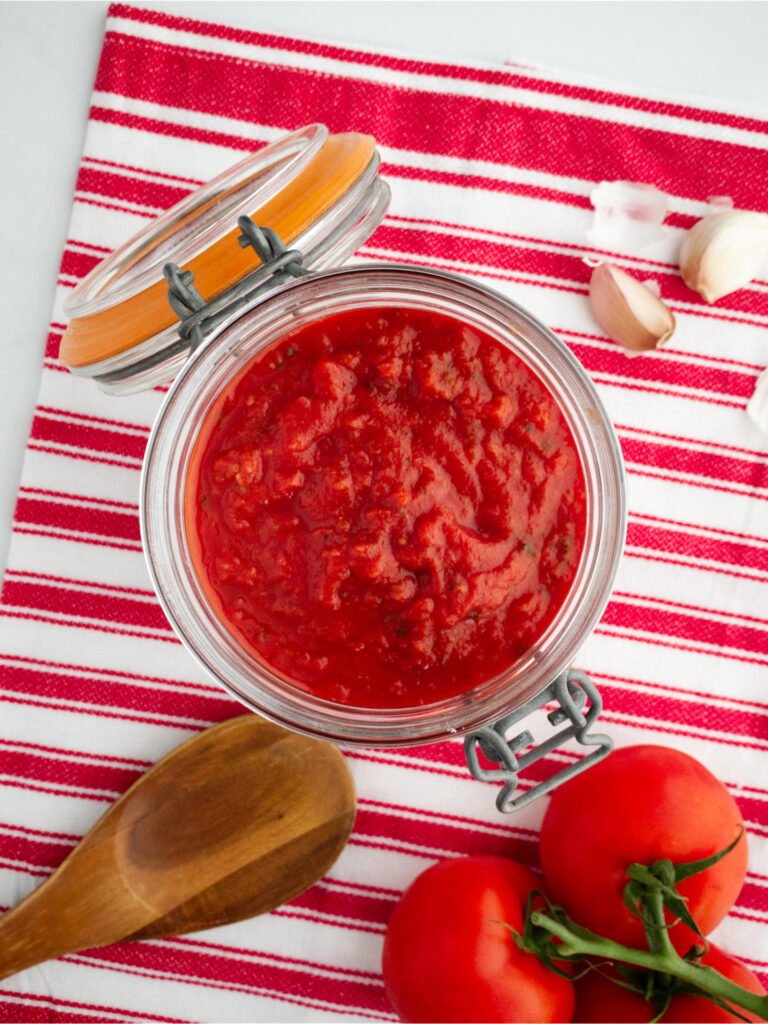 The sauce on a pizza is the glue that holds everything together. It's a great opportunity to add flavour and by making the sauce yourself, you have complete control. One of the biggest complaints I have about store-bought pizza sauces is that they are very acidic. They have lots of additives, usually a lot of salt, and a very thick texture.
This recipe is so easy to prepare. The ingredients cost about the same as one jar of store-bought sauce and the yield is up to three times that amount. It's a no brainer and it tastes great.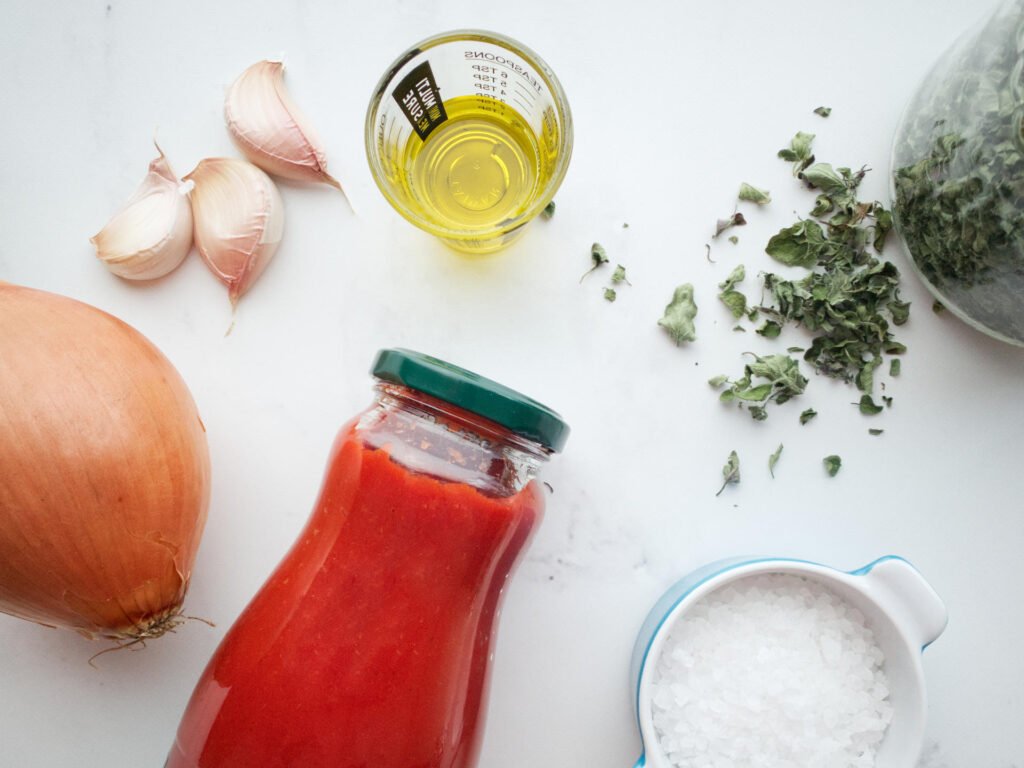 High quality tomato passata is key
Tomatoes are the essential ingredient in pizza sauce. There's scores of varieties of tomatoes and pre-made sauces so the key is to use the best quality you can find. Passata is the name given to thick tomato sauce, but not all are created equal. Many mass produced passatas are quite watery and those ones should be avoided. A good quality passata should have a thick texture and a viscous consistency.
You can of course make your own passata from fresh tomatoes. To do this, roughly dice the tomatoes and cook them in a saucepan for a few minutes on a medium heat to soften. Transfer the cooked tomatoes to a moulie and puree them to a sauce consistency. Add a generous pinch of salt and follow the recipe as normal.
If passata isn't available, the other option is to use tinned tomatoes. This is the least preferable option but it's still better than a store-bought pizza sauce! Again, use a good quality product that isn't too watery.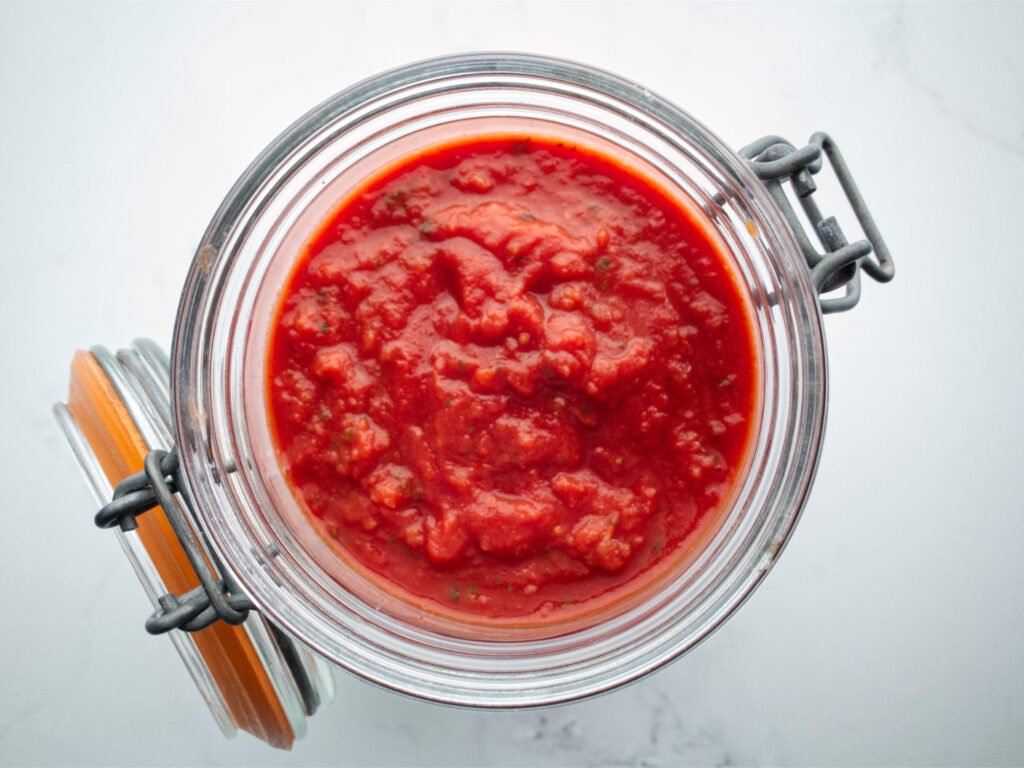 ⭐️ Enjoying this recipe? Subscribe to my newsletter to be one of the first to receive my latest updates direct to your inbox.
Making simple pizza sauce
Pizzas are by their very nature simple. The ingredients are on display to speak for themselves and the base sauce is no different. There's no need to add a dozen herbs and spices into the sauce as it just makes the flavour too complicated. Garlic, onion, oregano and basil are plenty, with a little salt and olive oil to round everything out. If you have an allergy to onions, you can very easily make this recipe without – it will just have a slightly smaller yield.
I also purposefully keep the salt content relatively low. The passata already has salt in it and so I only add an extra half a teaspoon to the final sauce. It's important to keep in mind that when this sauce ends up on the pizza there's usually other salty ingredients like the dough, mozzarella or olives. If the sauce is too salty it will end up ruining the overall flavour of the pizza.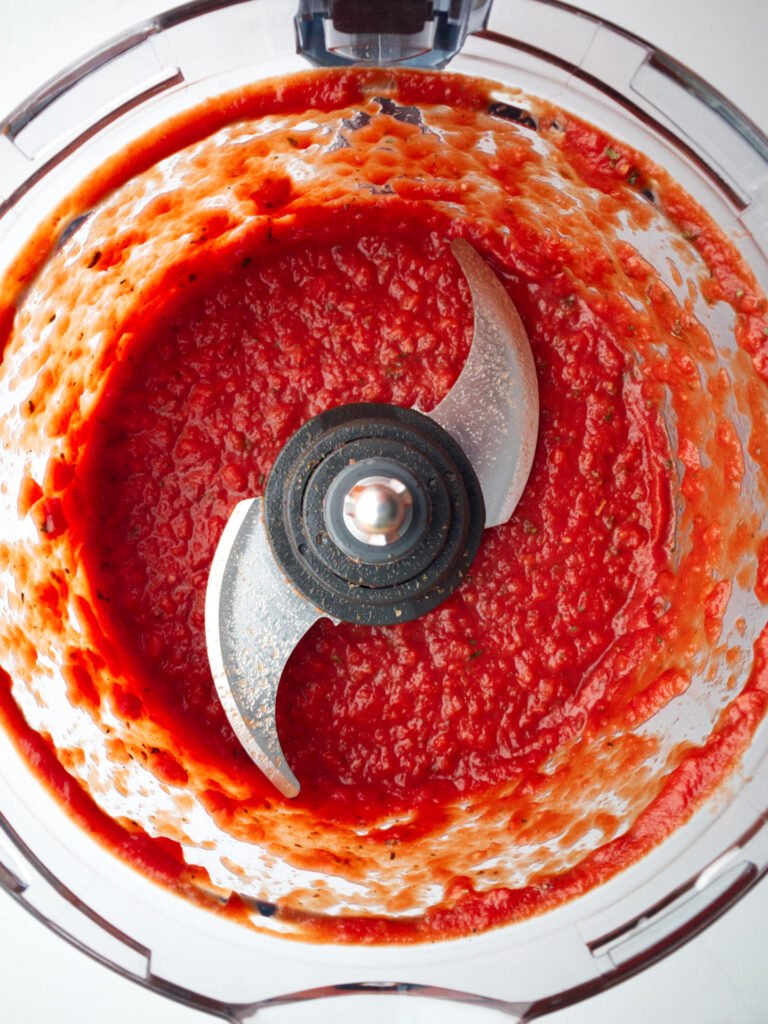 Finally, there's no need to cook this sauce. The fresher the sauce is when it goes onto the pizza, the better the tomato flavour will be. It easily cooks when it's in the oven and it's one less step to have to worry about. Combine all the ingredients in a food processor and blend them together. It couldn't be simpler!
I store my sauce in a one litre mason jar. It will keep fresh in the refrigerator for about 10 days. Each batch of this recipe makes about a dozen 30cm pizzas so it's great for feeding a crowd. If you don't need to use it all right away, it can also be frozen for up to a couple of months.
Making your own homemade sauces is a great way to take control and improve the flavour of your food. If you enjoyed this recipe, be sure to check out my Tartare Sauce and Massaman Curry Paste recipes for more cooking inspiration.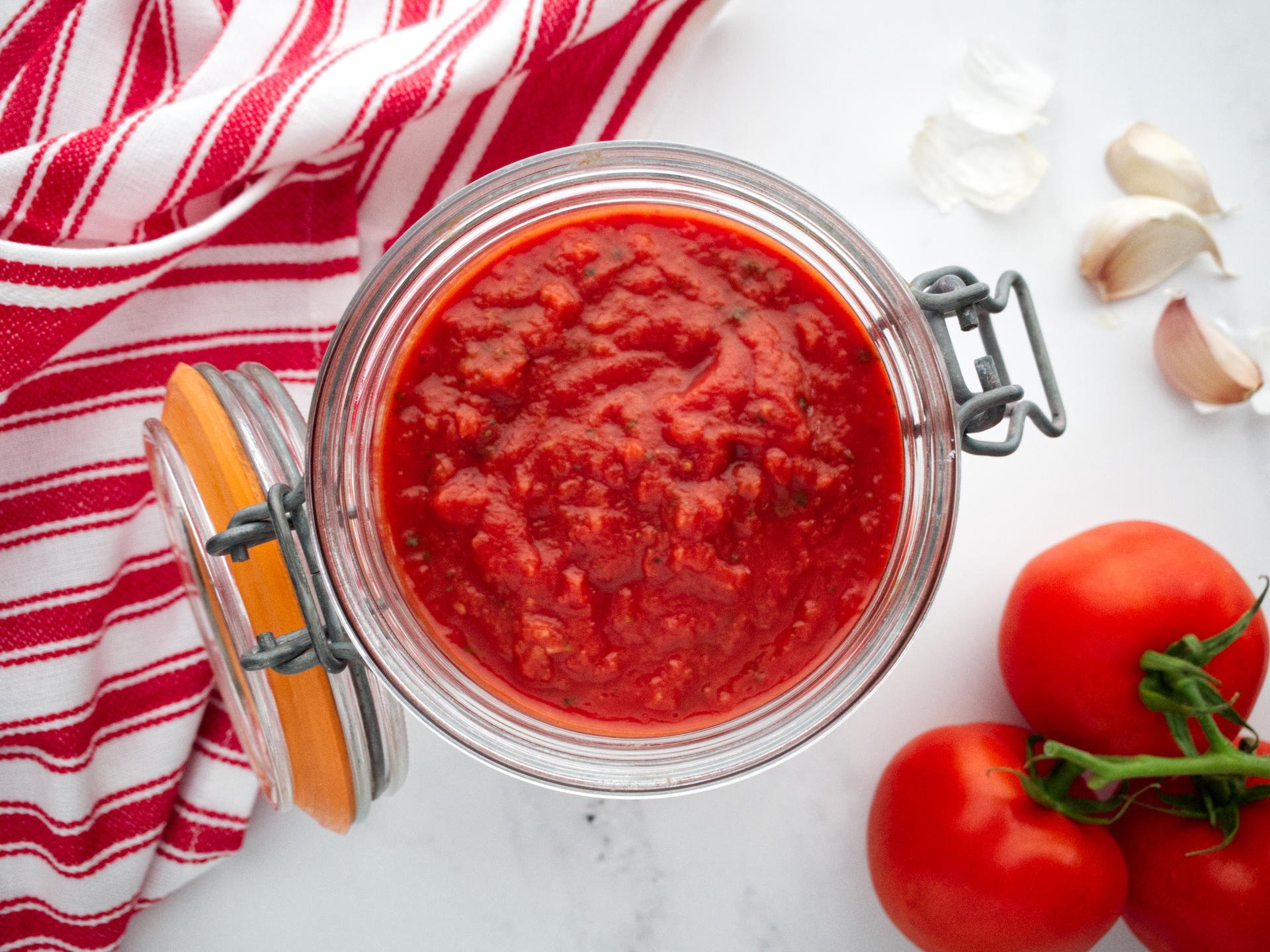 Pizza Sauce
A simple and delicious homemade, tomato-based Pizza Sauce recipe that will take your pizzas to the next level.
Ingredients
700

ml

tomato passata

,

good quality

1

medium

brown onion

,

roughly diced

3

cloves

garlic

,

crushed

1

tbsp

olive oil

1

tsp

dried oregano

1

tsp

dried basil

½

tsp

sea salt
Instructions
Combine all ingredients in a food processor or blender. Blend on low for 30 seconds or until the sauce has an even consistency.

Transfer the sauce to a large mason jar or airtight container and refrigerate.
Notes
Pizza dough: My Pizza Dough recipe is the perfect compliment to this sauce and will have you cooking the best home-made pizzas in no time.
Calories:
29.5
kcal
,
Carbohydrates:
4.3
g
,
Protein:
0.9
g
,
Fat:
1.3
g
,
Saturated Fat:
0.2
g
,
Sodium:
403.2
mg
,
Potassium:
209.5
mg
,
Fibre:
1.1
g
,
Sugar:
2.9
g
,
Vitamin A:
252.6
IU
,
Vitamin C:
5
mg
,
Vitamin K:
4.3
µg
,
Calcium:
14.2
mg
,
Iron:
0.7
mg