Southside Kitchen may earn a commission through affiliate links in this post. Read disclosure.
Today I'm jumping back into the world of potatoes with a recipe for Roast Potatoes with Sage and Garlic. I mentioned how much I love potatoes in my Duck Fat Hasselback Potatoes post but this recipe is a much simpler alternative. While the Hasselback potatoes with blue cheese are a bit fancy, these roast potatoes are more traditional and partner with almost anything. Well not anything, but most things that you'd eat potatoes with, put it that way!
There's not a lot of roast potato recipes that cook the potato whole and that's what sets this method apart. It gives amazing results, with soft fluffy potatoes that are crispy and crunchy on the outside. They're so easy to put together and there's a lot of scope for flavour variations. When picking the right potatoes for this recipe, aim to get ones that are on the larger side. If they're too small they won't work as well in the flattening process. I usually find that the potatoes are filling enough that one per person is plenty, so use that as a guide if scaling the recipe.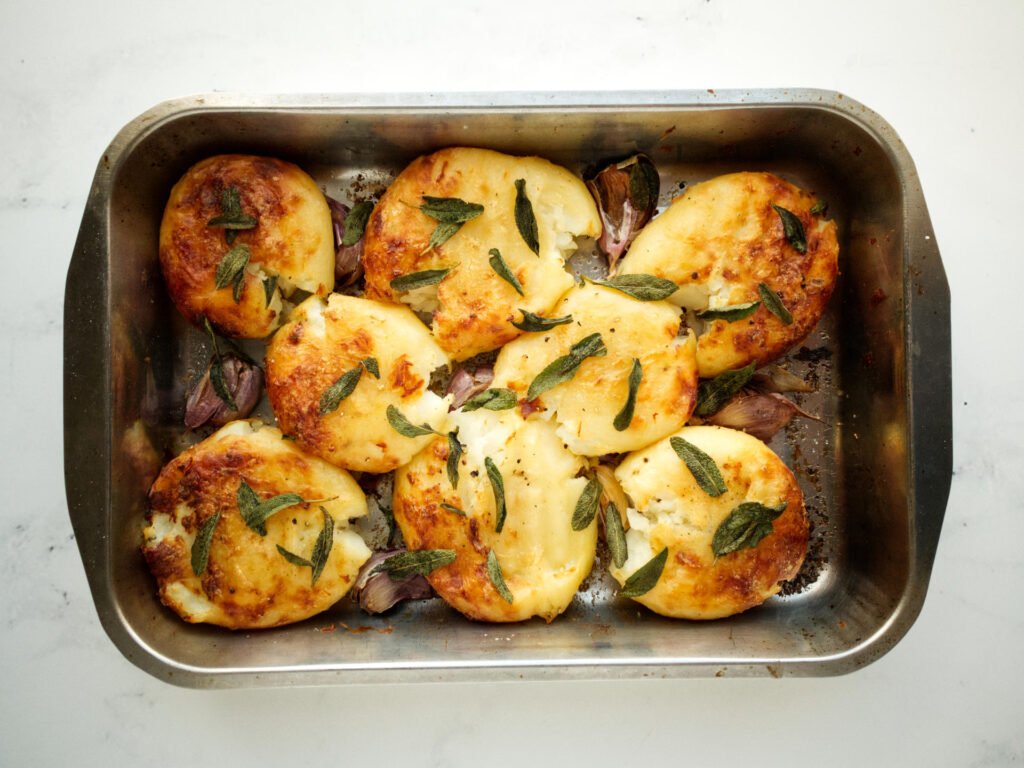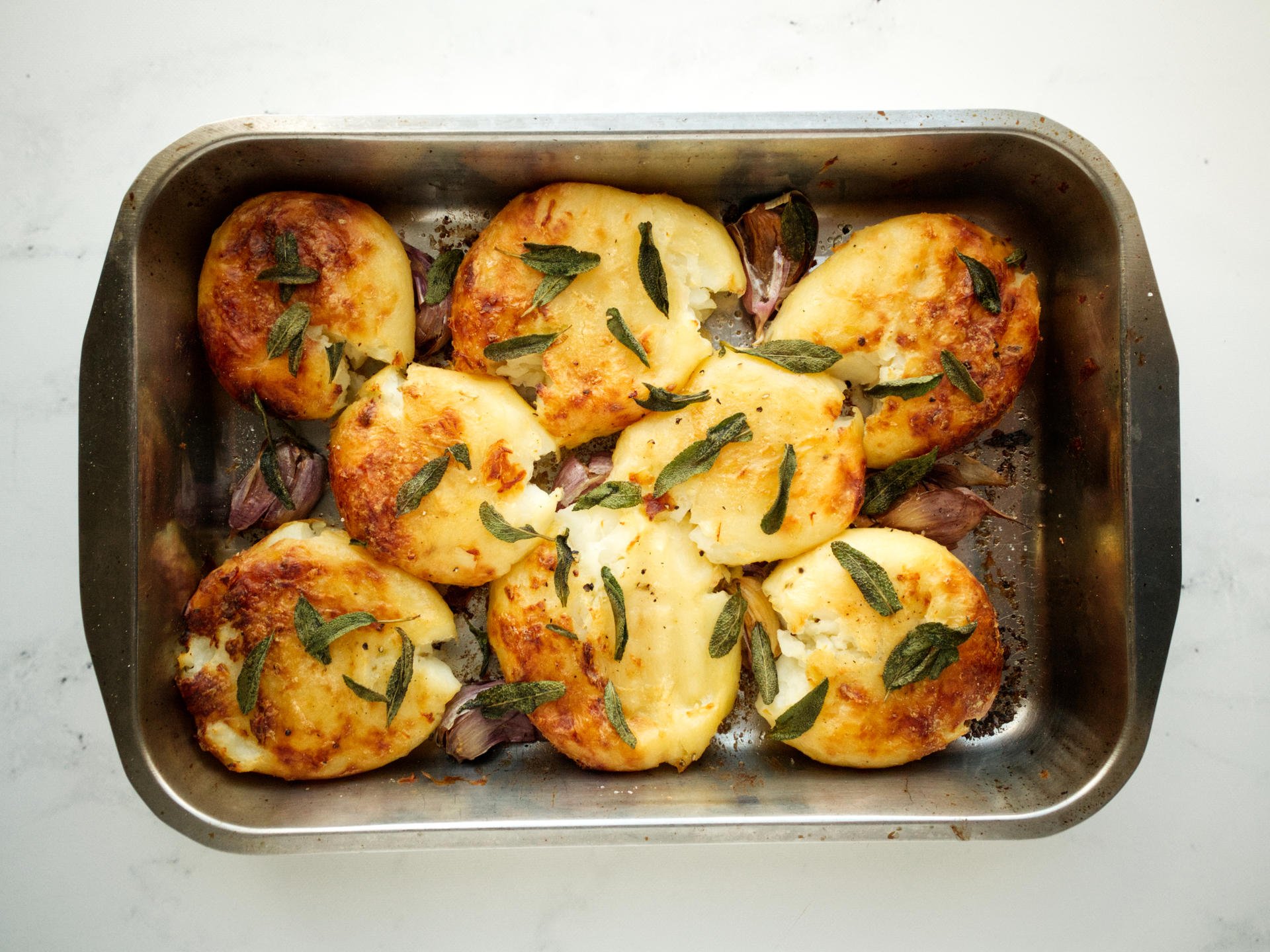 Sage and garlic, optional
Sage and garlic is a great combination to go with roast chicken or turkey. It's the way I'll usually cook this recipe and that's why I've used it here. I'll often cook these to go with Christmas lunch. If you want to serve them with red meat, consider swapping the sage for rosemary or thyme. You could also place them alongside fish with some dill.
It really comes down to pairing up the herbs with whatever you're serving it with. If you're using rosemary with your lamb, it will help tie everything together using rosemary with the potatoes. Experiment a little and see what combination works for you.
It's also possible to swap out the fat. I'm using butter because it adds a great flavour and it gives the best golden colour. You can easily swap it out for olive oil or animal fat. I've made these several times using duck fat and it's a good combination. It's just a bit harder to get a rich gold crust, so you may need to increase the cooking time by about 30 minutes or increase the oven temperature to compensate.
I'll sometimes cheat a little and add a dash of olive oil on top of my duck fat potatoes towards the end of the cooking time to give them a little helping hand. There's no harm in leaving the potatoes in the oven for longer to achieve the crispy shell, as you can't really overcook them.
⭐️ Enjoying this recipe? Subscribe to my newsletter to be one of the first to receive my latest updates direct to your inbox.
Fluffy roast potatoes
To make these roast potatoes, start by peeling and parboiling them in salted boiling water for about 15 minutes. It's important to cook the potatoes well at this point. As they are whole, they need more cooking time than you would for diced potatoes. It's also crucial to soften them so that they can be chuffed up in the next step. A good guide is to test with a knife while boiling – if you can easily insert it without too much resistance, they're ready.
The trick to making these potatoes soft and fluffy on the inside is by drying them out before roasting. After parboiling, let the potatoes stand in a colander for a couple of minutes. This will steam them and help to dry out their centres. It's a crucial step, so don't skip it! The other trick at this stage is to shake the colander a couple of times to rough up the outsides of the potatoes. The little bits of potato that seperate are what gives the fat something to attach to and creates the crispy, crunchy outsides.
Transfer the potatoes to a large roasting pan. The size of the pan should be such that when the potatoes are squashed later on they will snugly fill the gaps. If you pack them too tightly at this stage you won't have enough room later on. Top each potato with a knob of butter – about half to three-quarters of a teaspoon is a good amount. It will quickly melt and run all over the place but that's fine. Crush the unpeeled garlic cloves and dot them around the potatoes. Season generously with salt and pepper and give everything a toss to coat evenly.
Roast the potatoes for about an hour. By the end of this first roast the potatoes should be an enticing golden colour. At this point you could quite happily eat these potatoes but we're about to take them to the next level.
Now for a little trick I learnt from Jamie Oliver. Using a potato masher, gently press down on each potato. The outsides will split and the potato will fluff out a little – this is the aim. Doing this creates more surface area to crisp up and makes a potato-cake-like shape that is even thickness. This is great because it means when it comes to eating, every mouthful will be a little crispy and a little fluffy. It's far superior to having a huge amount of steaming hot potato to work through in the centre of a whole potato.
Now it's time to add the sage. As sage leaves are quite thin, it's good to coat the leaves in olive oil before roasting. I just use a small bowl and soak the leaves for a minute before spreading them over the roast potatoes. By taking this step the sage leaves will crisp up rather than drying out. In essence they become like little sage chips that are tasty in their own right. If you opt to use a different herb, you won't necessarily need this step. Rosemary will cook just fine without the oil, but you can't go wrong if you use it anyway.
Crispy, golden roast potatoes
Return the roasting pan to the oven and cook for a further 25 minutes. The potatoes are ready when they've turned a rich golden colour all over. The skins should also be a crispy texture if you run a knife over the surface. Serve the potatoes straight from the pan or transfer them to a serving platter. I find they look so enticing in the pan that I like to keep them together for maximum visual impact on the dinner table.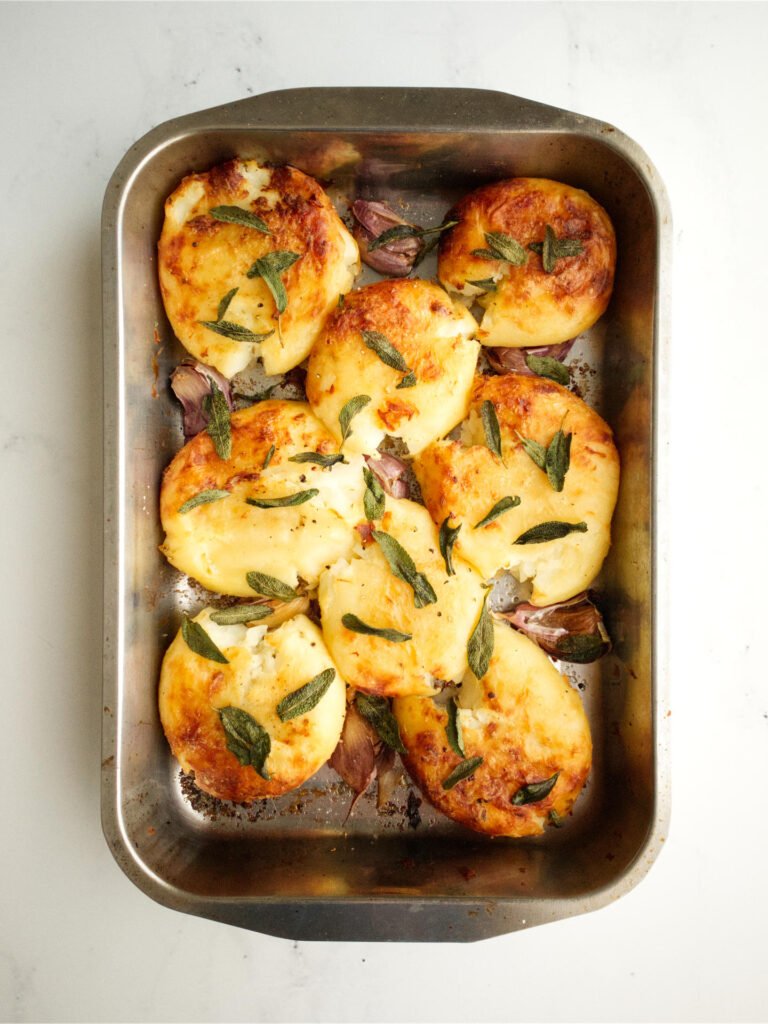 Are you hungry yet? Trust me, these potatoes taste as amazing as they look! I've never had anyone complain about these roast potatoes with sage and garlic. They are a tasty side dish that goes with so many things. They also make great leftovers and can be easily reheated in the oven. If you reheat them in the oven they'll maintain their crispiness but you can also use a microwave if you're short on time.
If you want to take the stress out of a dinner party, there's also a handy shortcut to prep this recipe in advance. Simply parboil the potatoes and arrange them in the tray with the garlic and butter. Cover them and leave in a cool, dry place – but not in the refrigerator. When it comes time to cook, preheat the oven and resume the recipe as normal. This little trick can free up precious cooking space on the stovetop when trying to make a lot of seperate dishes.
And that's all there is to it. Give this one a try and let me know what you think in the comments. I'm sure you'll enjoy them as much as I do. For other side dish ideas that pair well with these roast potatoes, check out my recipes for Brussels Sprouts with Bacon and Walnuts and Braised Dutch Carrots and Baby Peas.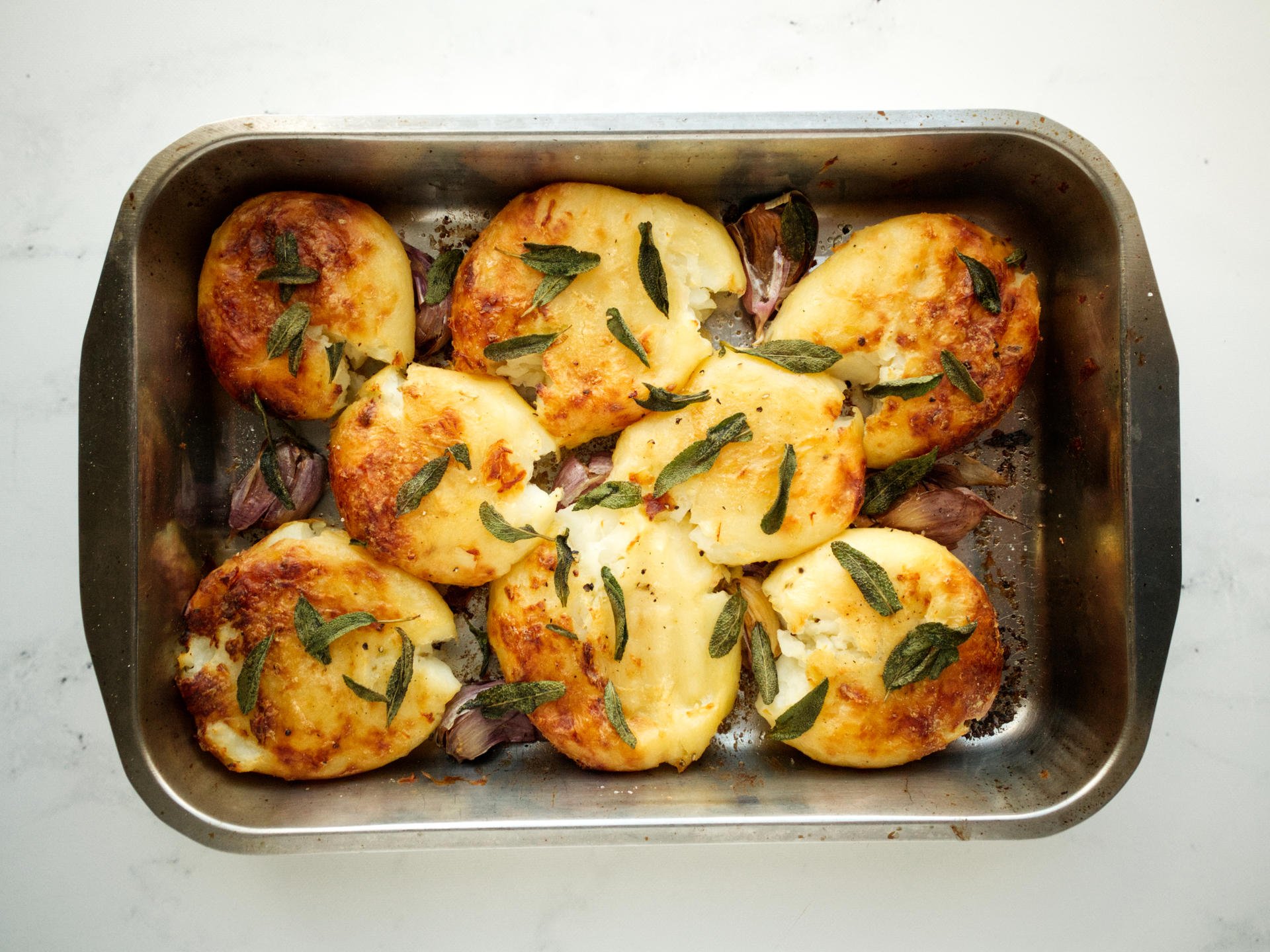 Roast Potatoes with Sage and Garlic
This easy recipe for Roast Potatoes with Sage and Garlic creates a tasty side dish that matches perfectly with so many things.
Ingredients
2

kg

potatoes

,

peeled

3

tbsp

unsalted butter

8

cloves

garlic

½

bunch

sage

1

tbsp

olive oil

sea salt

,

to season

black pepper

,

to season
Instructions
Preheat oven to 200ºC. Place the potatoes in a large saucepan of boiling salted water for about 15 minutes. Drain in a colander and leave to steam for 2 minutes to dry out the potatoes. Lighly shake the colander a few times to fluff up the potatoes.

Transfer the potatoes to a large roasting pan and top each with a knob of butter. Season the tray with a generous pinch of salt and pepper then toss the potatoes to coat evenly. Arrange the potatoes with a little space between so that they will fill all the gaps when squashed later on. Crush the unpeeled garlic cloves with the back of a knife and place them amongst the potatoes.

Roast in the oven for 1 hour, or until the potatoes are a rich, golden colour and are crispy on the outside. Remove the tray from the oven and using a potato masher, gently squash each potato so they crack open and spread out in the tray. Pick the sage leaves from their stems and toss them in the olive oil. Sprinkle them over the potatoes, tipping in any excess olive oil, and return the tray to the oven for a further 30 minutes, or until the potatoes are completely golden. Serve immediately.
Notes
Prepare in advance: You can prepare this recipe in advance by parboiling the potatoes ahead of time. Simply follow the recipe up to the point of roasting and instead of placing into the oven, cover and set the tray aside in a cool location for up to 24 hours. When you're ready to cook, just preheat the oven and resume the recipe where you left off.
Calories:
251.9
kcal
,
Carbohydrates:
44.9
g
,
Protein:
5.3
g
,
Fat:
6.3
g
,
Saturated Fat:
3.1
g
,
Cholesterol:
11.4
mg
,
Sodium:
161.5
mg
,
Potassium:
1064.5
mg
,
Fibre:
5.6
g
,
Sugar:
2
g
,
Vitamin A:
133.1
IU
,
Vitamin B12:
0.1
µg
,
Vitamin C:
50.2
mg
,
Vitamin D:
0.1
µg
,
Vitamin K:
6.4
µg
,
Calcium:
40.9
mg
,
Iron:
2.1
mg