Southside Kitchen may earn a commission through affiliate links in this post. Read disclosure.
Today I'm sharing my recipe for slow-cooked Beef Cheek Ragu with Pappardelle. It's a hearty dish that takes very little preparation and, with the exception of the pasta, is all cooked in a single pot. I like to serve this as it comes but it also goes really well with a side salad. The salad helps to cut down the richness and also lets you get a couple more servings if you need the recipe to go a little further. This versatility makes it the perfect meal for springtime as it can be adapted to suit the weather of the day.
Beef cheek ragu
Heralding from Italian cuisine, "ragù" is simply a meat-based sauce. Making it with whole cuts of meat, like I am here, is traditionally southern Italian but there are many variations.
Beef cheek is a great cut of meat for making ragu as it has a rich, full flavour. Traditionally, it's been one of the cheaper beef cuts, although I have started to notice that in more recent years supermarkets have begun marketing it as a 'premium' choice. You can avoid this whole shenanigans by purchasing from your local butcher. I can usually find it for around $18 a kilogram which is great value considering you can get about 8 meals from it.
The best part about using beef cheek is it requires no preparation for this recipe. Brown them off as whole cheeks and then just let them break apart naturally. It saves a whole bunch of time and gives a really good result. I used three beef cheeks to make this recipe and had leftovers for several days. This sauce is very rich! I like to use a lot of red wine as it compliments the meat perfectly. If you prefer it a little less powerful, you can reduce the wine and increase the beef stock in equal proportions.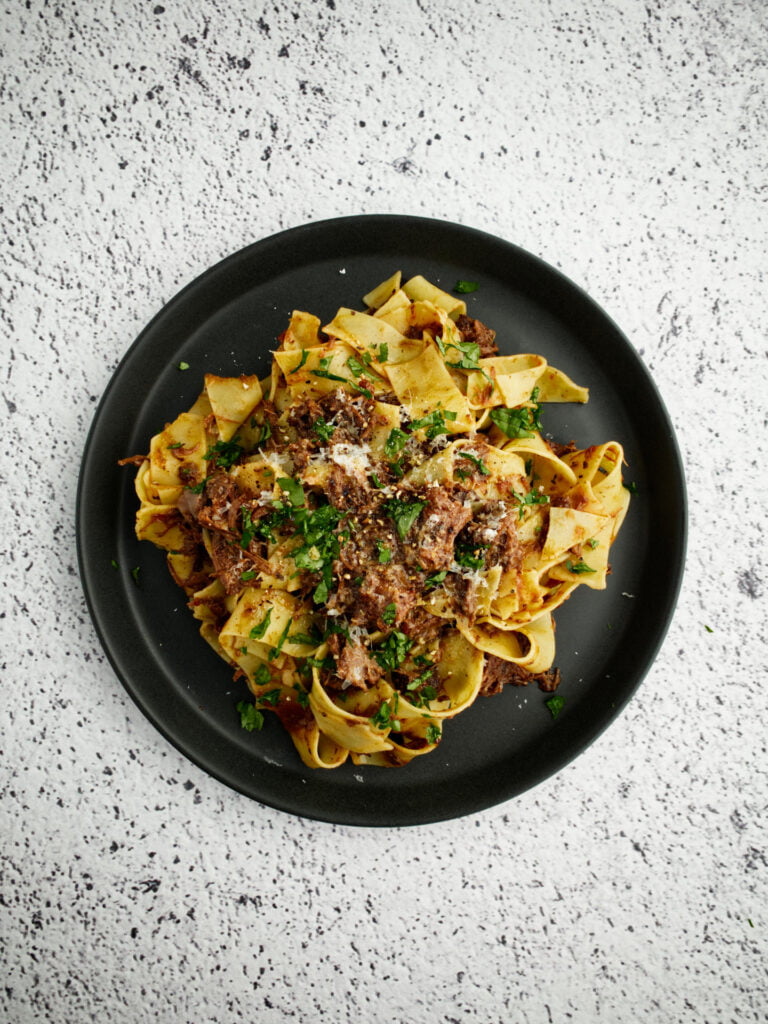 Ragu is perfect for reheating and if you put it in the fridge overnight the sauce will thicken up and take on an even richer flavour. Just place the pot back on the stove and add a little water to loosen the sauce. It will be ready in only a matter of minutes. This also means that this meal can easily be prepared ahead of time. It's perfect for serving to dinner guests as it can be made the day before and just reheated when needed. No more stressing about cooking while trying to greet your guests!
⭐️ Enjoying this recipe? Subscribe to my newsletter to be one of the first to receive my latest updates direct to your inbox.
Pappardelle
Pappardelle is one of my favourite pastas. The thick ribbons are easy to get on the fork and they hug the meat sauce. It makes every bite super tasty and keeps you wanting more. When cooking the pasta, always use salted water. This helps to season the food evenly. A lot of people swear by adding olive oil to the pan while cooking pasta but I find it doesn't make any real difference.
The trick to stopping pasta sticking together is to get the water boiling before adding the pasta to the pot. Then simply keep moving the it around until the water comes back to the boil. For this recipe, cook the pappardelle until just al dente. I find it usually takes a few minutes more than the packet instructions. If using fresh pasta, just a couple of minutes will be sufficient.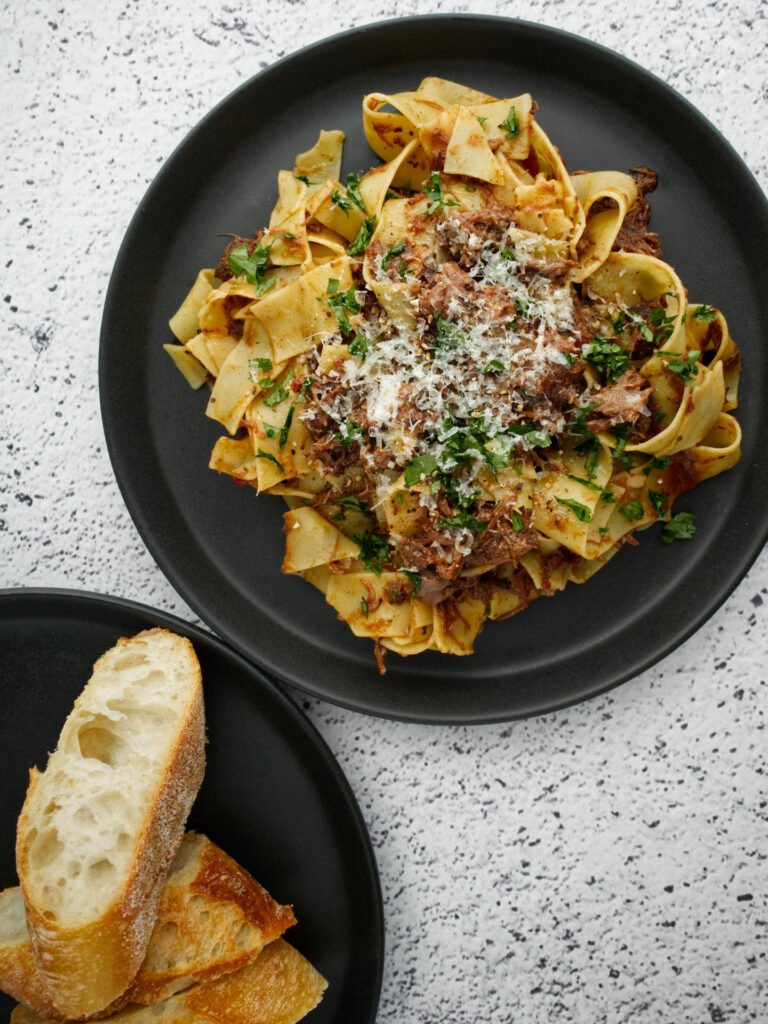 Plating up
When serving, strain the pappardelle in a colander and shake off any excess water. If the pasta is too wet the sauce won't stick. Then return it to the cooking pan and spoon in a couple of spoonfuls of the ragu. Gently stir to coat the pasta and transfer it to the serving plates. Doing this step will mean all the pasta will absorb the richness of the sauce and you won't have any bland tasting mouthfuls.
Add a spoonful of sauce on top for good measure. Freshly grate some Parmesan cheese over the meat and sprinkle with fresh parsley. I also recommend a good crack of black pepper and serving with a few slices of crusty bread. There's nothing better than mopping up every last drop!
Beef Cheek Ragu with Pappardelle is a great meal all year round. It's hearty enough to keep you warm in the height of winter, or can be toned down with a side salad to serve in the warmer months. Whether you're entertaining friends for dinner or feeding the whole family, this easy dish will please a crowd.
If you're looking for more hearty comfort food, also check out my Beef and Vegetable Casserole or Shepherd's Pie recipes.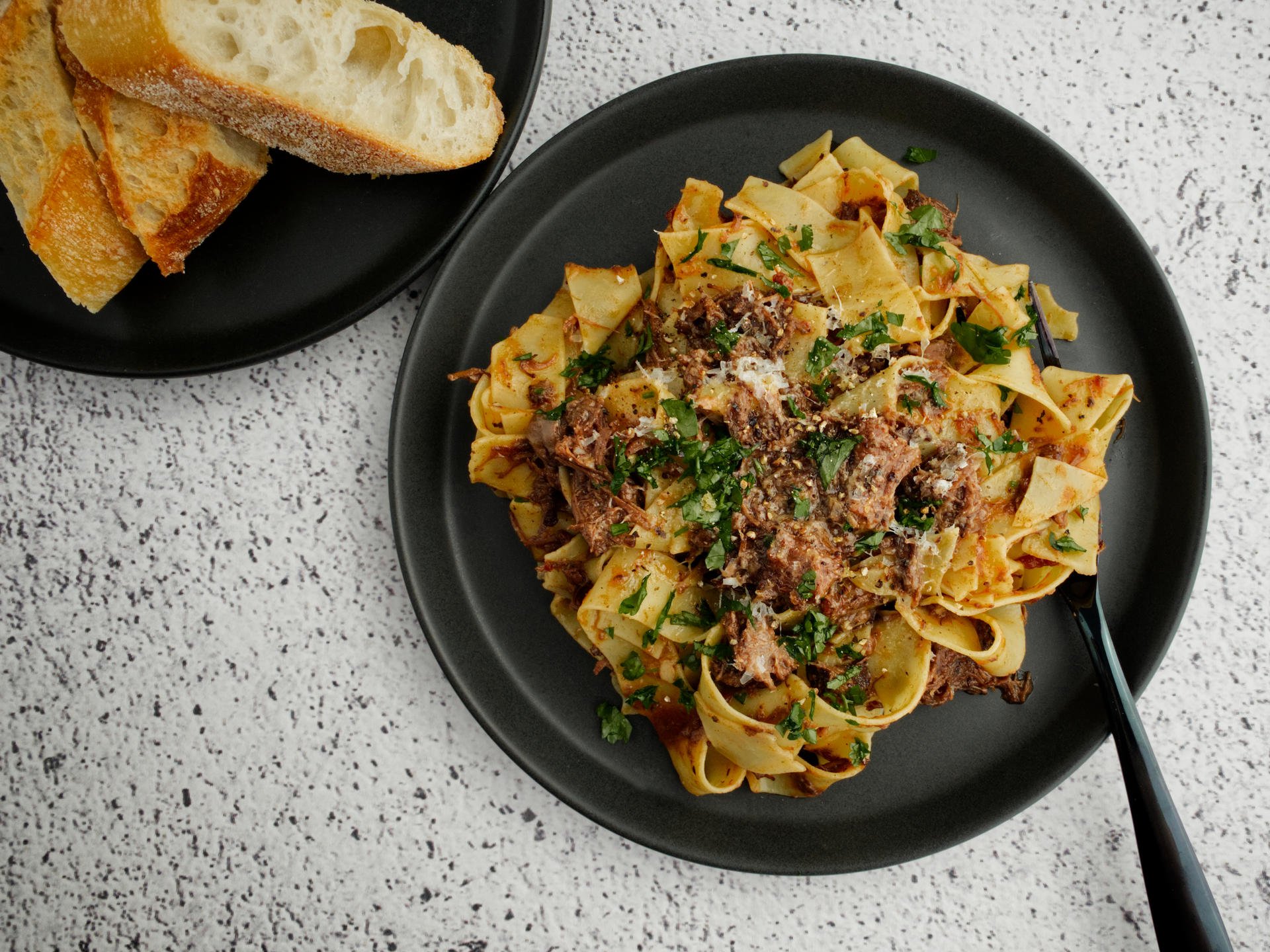 Beef Cheek Ragu with Pappardelle
Beef Cheek Ragu with Pappardelle is a hearty one pot wonder. A delicious meal that's great for entertaining or feeding the whole family.
Ingredients
30

ml

olive oil

1.2

kg

beef cheeks

,

or stewing beef

2

brown onions

,

peeled and roughly diced

3

cloves

garlic

,

peeled and crushed

4

bay leaves

600

ml

red wine

400

g

tinned chopped tomatoes

600

ml

beef stock

600

g

pappardelle

1

bunch

parsley

,

finely chopped

40

g

Parmesan cheese

,

finely grated

sea salt

,

to season

black pepper

,

to season
Instructions
Preheat the oven to 150ºC.

Generously season the beef with salt and pepper. Place a large oven-proof pan or Dutch oven on high heat. Add half the olive oil and brown the beef on all sides. Transfer to a plate and set aside.

Reduce the heat slightly and add the other half of the oil to the pan. Add the onion, garlic and bay leaves and cook for about 5 minutes, until the onion has softened.

Add the red wine and stir to deglaze the base of the pan. Add the meat back in, then stir in the tomatoes and beef stock. Season with pepper and bring to a simmer.

Cover the pan with a lid, leaving it slightly askew, and place in the oven. Cook for 4-5 hours, or until the meat is tender and falls apart easily. During the cooking time, check the sauce level every hour and gently stir. If it starts to reduce too quickly, add a little water or cover completely.

When the ragu is ready, cook the pappardelle in a large saucepan of boiling salted water until al dente. Drain in a colander and then return to the pot. Add a couple of large spoonfuls of the ragu into the pan and gently stir to coat.

Place the pasta on each serving plate and top with a spoonful of ragu. Freshly grate some Parmesan cheese over the top, then sprinkle with the chopped parsley and a crack of black pepper. Serve immediately.
Calories:
712
kcal
,
Carbohydrates:
62.4
g
,
Protein:
43.9
g
,
Fat:
26
g
,
Saturated Fat:
9.9
g
,
Cholesterol:
170.9
mg
,
Sodium:
732.9
mg
,
Potassium:
1109.4
mg
,
Fibre:
3.9
g
,
Sugar:
4.8
g
,
Vitamin A:
768
IU
,
Vitamin B12:
4.4
µg
,
Vitamin C:
16.5
mg
,
Vitamin D:
0.4
µg
,
Vitamin K:
124.7
µg
,
Calcium:
156.2
mg
,
Iron:
6.2
mg