Southside Kitchen may earn a commission through affiliate links in this post. Read disclosure.
I enjoy making my own sausage rolls at home and today I'm sharing my recipe for Beef Sausage Rolls. Although I make a few different flavours of sausage roll, this one is one of my all time favourites. I usually make this recipe around AFL Grand Final time of year as they're a real party pleaser. One batch makes four dozen mini sausage rolls but you can cut them to whatever length you like. The same recipe will comfortably make about 8 long sausage rolls too.
Made with veal or beef mince and vegetables, they make for a tasty treat all year round. I love the mini ones as you can make a couple of batches and feed a large crowd with very little effort. Although they can be a little fiddly at first, the recipe is quite straightforward. And once you've made a batch of these, you'll be wanting them all the time!
Preparing the filling
Before we leap into making the filling, there's a couple of prep steps to get out of the way. Firstly, if you're using frozen puff pastry, get it out of the freezer and seperate the sheets. This will give them time to defrost while making the filling. Also, prepare the egg wash by cracking an egg into a small bowl and lightly whisking with a fork. Set it aside for now, along with a pastry brush so that it's ready to go.
Now onto the filling. Everything that goes into the sausage rolls can be combined in a single bowl. Finely dice the brown and red onions, grate the carrot, crush the garlic and finely chop the parsley. If you don't have fresh garlic available, a teaspoon of minced garlic is all you need. Add in a couple of tablespoons of tomato ketchup and about 4 tablespoons of Worcestershire sauce.
Add the minced beef and minced sausage and then mix everything together. This is where you'll have to get your hands dirty! Get in there and make sure everything is well combined. It's important to ensure that the two types of mincemeat are evenly distributed. If you end up with clumps of one meat it will affect the taste of the final sausage rolls.
As I alluded to above, you can use beef or veal mince for this recipe. They also work with pork mince if you prefer. When selecting mince, try to get higher quality grades that have the least fat content otherwise you will find that the rolls end up a bit too greasy.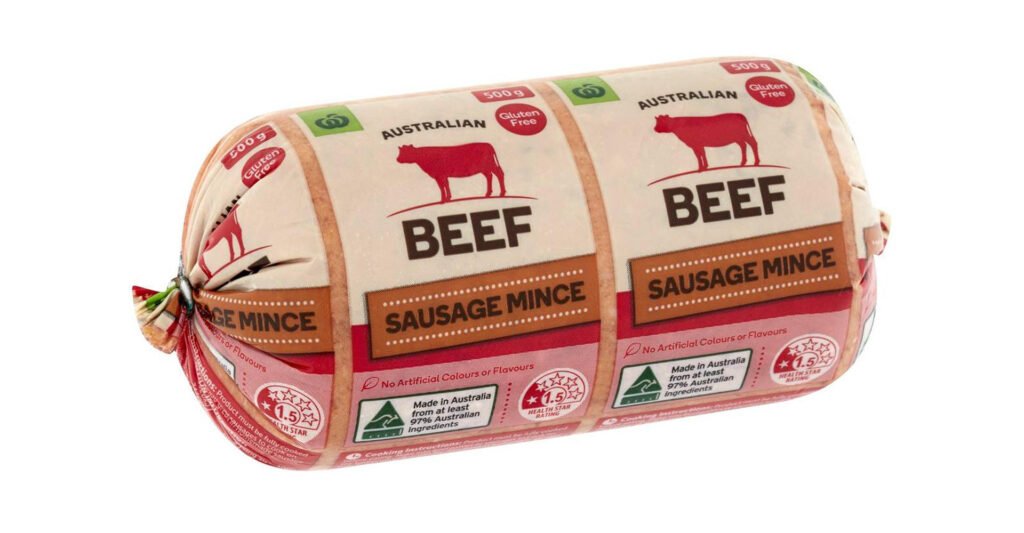 It's important to note that when I say sausage mince, I mean the particular minced sausage meat that you can buy – not literally meat filling that you've extracted from sausages. In Australia it normally comes in tightly sealed rolls and looks a bit like the dog food or pre-made cookie dough packs. I've come to nickname it 'human dog food' as a result. 😆 My wife hates that I call it this, but it really does make the sausage rolls taste better. I've tried this recipe without it and it's just not the same; the sausage rolls end up dry and lacking in flavour.
Keep in mind that the sausage meat has a very high fat content so a less fatty beef mince evens everything out. If you can't get low-fat beef mince, it's better to adjust the ratio from 50/50 to more like 70/30 beef to sausage meat. In any case, it's worth experimenting with it to find the flavour and fat content you prefer. Try 50/50 the first time and if they're a little too fatty for you, you can adjust and try again.
Making beef sausage rolls
With the filling mixed, it's now time to assemble the sausage rolls. This part isn't as difficult as it may appear! Divide the meat mixture into eight even portions. As the four puff pastry sheets are cut in half, one portion of meat is used to fill each half sheet. Use the pictures below as a guide and take your time. If you go through each of the stages, you will end up with perfectly shaped sausage rolls.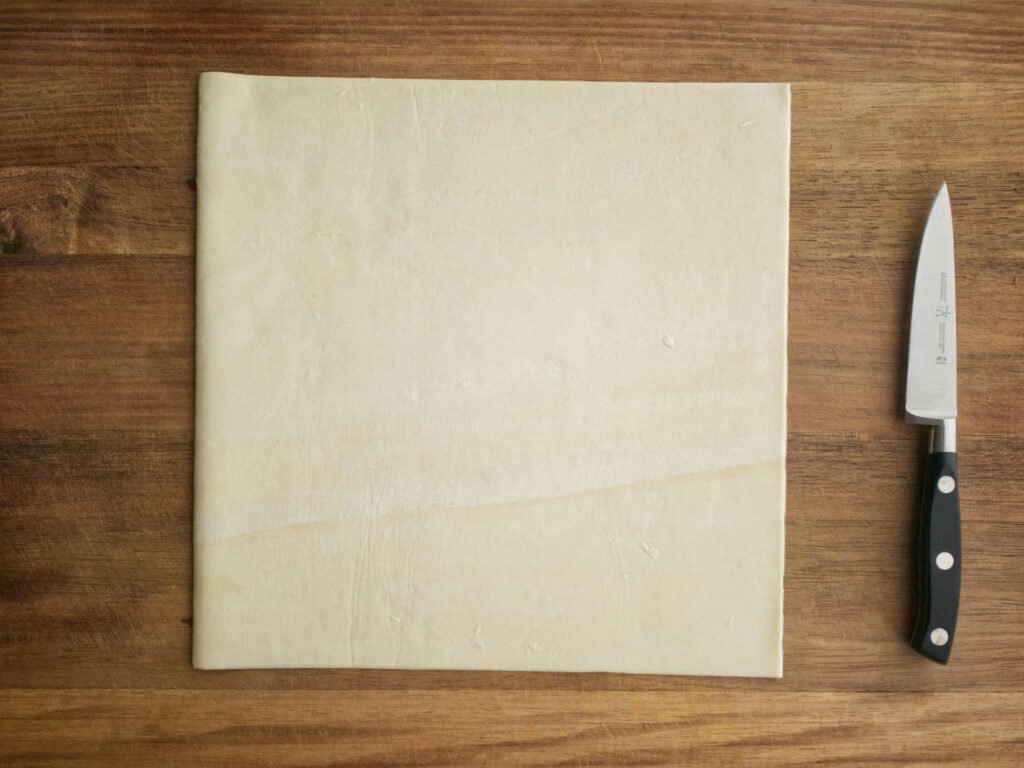 Don't get too caught up on how even the rolled up pastry looks. Once it goes in the oven and the pastry puffs up, it will fill out any gaps. Try to aim to have a consistent amount of meat filling across each strip. Although it may seem like you're not putting much mince in each, it will be plenty in the final sausage roll. When you roll up the strip, keep the egg washed side on the flat surface so that when the roll is complete there's two layers of pastry overlapping on the bottom side.
The sesame seeds add a little extra flavour but also make the sausage rolls look amazing. When I'm making multiple batches, I'll colour code my sausage rolls using different seeds so it's easy to tell them apart. If you don't want to add the seeds, that's fine too. You can decorate the pastry with small cuts or just bake it as is. Just ensure you don't skip on the egg wash. The egg not only seals the sausage roll so it doesn't expand when cooking, but it also gives the pastry its rich golden colour.
⭐️ Enjoying this recipe? Subscribe to my newsletter to be one of the first to receive my latest updates direct to your inbox.
Baking time!
Cut the large roll into the desired number of small pieces. I like to cut mine into six mini sausage rolls but you can just as easily cut each roll into two, three, or even leave it as one long strip.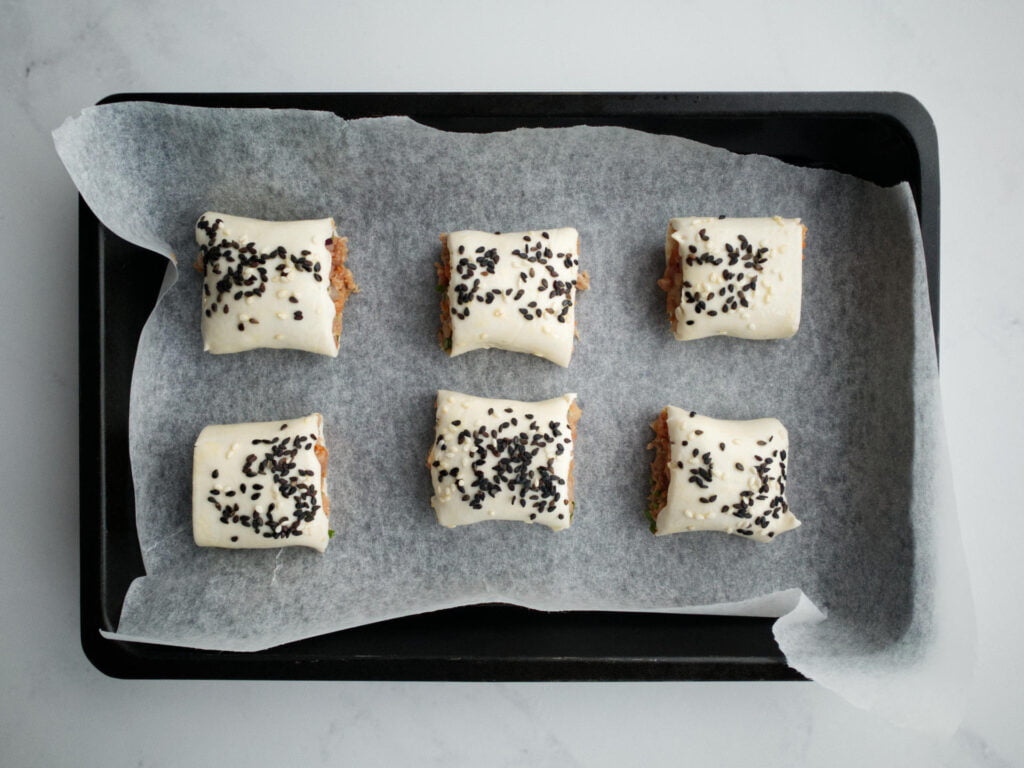 Transfer the final sausage rolls to a baking tray lined with baking paper. Place into a 200ºC oven for about 25 minutes, or until the pastry is golden and flaky. The cooking time is the same no matter how many sausage rolls you cut from each strip.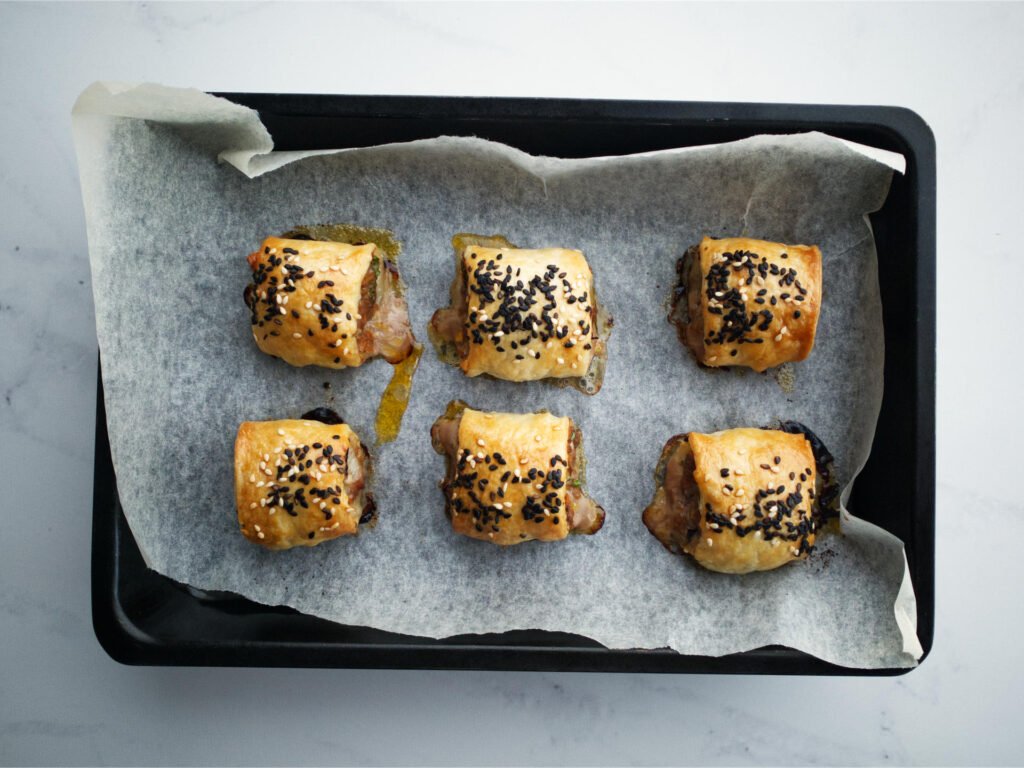 Once the sausage rolls are ready, allow them to cool for 5-10 minutes then transfer to a serving platter. Serve hot with a side of condiments. You can serve any sauce alongside these beauties but I highly recommend my Roasted Capsicum Sauce. It has an amazing rich smoky flavour that goes perfectly with this recipe. If you don't have time to make your own though, tomato ketchup is a great option too.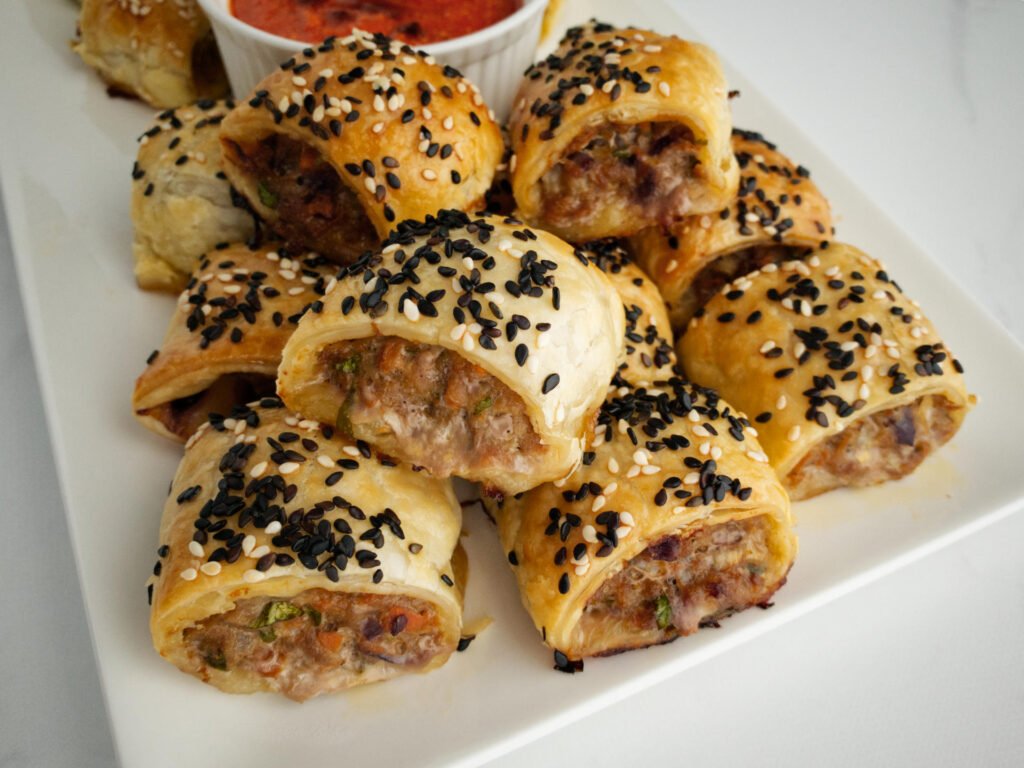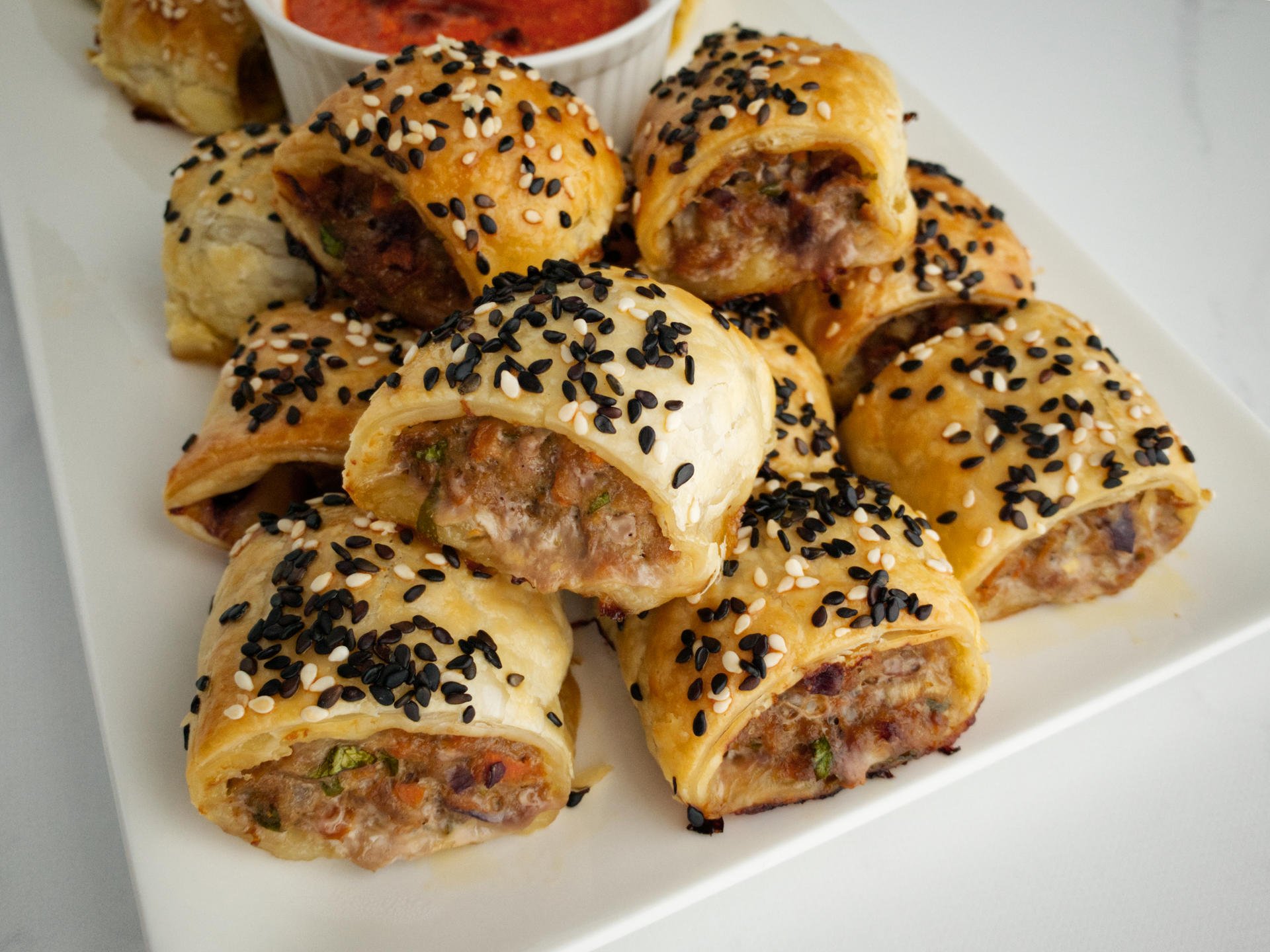 Prepare in advance, or bake and freeze
If you want to make these sausage rolls in advance, you can prepare everything up to the final egg washing step. Simply use a little egg wash on each strip to seal the roll and then place them on a tray lined with baking paper. Cover with cling wrap and refrigerate. You can keep them in the fridge like this for about two days and then just take them out and continue the recipe when you're ready to serve.
Alternatively, you can also freeze the sausage rolls once they are already cooked. Once they come out of the oven, allow them to cool completely before wrapping and placing into the freezer. They'll last in the freezer for about two weeks and you can simply defrost and reheat them in a moderate oven whenever you feel like a tasty snack.
That's all there is to it. These beef sausage rolls are a great option for parties or to serve for afternoon tea. If you try this recipe, be sure to leave a comment and let me know how you went. If you want to try a different flavour combination, be sure to check out my recipe for Chicken Sausage Rolls.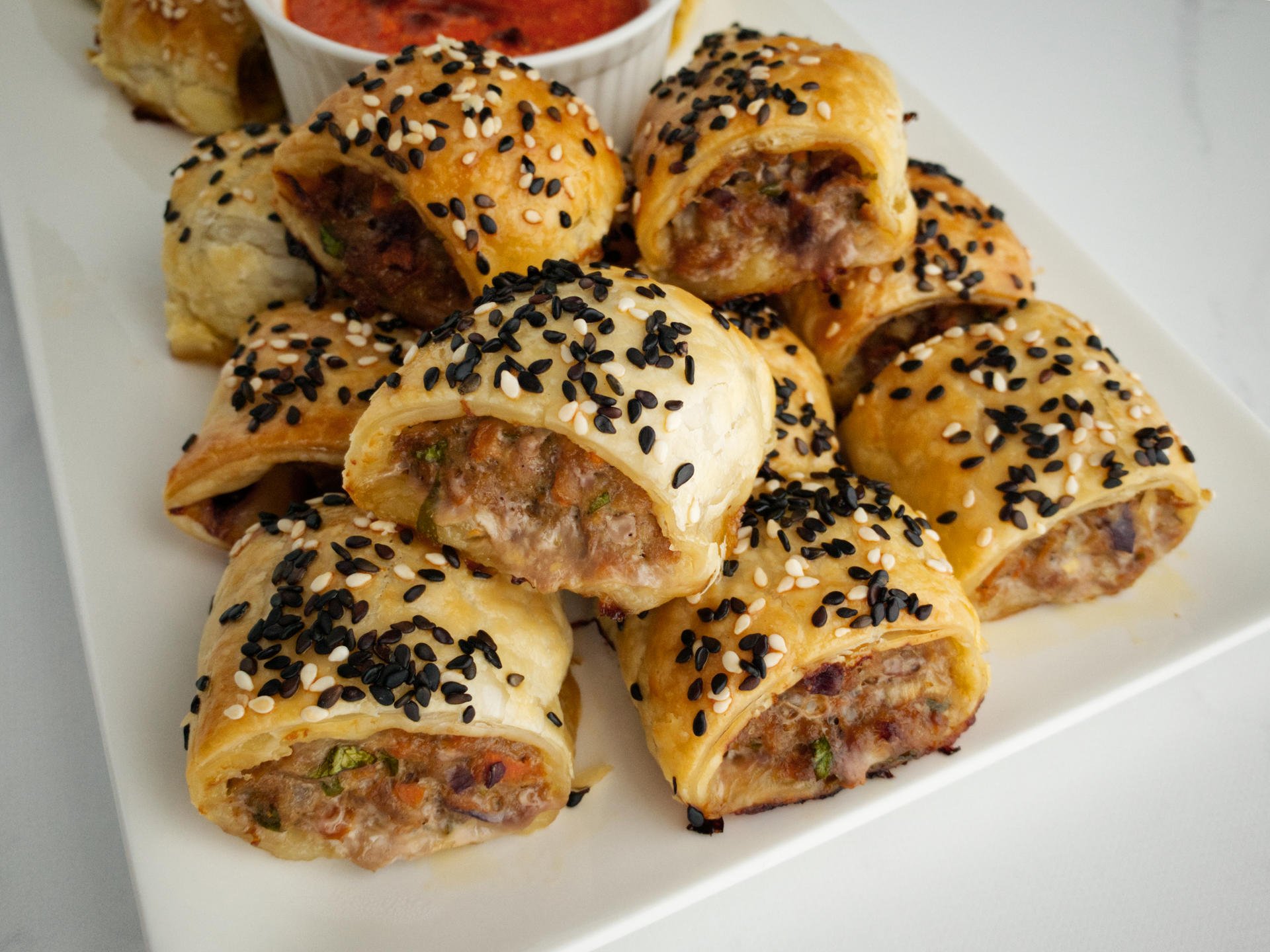 Beef Sausage Rolls
These beef sausage rolls are one of my all time favourite party snack foods. They are delicious, easy to prepare and feed a crowd in no time!
Ingredients
4

sheets

puff pastry

1

egg

500

g

beef mince

500

g

sausage mince

1

small

brown onion

,

finely diced

1

small

red onion

,

finely diced

1

medium

carrot

,

coarsely grated

2

cloves

garlic

,

crushed

1

small handful

parsley

,

finely chopped

2

tbsp

tomato ketchup

60

ml

Worcestershire sauce

6

tsp

sesame seeds

,

for garnish
Instructions
If using frozen puff pastry, remove it from the packet and separate the sheets to allow them to thaw. Meanwhile, whisk the egg in a small bowl and set aside.

Combine beef mince, sausage mince, onions, carrot, garlic, parsley and sauces in a large bowl. Season with salt and pepper. Mix using hands to combine and then divide mixture into 8 equal portions.

Lay a sheet of pastry on a flat surface. Cut the pastry sheet in half horizontally. Spoon an eighth of the beef mixture down along the long side of one pastry half, shaping mince into a long sausage shape. Brush opposite long edge with a little egg mixture.

Roll up pastry to enclose filling, finishing seam side down. Repeat with remaining mince mixture, pastry and egg wash. If making in advance, refrigerate until desired serving time.

Preheat oven to 200ºC. Brush top of each log with egg wash and sprinkle with sesame seeds. Cut into 6 short pieces and place them seam side down on prepared tray, 2 cm apart.

Bake for 25-30 minutes or until golden and cooked through. Allow to cool for 5-10 minutes. Serve hot with tomato ketchup or other condiments.
Notes
Need a sauce? Check out my Roasted Capsicum Sauce recipe for a great sauce to serve alongside these sausage rolls.
Prepare in advance: These sausage rolls can be prepared in advanced and refrigerated for up to 2 days before baking.
Freeze for later: The sausage rolls can also be baked and stored in the freezer. Follow the recipe and allow the sausage rolls to cool completely. Wrap and store in the freezer for up to 2 weeks. Then simply defrost and reheat in a moderate oven when you're ready to serve.
Flavour variations: Take a look at my recipe for Chicken Sausage Rolls or mix and match to come up with your own.
Calories:
177.3
kcal
,
Carbohydrates:
10.2
g
,
Protein:
5.1
g
,
Fat:
12.8
g
,
Saturated Fat:
3.7
g
,
Cholesterol:
18.3
mg
,
Sodium:
144.4
mg
,
Potassium:
90.4
mg
,
Fibre:
0.4
g
,
Sugar:
0.6
g
,
Vitamin A:
235.3
IU
,
Vitamin B12:
0.3
µg
,
Vitamin C:
0.8
mg
,
Vitamin D:
0.2
µg
,
Vitamin K:
5.1
µg
,
Calcium:
10.7
mg
,
Iron:
1
mg