Southside Kitchen may earn a commission through affiliate links in this post. Read disclosure.
Today I'm using a quintessential Australian ingredient to make my version of an American classic – kangaroo burgers. There's plenty of unusual ingredients in the world, and for a lot of people kangaroo is one of them. It's one of those things that people either love or hate.
I've come across plenty of people with all sorts of reasons why they won't even try kangaroo. But that's a real pity because it's such a delicious meat. It's got the rich flavour of red meat, but it's a sweeter taste that doesn't sit as heavy as beef or lamb.
I also think one of the reasons a lot of people don't like kangaroo is that it's very easy to overcook. When you do this, it becomes quite tough and chewy and really isn't pleasant to eat. However, that's one of the things that makes this recipe a great introduction to the meat. In burger form, the kangaroo is minced so you don't have to worry about it going tough on you. I personally prefer my kangaroo burgers just shy of well done, otherwise I find the juices can get a bit messy and you'll end up with a soggy bun.
It might be a bit controversial that I'm using store-bought burger patties but the truth is they're actually really good. Don't mistake them for any of their other supermarket burger cousins – they're nothing alike. The ones that you find lining the shelves are tiny portions, overly fatty and just generally lacking in flavour. It's also quite difficult to find kangaroo mince that's ground finely enough to shape it into a patty, so this is one of the rare occasions where I'll give in and not make my own from scratch. Just be sure to flatten the patties with a spatula as you fry them otherwise they'll shrink up and won't fit nicely into your buns.
A little bit fancy
I used black brioche buns here, but you can substitute them with whatever you have readily available. Try to stick to brioche varieties because they lift the whole standard of the burger. When toasted, the butteriness of the brioche is really tasty and the bread is not as dry as other hamburger buns.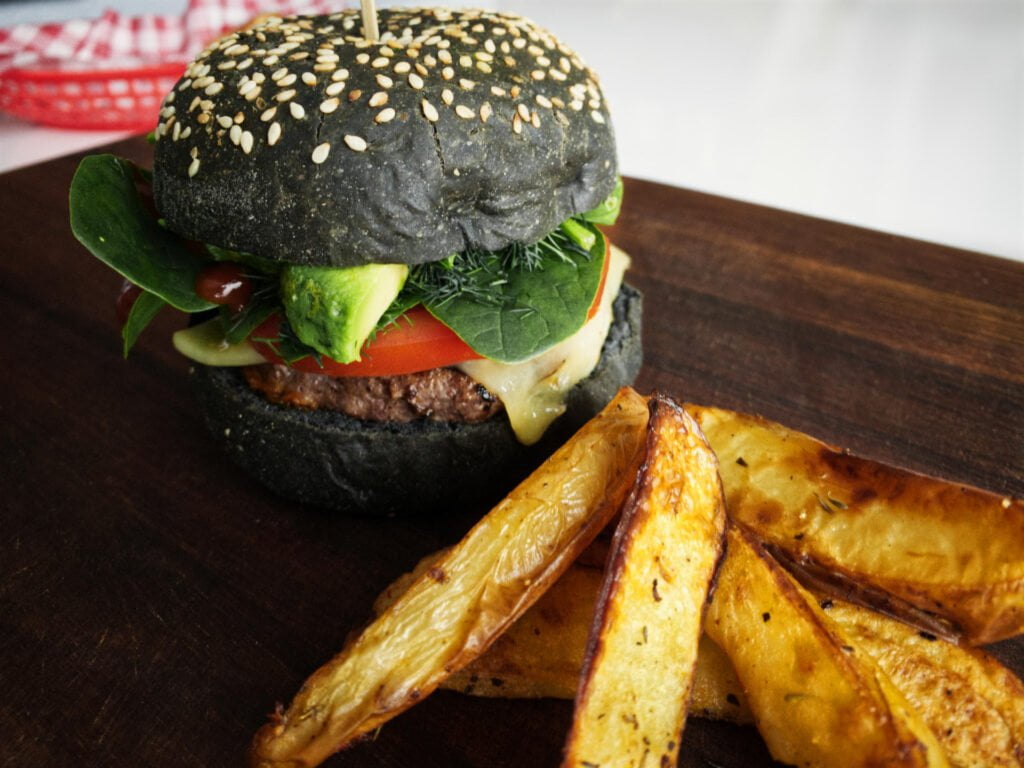 Hamburgers are easily one of my favourite foods. I like them pretty much any way they come, but like all burger aficionados, I also have my favourites. If we're talking beef, I'm a cheeseburger fan and so the toppings in this recipe aren't my normal go-to choices. However, given the kangaroo puts an Australian twist on on this classic, it's worth being a bit adventurous with the other components.
Avocado is somewhat synonymous with Melbourne café culture so it's a no-brainer to have here. It gives a punch of flavour that complements the kangaroo well. The spinach gives you the leafy texture without the wateriness of lettuce. But the real trick here is using dill in place of onion. It might seem like a strange choice but it gives a softer, slightly aniseedy flavour that pulls everything together. Just make sure it's fresh because the dried dill from the supermarket will make everything taste powdery and awful.
Finally, to add a little spice to these kangaroo burgers, I also like to add rose harissa. It's an unusual ingredient but it provides a really unique flavour that gives other burger sauces a run for their money. There's lots of different versions of these on the market, but my favourite is the locally made Rose Harissa Paste by Josh and Sue.
⭐️ Enjoying this recipe? Subscribe to my newsletter to be one of the first to receive my latest updates direct to your inbox.
Potatoes are glorious
You can't have a burger without some sort of potato component. French fries are often the first thing that comes to mind with this sort of meal but I think wedges work even better here. You get more fluffy potato in the middle, and tasty potato skins that you can season to your heart's content. I also find them way less oily, but I won't judge you if you prefer to switch them out. Whatever you do though, don't go reheating frozen packet chips in the oven. Making your own is at least a million times better – and it's so easy!
The wedges in this recipe are completely no fuss and you can top them with basically anything. I've gone with paprika, rosemary and thyme which gives a good smoky, balanced flavour. You can experiment by mixing and matching to your liking, or substitute for whatever you have in your pantry. Onion or garlic powder also works well in this mix, but don't overdo it or it'll be all you taste. When seasoning like this I generally use dried herbs. They stick to the potatoes better and give a more even coating, but you could use fresh if you prefer.
The trick when making these is in the olive oil. You need to use just enough oil to coat the potatoes evenly, but not so much that they are swimming in the tray. If you put too much in they won't crisp up and can overcook on the side that's submerged in oil.
To complete the package, serve your kangaroo burgers in a diner basket and place the fries alongside. Enjoy!
If you're ready to step your pub food game up a notch, be sure to check out my Chicken Parmigiana with Oven-baked Chips recipe.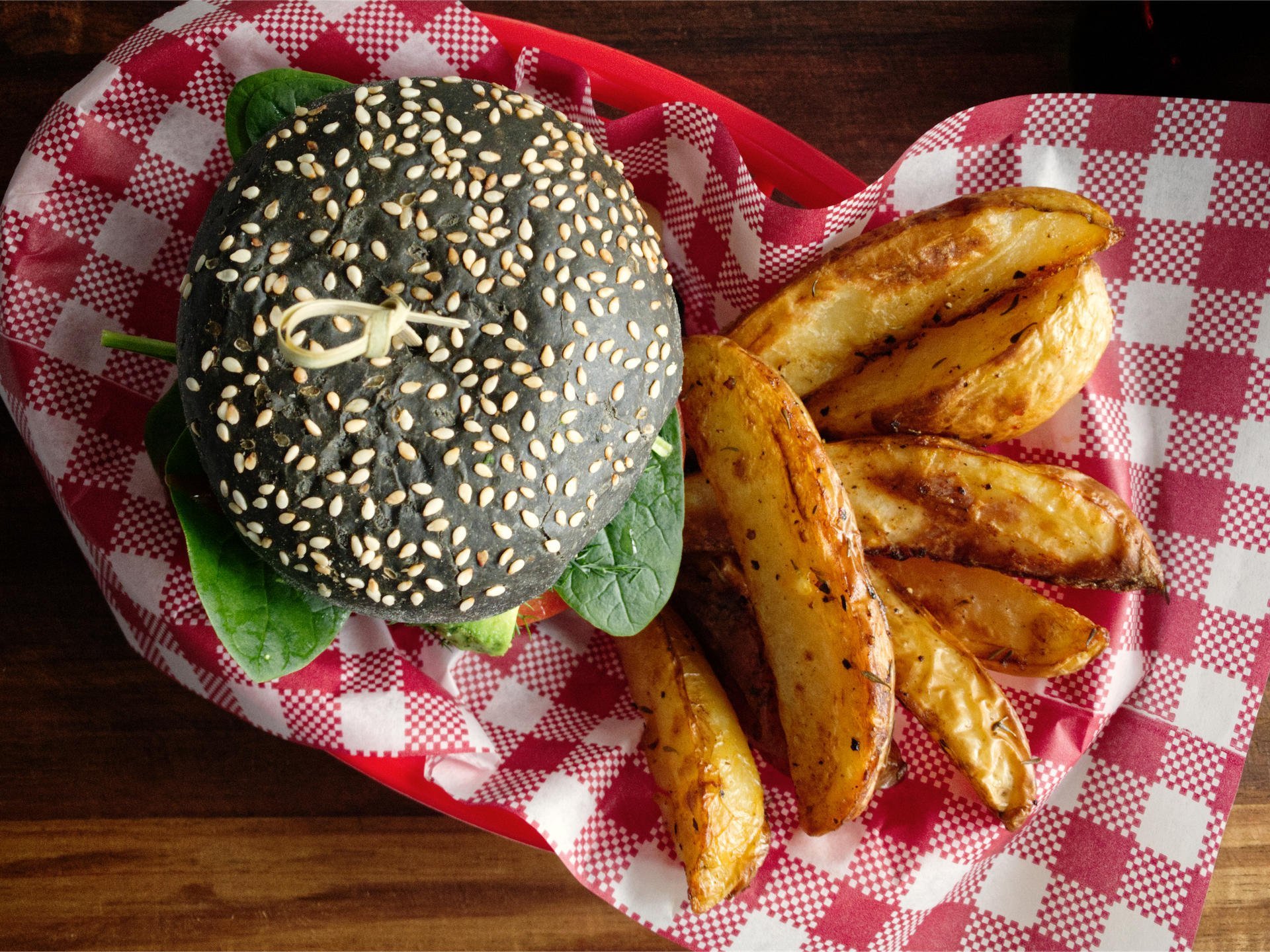 Kangaroo Burgers with Potato Wedges
A delicious Australian twist on the classic American hamburger that is quick and easy, while using a very unique ingredient – presenting kangaroo burgers!
Ingredients
Potato Wedges
1

kg

potatoes

,

white

4

tbsp

olive oil

3

tsp

smoked paprika

1

tsp

dried rosemary

1

tsp

dried thyme

2

tsp

sea salt

,

ground

2

tsp

black pepper

,

ground
Burgers
4

kangaroo burger patties

4

brioche burger buns

1

avocado

3

tbsp

tomato ketchup

100

g

spinach leaves

4

tbsp

dill

,

fresh

2

tomatoes

,

large

4

slices

cheddar cheese

4

tsp

rose harissa paste
Instructions
Preheat oven to 210ºC and wash all the fresh ingredients. Remove the kangaroo patties from the fridge and set aside to allow them to come to room temperature.

Spread the olive oil across the baking tray. Slice the potatoes lengthways into wedges about 1½ cm thick and spread them into an even layer in the tray, making sure they don't overlap. Sprinkle with the paprika from height to get an even coverage, then add the dried rosemary, thyme, salt and pepper, tossing the tray to coat evenly.

Place the potatoes in the oven and roast for about 60 minutes, or until they are golden and crispy. You'll want to toss them around using tongs a couple of times throughout the cooking time to help cook the wedges evenly and make sure none stick to the tray.

Meanwhile, prepare the burger toppings. Slice the tomatoes into thick slices and peel and slice the avocado. Measure out your spinach and roughly chop the fresh dill. Set everything aside.

Slice the burger buns in half and place each half in the toaster (but don't toast yet).

When the wedges are looking golden, heat a frying pan on high heat with a dash of olive oil. Fry the burger patties until cooked through, about 4-5 minutes per side, turning a couple of times. It's a good idea to press down on the patties firmly with a spatula each time you flip to help keep them in shape as they'll shrink while cooking and won't fit nicely into the burger buns.

About 2 minutes before the burger patties finish cooking, flip them and place the cheese slices onto your patties while they are still in the pan and toast the burger buns in the toaster for about a minute. Keep an eye on the buns as they'll toast quickly and will burn very easily if you're not careful!

Once toasted, place your buns on a board and turn off the heat on your frying pan. On the bottom half of the bun, spread the rose harissa paste. On the top half, place your avocado slices and mash them gently into the bun. Now construct the burger filling by placing the kangaroo patty with cheese on the bottom. Add the tomato slices, chopped dill, spinach leaves and top it with a bit of tomato ketchup.

Plate up the burger and serve with the wedges and a side of tomato ketchup for dunking. Enjoy!
Calories:
1022.7
kcal
,
Carbohydrates:
97.1
g
,
Protein:
39
g
,
Fat:
55.5
g
,
Saturated Fat:
21
g
,
Cholesterol:
216.7
mg
,
Sodium:
1856
mg
,
Potassium:
2042.3
mg
,
Fibre:
11.4
g
,
Sugar:
7.9
g
,
Vitamin A:
4893.3
IU
,
Vitamin B12:
2
µg
,
Vitamin C:
75.4
mg
,
Vitamin D:
0.2
µg
,
Vitamin K:
160.2
µg
,
Calcium:
263.2
mg
,
Iron:
6.9
mg