Southside Kitchen may earn a commission through affiliate links in this post. Read disclosure.
Chicken Parmigiana with oven-baked chips, or Chicken Parma as it's best known in Australia, is a delicious chicken schnitzel dish topped with ham, cheese and tomato sauce. Its origins are American and inspired by Italian immigrants. A classic Aussie pub meal served with chips and salad, it's one of my all time favourites. Although a pub parma is a real cultural norm, COVID-19 has made the experience a little… difficult. While that's a little disappointing, the good news is it's not too difficult to make this dish at home.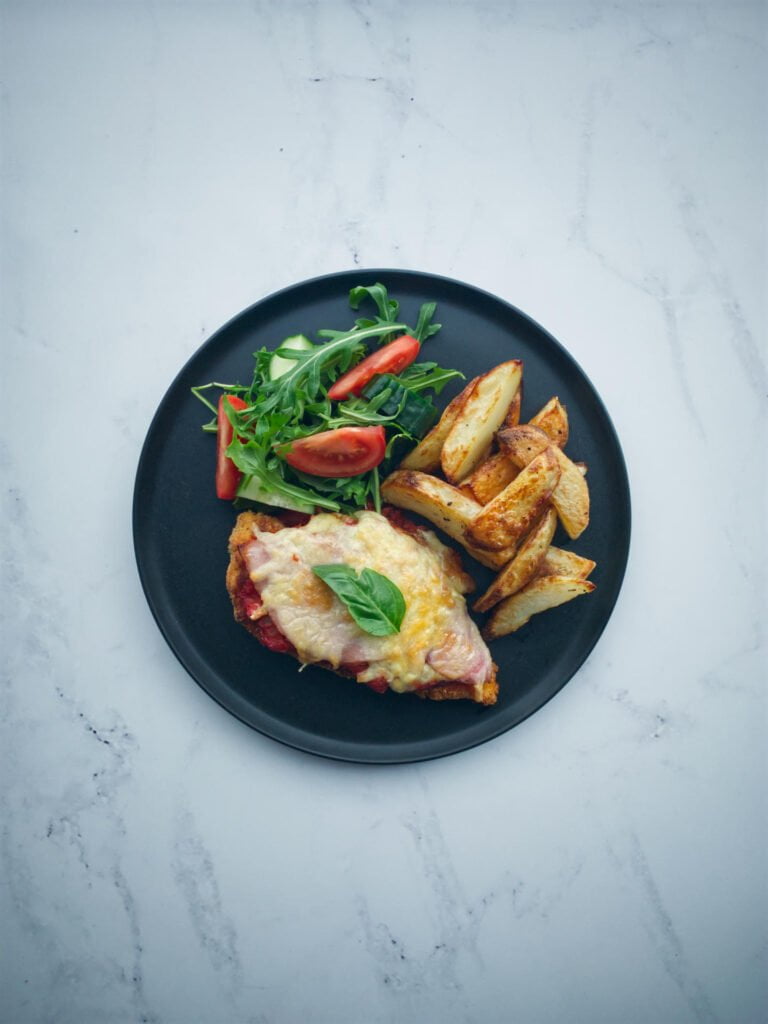 This is one of those recipes where there are a lot of potential shortcuts. As I'm one for making things from scratch as much as possible, this is a real end-to-end recipe. Of course, if you don't want to crumb your own chicken, you can buy schnitzel that's ready to go. If you want to do that though, I highly recommend sourcing it from your local butcher instead of the supermarket varieties.
You could also elect to use a parmigiana sauce from a jar, but seriously, that is a terrible idea. By and large, the pre-made sauces taste acidic and will ruin the whole flavour of your meal. It takes only ten minutes to make your own and it's so much tastier. Finally, you could swap out the home-made chips for frozen ones, but by this point you should be asking yourself why you're even bothering.
I take it if you got this far you're ready to make tasty chicken parmigiana with chips from scratch. Good on you!
Ten-minute tomato sauce
It is so easy to make a basic tomato sauce that there's really no reason to buy one. The flavours you get from doing it yourself are so much richer that there's no comparison. The core ingredients are onion, garlic, tomatoes and herbs.
There's obviously a lot of choice when it comes to which tomato to use in the sauce. In this recipe I'm using passata because it's easily accessible. Or you can stew fresh tomatoes in a saucepan for a while to soften them. You could also substitute passata for tinned tomatoes, although these tend to be a little watery. Ideally a thicker purée is what you should aim for as it gives the best sauce consistency without getting your chicken soggy. If you've already got a batch of my Pizza Sauce on hand you can use that for this step too.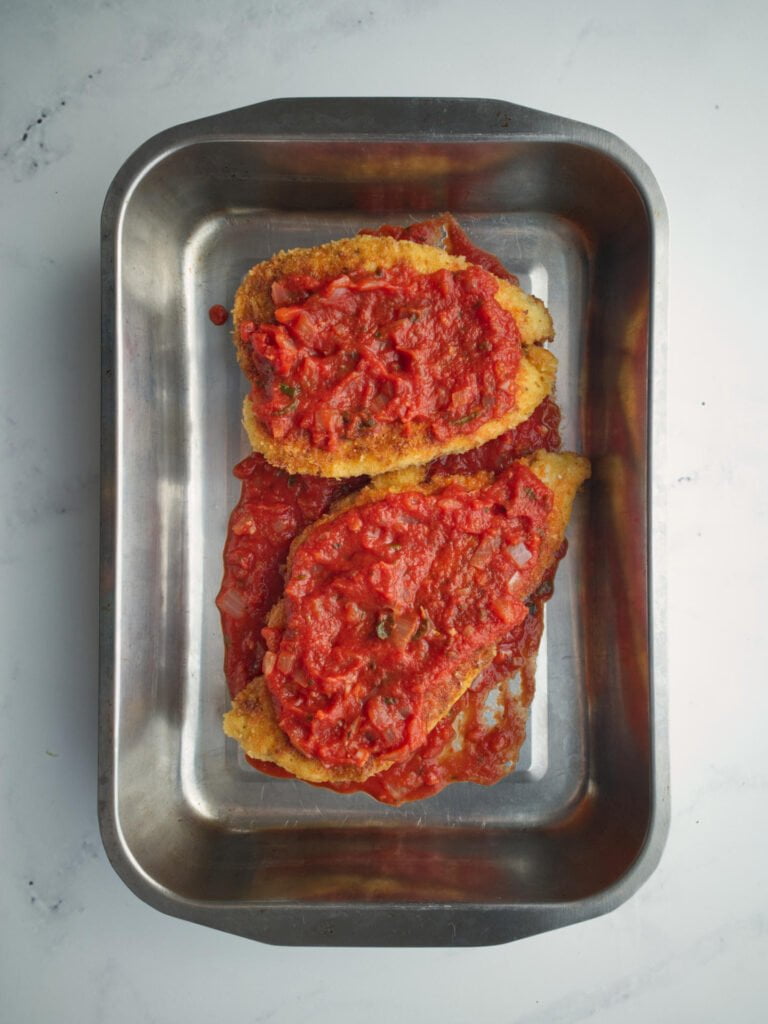 Sweat the garlic and onion in some olive oil until it softens and starts to turn translucent. Add the tomato passata along with the herbs. I like to use dried oregano and fresh basil. Either will work on their own, or you can mix any other herbs to your liking. I also add a teaspoon of vegetable stock powder and a sneaky glug of red wine just to round out the flavour.
Let the sauce bubble away in a saucepan and you're ready to go. This tomato sauce is great in this parma recipe, but it's also just as good as a pizza or simple pasta sauce. This sauce will keep in the fridge for a few days so it's easy to prepare in advance.
Oven-baked chips
Around the world chips go by many names and come in almost limitless shapes and sizes. My recipe calls for chunky oven-baked potato chips. Making chips this way is not only simple, but it gives a great result without messing around frying in oil.
The trick to good oven chips is to cut them to an even size. Pay attention to this detail so the chips cook evenly while avoiding any burnt ones. Season the potatoes with salt and pepper before they go into the oven. I like to sprinkle a little extra flavour on mine so I add some dried rosemary. You can skip this step if you just want plain chips, but it does make them extra delicious.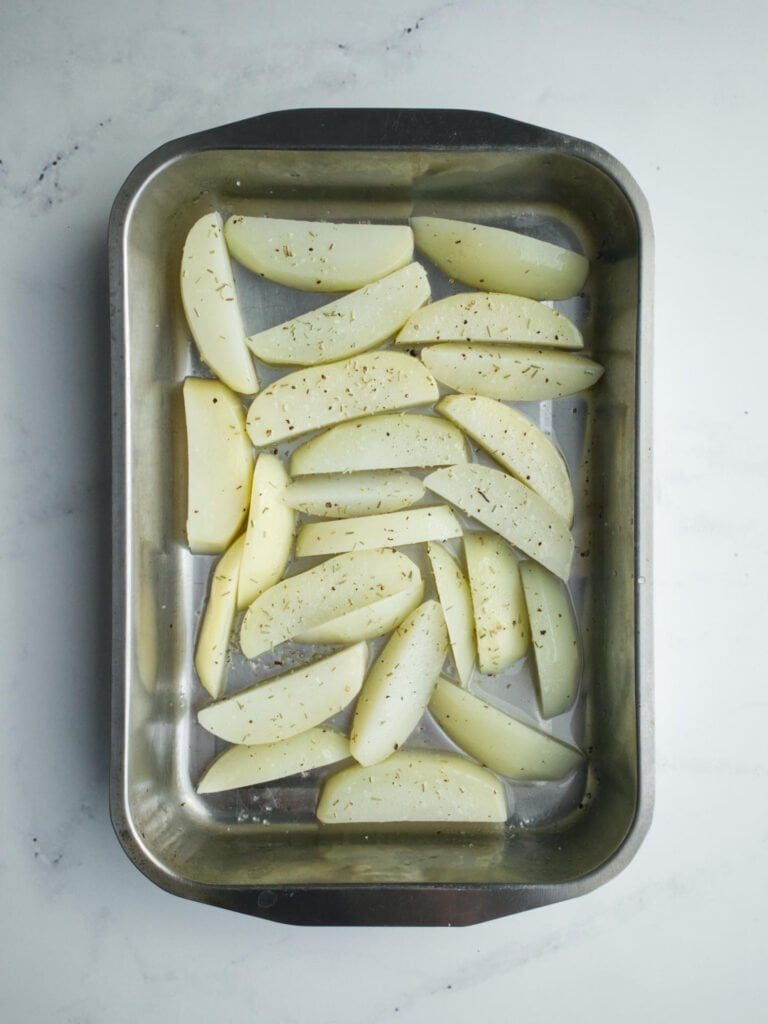 It takes only a few minutes to peel and cut the potatoes so there's really no reason to use frozen chips again! You also get much more potato filling in each chip instead of all the fatty batter you'll find in the supermarket varieties.
Crumbed chicken
There's something really satisfying about a crispy, crunchy piece of crumbed chicken. It's a detail that makes this chicken parmigiana with chips really soar. My trick with crumbing chicken is to use a 50/50 split of normal and panko breadcrumbs. Using all of one or the other gives vastly different results.
Too much panko and the crumb will be crispy but difficult to get even coverage. If it's all plain breadcrumb, it'll coat well but won't be as satisfying. It's also a great opportunity to sneak in some dried herbs. I didn't do that in this recipe but dried thyme or oregano go really well in the crumb and add a little extra flavour.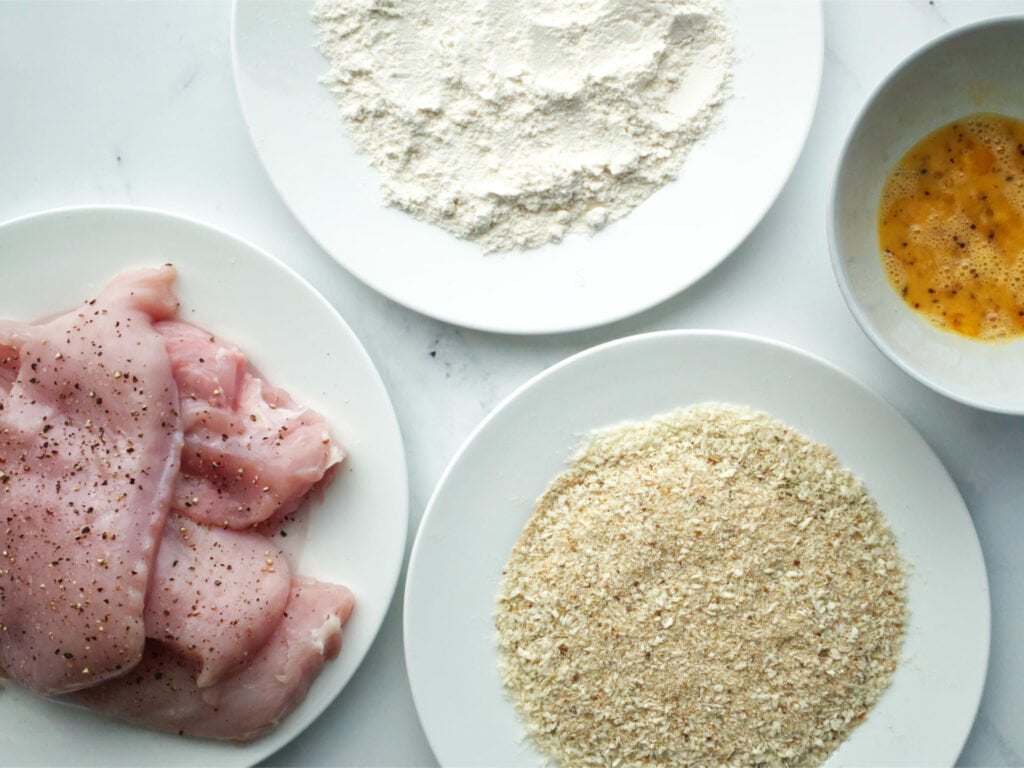 Crumbing chicken is a three step process. Firstly prepare everything by laying the ingredients out. Make sure the chicken breasts are a roughly-even thickness. Use a meat tenderiser to flatten out any particularly uneven bits; but I find if I take care when slicing, this usually isn't required. Season well with salt and pepper – lots of both at this stage makes them taste amazing.
Dip the chicken in plain flour and make sure it is completely covered. Give it a little shake to drop any excess. Now dunk the breast in egg that has been lightly whisked and well seasoned with black pepper. Again, make sure it's completely covered. I use a fork for this part to keep my fingers clean.
Finally transfer it to the breadcrumb mix. Roll it around cover it well with the crumbs. Press the chicken down into the crumbs with your fingers to really get the crumb stuck onto the egg. This is a good step to do in advance as the crumbed chicken can be stored in the fridge overnight after crumbing.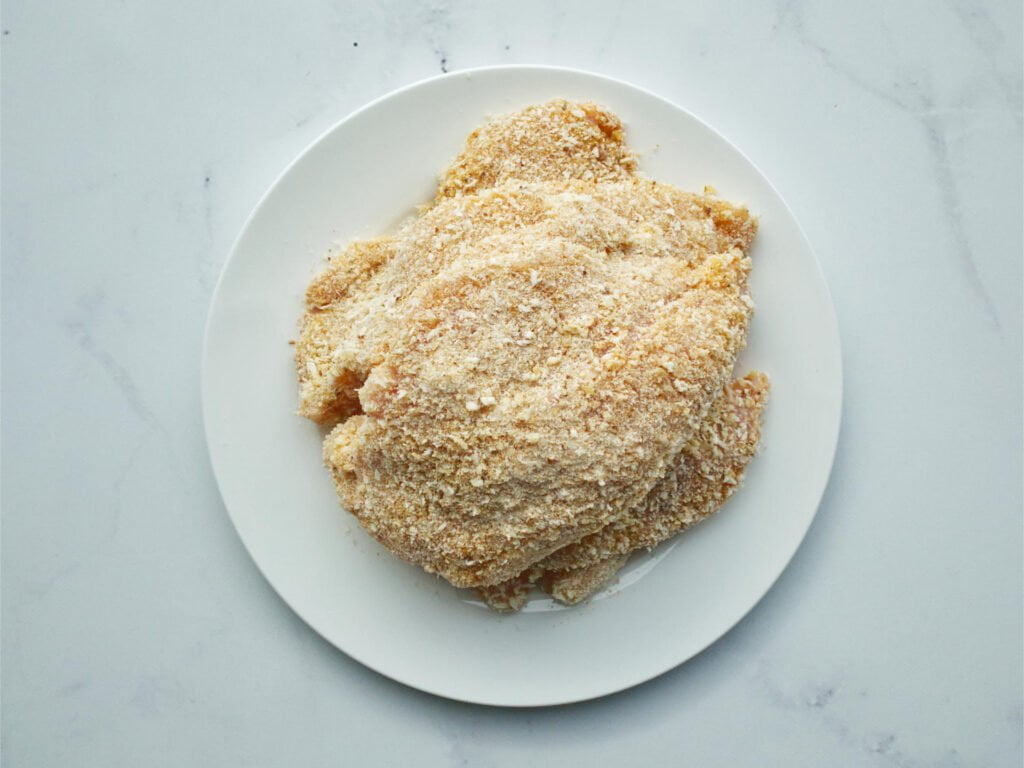 Putting all the pieces together
The best part about this recipe is once you have all the components, it's a simple process to put them all together. As I mentioned above, the tomato sauce and crumbed chicken can be prepared in advance. I sometimes like to make it all the day before so that when it comes time to cook, all the heavy lifting is out of the way. It's especially handy if you want to serve this for dinner guests without worrying about having a messy kitchen.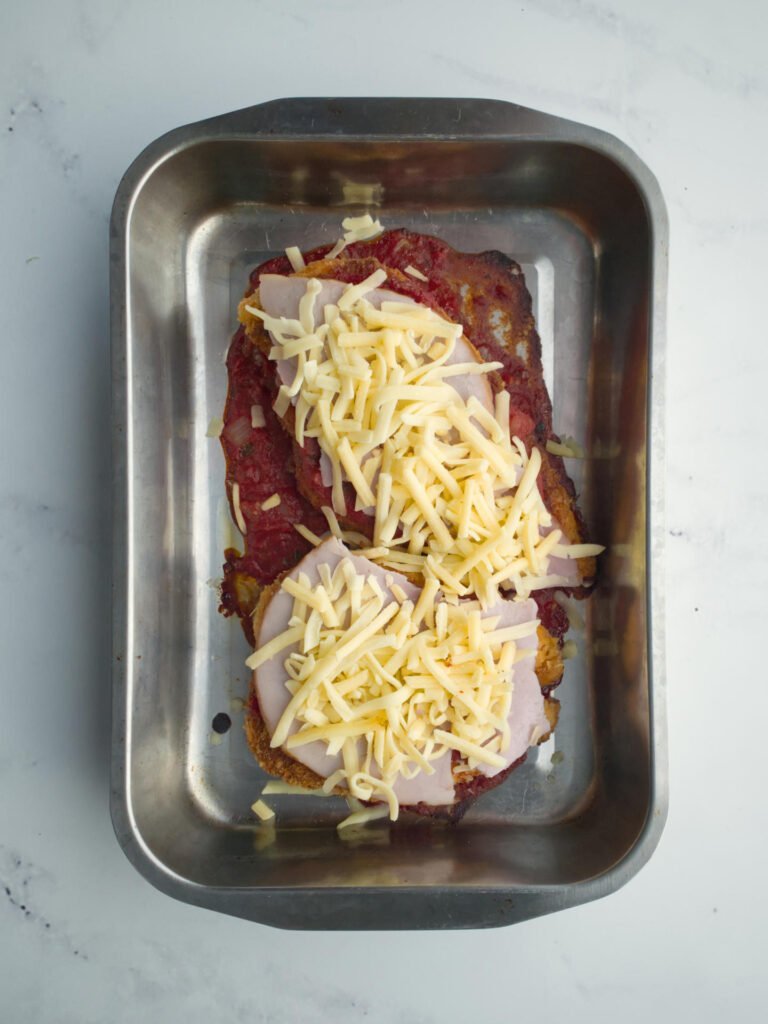 Heat up the tomato sauce. Put the chips in the oven. Fry the chicken on both sides to get it golden and crispy. Place the chicken in an oven tray with some of the tomato sauce and bake. The chicken and chips can be cooked in the oven simultaneously so everything comes out at the same time. Your meal will be piping hot and can be served with a side of salad or vegetables. For the true pub experience, crack open a cold beer… you've earned it!
This chicken parmigiana with oven-baked chips recipe is a winner and it's a great meal all-year round that works for both lunch or dinner. Enjoy!
If you're interested in other pub-style food, be sure to check out my Kangaroo Burgers with Potato Wedges or Cheeseburger Sliders with Special Burger Sauce recipes.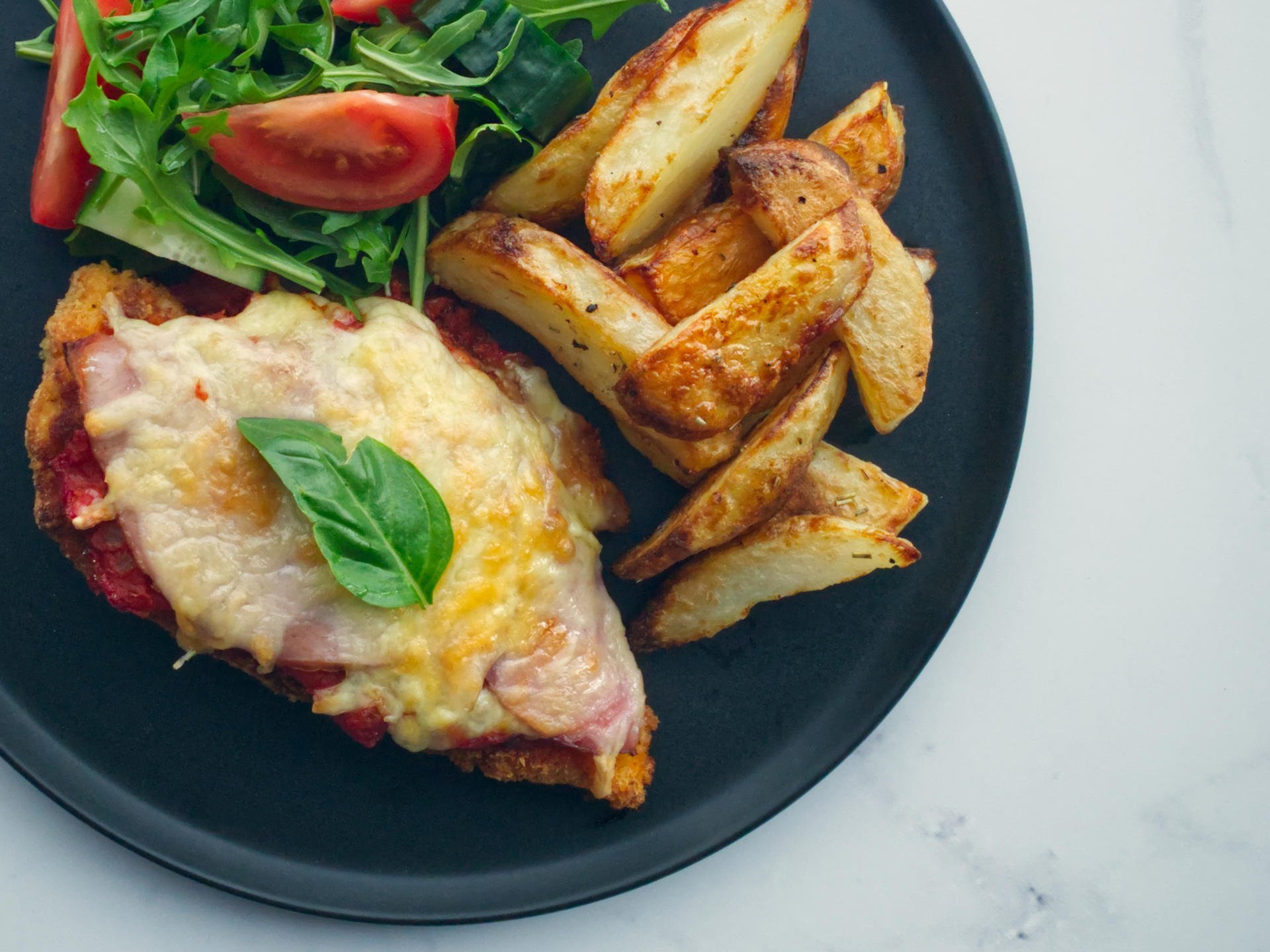 Chicken Parmigiana with Oven-baked Chips
Chicken Parmigiana with chips, or Chicken Parma as it's best known in Australia, is a delicious chicken schnitzel dish topped with ham, cheese and tomato sauce.
Ingredients
2

large

chicken breasts

,

about 350g per breast

2

eggs

,

lightly whisked

100

g

plain flour

80

g

breadcrumbs

80

g

panko breadcrumbs

100

ml

olive oil

2

cloves

garlic

,

peeled

4

slices

ham

200

g

mozzarella

,

shredded

4

leaves

basil

,

to garnish

sea salt

,

to season

black pepper

,

to season
Tomato sauce
30

ml

olive oil

1

brown onion

,

finely diced

2

cloves

garlic

,

peeled and crushed

700

g

tomato passata

,

or similar

1

tbsp

dried oregano

8

leaves

basil

,

roughly chopped

1

tsp

vegetable stock

,

powder

50

ml

red wine

,

optional
Chips
1

kg

potatoes

,

peeled

4

tbsp

olive oil

1

tsp

dried rosemary
Instructions
Prepare the tomato sauce by placing the olive oil in a saucepan on medium heat. Add the onion and garlic. Season with salt and pepper. Cook, stirring occasionally, until the onion softens then add the tomato passata, oregano, basil, vegetable stock poweder and red wine. If the sauce is a little thick, add some water. Stir until combined and simmer for about 5 minutes. Reduce the heat and keep warm, or set aside if preparing in advance.

Next prepare the chicken schnitzels. Lay the chicken breasts flat on a board and slice in half horizontally keeping both halves an even thickness. If necessary, flatten out any uneven bits using a meat tenderiser. Season well with salt and pepper.

Lightly whisk the eggs in a bowl, seasoning with black pepper. Place the flour on a plate. On a separate plate combine the breadcrumbs and panko breadcrumbs. Take a piece of chicken breast and coat evenly in the flour, shaking off any excess. Using a fork, transfer to the egg and coat evenly, draining off any excess. Finally transfer to the breadcrumb mix and coat evenly. Press down with little pressure to ensure the breadcrumbs stick to the egg. Transfer to a plate and repeat until all the chicken pieces are crumbed.

Now for the chips. Preheat the oven to 210ºC. Cut the potatoes in half lengthways and then cut each half into long chips about 1½ cm wide. Aim to keep all the chips about equal size so that they will cook evenly. Bring a saucepan of salted water to the boil and add the potato chips. Blanch for about 3-5 minutes, then drain and transfer to a baking tray. Add the olive oil and toss to coat evenly. Season with salt, pepper and rosemary. Roast in the oven for 35-45 minutes, or until golden and crispy.

Meanwhile, prepare an oven tray with a couple of spoonfuls of tomato sauce. Heat a large frying pan on medium-high heat. Add the oil and garlic cloves. When the garlic is sizzling, add the chicken and fry for about 5 minutes on each side, or until golden. Discard the garlic, and transfer the chicken to the oven tray and place it atop the tomato sauce. Coat each schnitzel with a spoonful of tomato sauce. Place in the oven and bake for 10 minutes.

Remove the chicken from the oven and top each with a slice of ham. Cover the ham with mozzarella and return to the oven for a further 10 minutes. Bake until the cheese starts to turn a golden colour.

Serve immediately with a simple green salad or vegetables.
Calories:
1376.8
kcal
,
Carbohydrates:
107.2
g
,
Protein:
73
g
,
Fat:
72.3
g
,
Saturated Fat:
17
g
,
Cholesterol:
250.7
mg
,
Sodium:
2278.8
mg
,
Potassium:
2604.6
mg
,
Fibre:
11.6
g
,
Sugar:
13.9
g
,
Vitamin A:
1362.2
IU
,
Vitamin B12:
2
µg
,
Vitamin C:
66.6
mg
,
Vitamin D:
1
µg
,
Vitamin K:
55.4
µg
,
Calcium:
435
mg
,
Iron:
9.1
mg