Southside Kitchen may earn a commission through affiliate links in this post. Read disclosure.
Raspberry and White Chocolate Muffins are my favourite of all the muffin flavours. The sweetness of the white chocolate and the tartness of the raspberry creates a delicious combination. Muffins are also one of a small handful of foods that are truly an anytime meal.
Whether you enjoy them for breakfast as a meal in their own right, a sneaky lunchtime snack, or paired with ice-cream for a tasty dessert, muffins are just very easy to eat! They're also very easy to make. This quick and easy recipe will get you from zero to muffin hero in only an hour.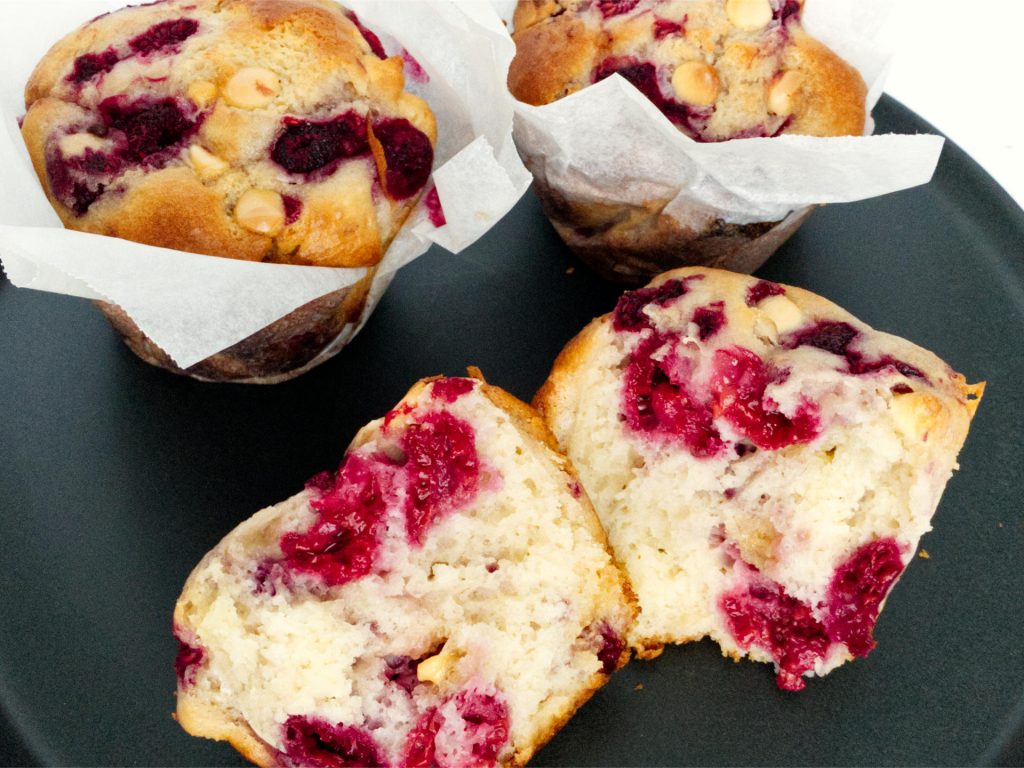 Frozen or fresh raspberries? While it may seem that fresh is always the best way to go, frozen raspberries are definitely preferred when making these muffins. They hold their shape better when baking as they better withstand the heat of the oven. They are also much cheaper to buy than fresh ones and you really cannot tell the difference in the end. It's handy just to have a bag in the freezer on hand when the need for muffins strikes!
The other thing to watch out for is the chocolate chips. Be sure to buy the chocolate chips specific to baking instead of the melting varieties. The baking bits will hold their shape when baked in the oven. They'll also create amazing little gooey pockets of white chocolate sweetness in the muffins. On the other hand, melts will disappear into the batter when baked and you'll miss out on the chocolate chip texture.
Mix. Don't over-mix.
All-in-all there's not many steps involved in making these muffins. First mix the dry ingredients. Then mix and add the wet ingredients. Combine the two and stir gently with a metal spoon. Add the raspberry and white chocolate filling and mix to combine.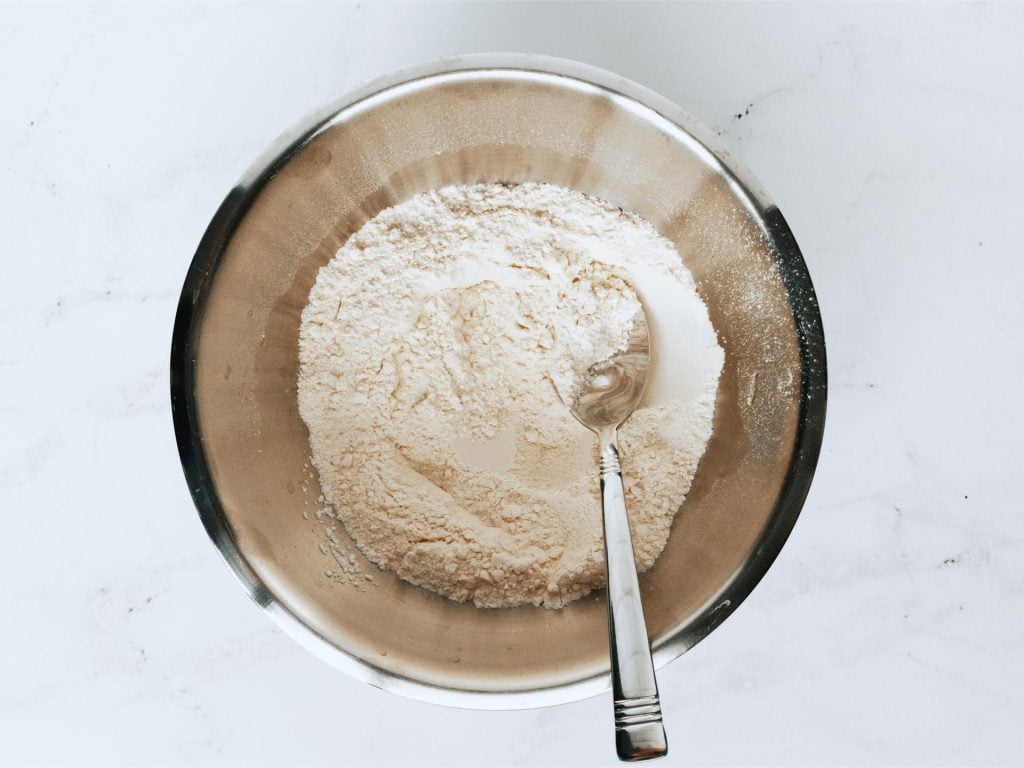 The key to getting great fluffy muffins every time is to be careful not to over-mix the batter. Stir using a metal spoon and mix until only just combined. It's totally fine if there's still a little of the dry ingredients showing through when you first combine the wet and dry components. Keep going with adding in the fillings and fully combine everything at the end. Pay just enough attention to scrape down the sides and incorporate everything and then stop stirring. Try to avoid the mixture going too pink as this is a sure sign you're stirring the raspberries too much.
⭐️ Enjoying this recipe? Subscribe to my newsletter to be one of the first to receive my latest updates direct to your inbox.
Baking raspberry and white chocolate muffins
Now that all the mixing is done there's only one thing left to do. Carefully spoon the muffin batter into the muffin pan. Divide the mixture evenly into the pan leaving about 5-10mm of room from the top of the pan for the muffins to rise. I'm using a 6-muffin pan because I prefer big café-style muffins, but this recipe works just as well with 12-muffin pans too. Keep in mind that if you make the muffins smaller, you'll need to reduce the cooking time. I've given some example timings in my recipe below.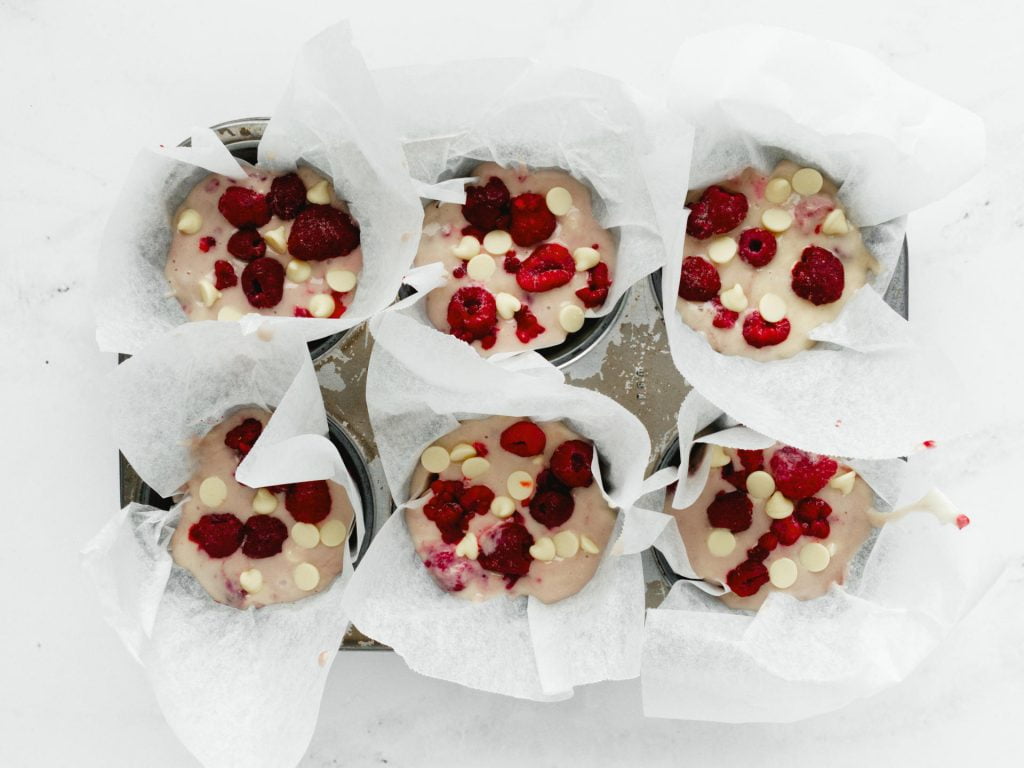 When the raspberry and white chocolate muffins come out of the oven leave them in the pan for about 5 minutes to finish cooking all the way through. Then transfer them to a wire rack to cool. Although it's tempting to dig in immediately, wait at least 30 minutes for the muffins to settle.
If you break them apart too early they won't hold their structure very well and the contents will be a bit gooey. About an hour is the ideal sweet spot if you want to eat the muffins while they're still warm – and really, why wouldn't you!
Any leftover muffins can be stored in an airtight container for a few days. They taste just as good on day two but if you want to enjoy them like new, a quick zap in the microwave for 15-20 seconds will bring them to life. Sit back and enjoy with a cup of your favourite tea or coffee. If you're in the mood for more chocolate sweet treats, check out my Chocolate Brownies and Chocolate Crackle Cookies recipes.
Raspberry and white chocolate muffins, done! 🎉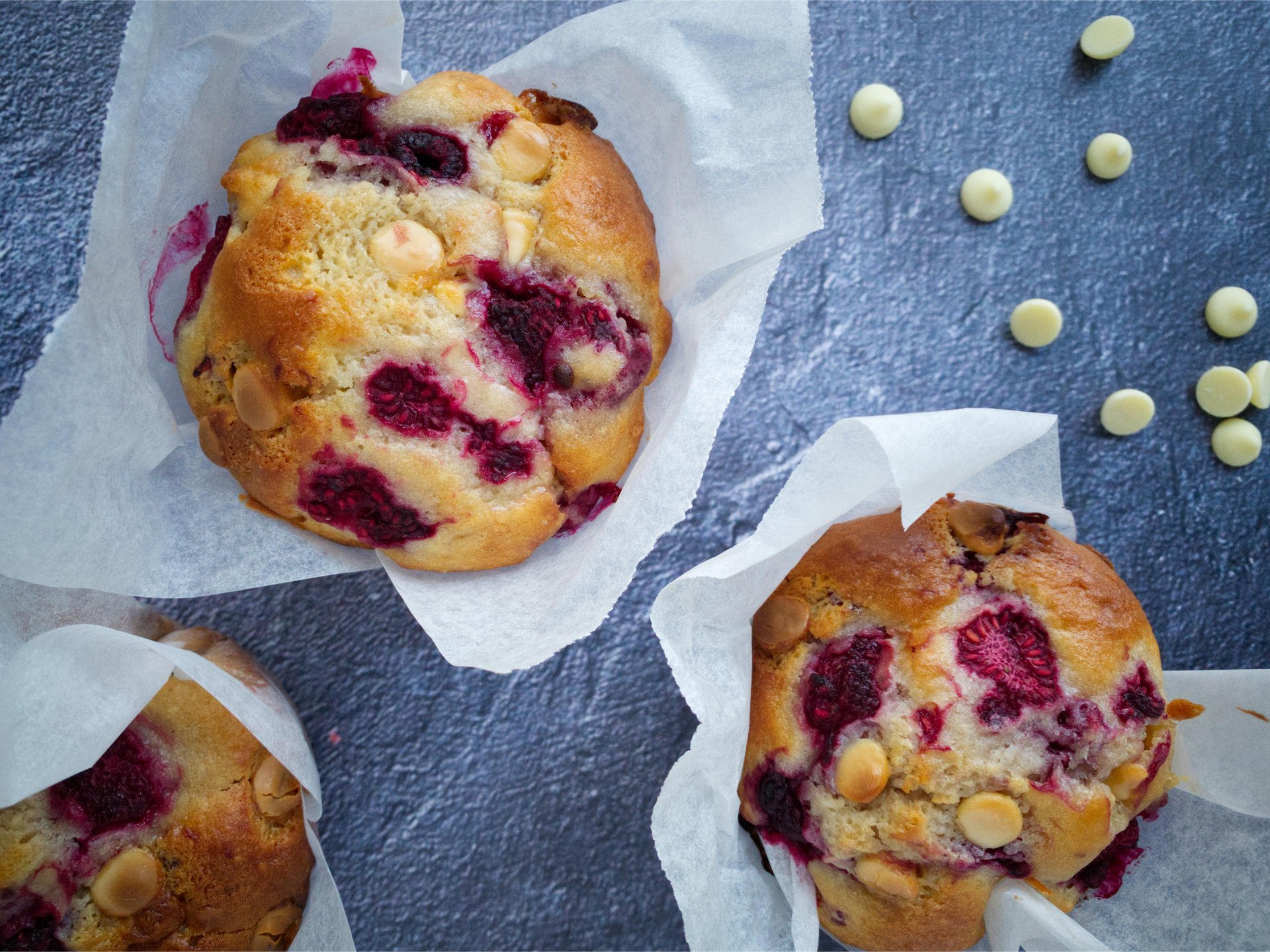 Raspberry and White Chocolate Muffins
Raspberry and white chocolate muffins are truly an anytime meal. This quick and easy recipe will get you from zero to muffin hero in an hour.
Ingredients
260

g

self-raising flour

130

g

caster sugar

1

egg

50

g

vegetable oil

1

tsp

vanilla extract

250

ml

milk

250

g

frozen raspberries

100

g

white chocolate baking chips
Instructions
Pre-heat oven to 180ºC and line either a large 6-muffin tray or regular 12-muffin tray with individual pieces of baking paper.

Sift the flour into a large mixing bowl and stir in the sugar. Form a well in the centre.

Lightly whisk the egg, oil, vanilla and milk until combined. Pour the wet ingredients into the flour and sugar well and gently fold together with a metal spoon until just combined. Add the raspberries and white chocolate chips and gently fold to combine, being careful not to over-mix.

Spoon the mixture evenly into the muffin pan and bake in the oven for 20-25 minutes for a 12-muffin pan, or 35-40 minutes for a large 6-muffin pan.

Allow to cool in the pan for 5 minutes before transferring to a wire rack to cool completely.
Calories:
461.4
kcal
,
Carbohydrates:
70.1
g
,
Protein:
8.9
g
,
Fat:
16.7
g
,
Saturated Fat:
11.1
g
,
Cholesterol:
34.9
mg
,
Sodium:
44.9
mg
,
Potassium:
219
mg
,
Fibre:
3.7
g
,
Sugar:
35.6
g
,
Vitamin A:
120.9
IU
,
Vitamin B12:
0.3
µg
,
Vitamin C:
10.9
mg
,
Vitamin D:
0.7
µg
,
Vitamin K:
6.8
µg
,
Calcium:
101.3
mg
,
Iron:
0.8
mg