Southside Kitchen may earn a commission through affiliate links in this post. Read disclosure.
Bangers and Mash is not the most photogenic of meals, but it sure is delicious! It's a great mid-week dinner that's quick to prepare but still fills the tummy. It's also great value for money as you can feed four people for around twenty bucks.
I often feel that some of the simplest meals are the trickiest to make well. There's such a small margin for error. Bangers and Mash is one such dish because there's really only sausages, potato and some sort of gravy. How can you tart that up? Let me show you a couple of simple tricks that will transform these basic ingredients into tasty morsels.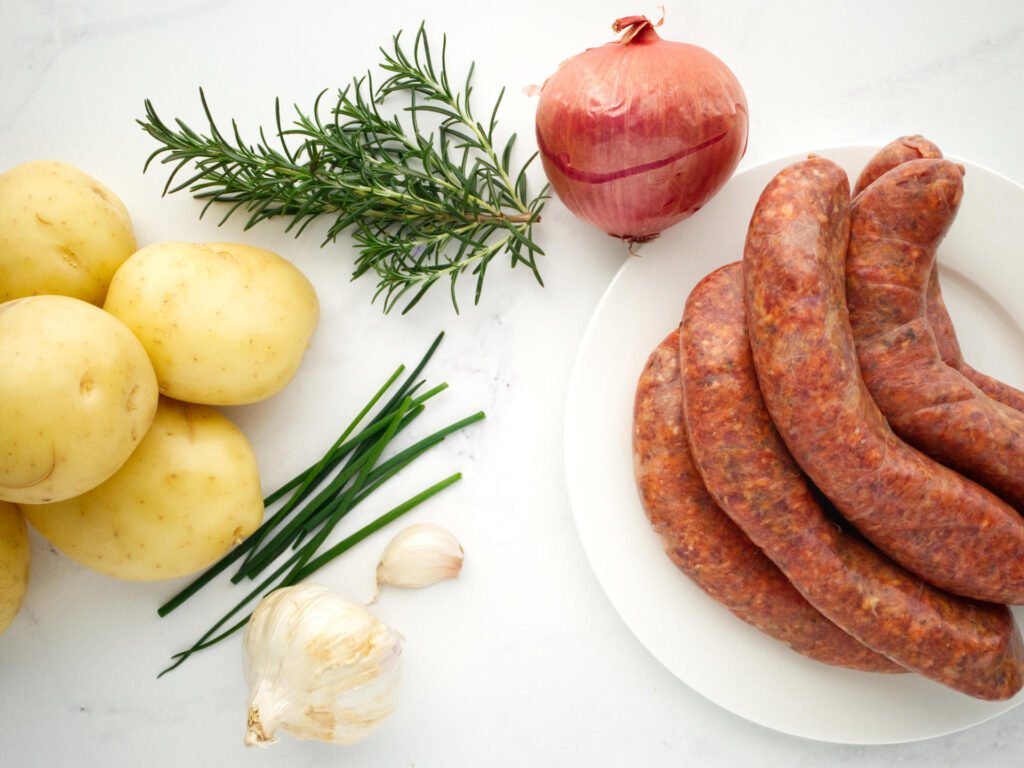 The bangers
The first trick is to start with good quality sausages.
In case you're wondering, the reason sausages were coined 'bangers' in the first place was due to their tendency to explode when cooked. Way back in Victorian times, and not completely dissimilar to today, sausages were filled with all sorts of not-so-premium cuts of meat. This led to a high fat content and a propensity to bubble and burst their casings upon heating. While today's sausages will still burst, how likely they are to do so is a good indicator of the general quality of the sausage's contents.
Cheap supermarket sausages can split spectacularly, and so my advice is to always try to pick the more premium sausages if you can. Better still, get them from your local butcher or market. They'll not only taste a lot better as they usually come in a variety of fun flavours, but they generally contain better meat with lower overall fat content.
That's not to say that these premium sausages won't burst at all – there's always going to be some fat inside that will want to escape. They just won't do the full-length split, wraparound and dance on the hot plate that the cheaper ones can. The way to alleviate splits is by lightly pricking the sausage casing with a fork or toothpick before cooking. Doing this will allow the natural fats a place to bubble out and prevent pressure build-up on the inside.
When going for a sausage flavour there's no rule. I pick different sausages for my bangers and mash each time I make it. Sometimes it'll be beef and red wine, other times lamb and rosemary sausages take my fancy. Be a bit adventurous and try new flavour combinations to find your favourites.
The mash
Next comes the mashed potatoes. There are so many ways to make mashed potato that it's not even worth trying to summarise them here. All I'll say is: this way is dead simple, doesn't use any butter, and gives a creamy result without having to mash for ten minutes. Oh, and it's delicious!
The only secret to making this mash great is to add a couple of flavourful ingredients. Chives give a fresh onion taste and add a bit of colour to the potato. The wholegrain mustard is mixed in to provide a warm, balanced flavour that pairs perfectly with the meaty sausages.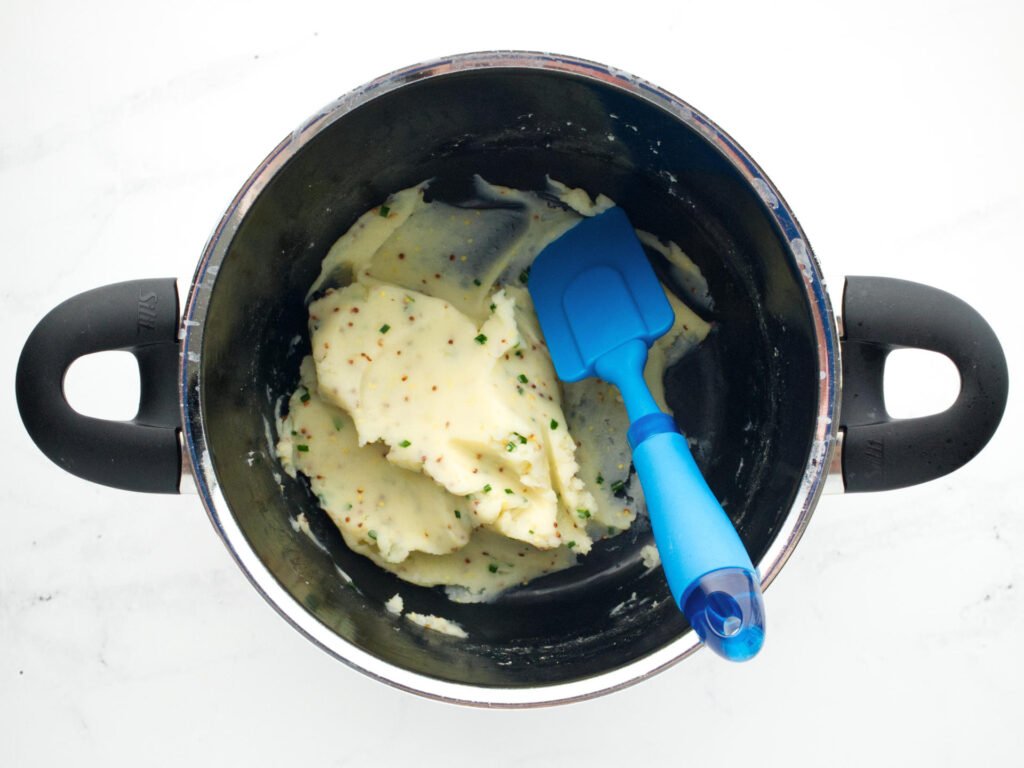 To make the mash super creamy, all that's needed is a few good glugs of olive oil. As well as providing flavour, the oil will bind the mashed potato together into a paste-like texture that is easy to manipulate with a silicone spatula. It plates up perfectly and is just as creamy as using a stack of butter and milk without all the hassle of having to mash it.
The onion gravy
The final piece of the puzzle is the onion gravy. This recipe stands out from a lot of other bangers and mash recipes because it doesn't actually call for a thick gravy sauce. Instead the sauce is a lot thinner and instead focuses on flavour. It packs a lot into a small amount and is sweet, but not too sweet.
The sauce is primarily made from Balsamic vinegar, which is often a very overpowering ingredient. However, when reduced with the onions and combined with a dash of sugar and Worcestershire sauce, it takes on a less acidic taste. What's left is a well-balanced sauce that's sweet, a little sticky and complements the meatiness of the sausages. You only need a couple of tablespoons over the top and it dribbles down making everything taste amazing.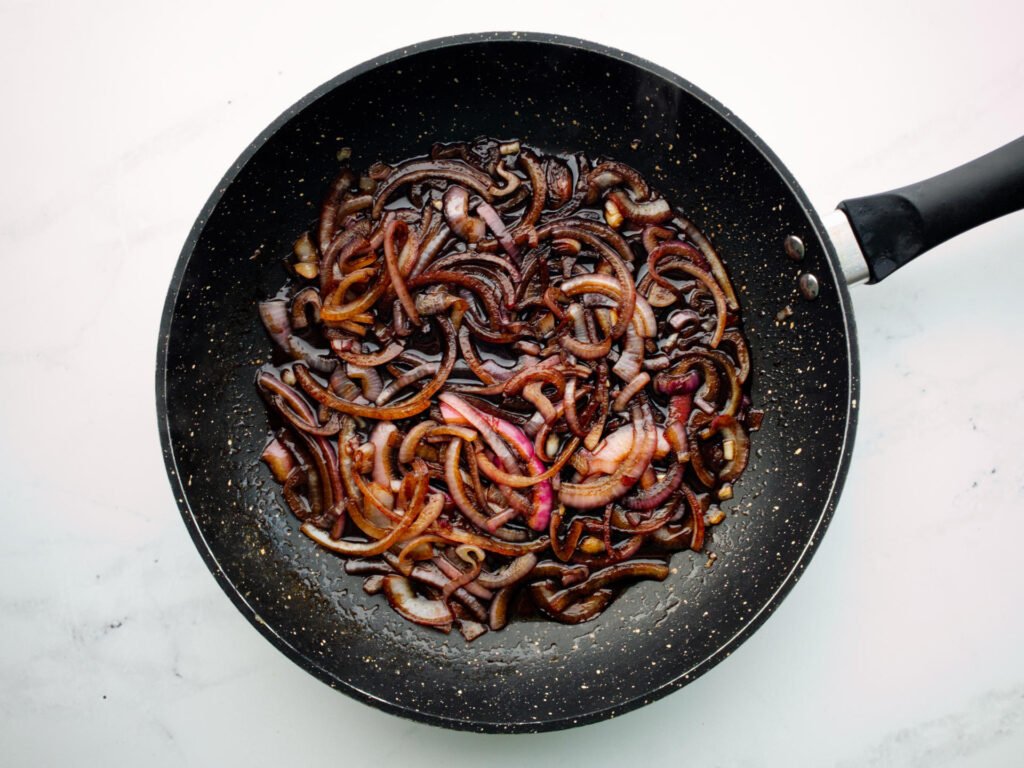 I'll be the first to admit it doesn't look – or necessarily smell – the best when it's cooking. The darkness of the Balsamic vinegar can make the onions appear like they're burnt, but trust me, they aren't. They taste amazing once the sauce has had time to reduce and all the flavours have infused. The trick is to keep the sauce quite wet right up to serving time. If the pan is left to reduce too much, it will quickly disappear to nothing so keep an eye on it, adding a little water if necessary.
There you have it, tasty Bangers and Mash, a British classic. If you enjoyed this recipe, be sure to check out my Shepherd's Pie and Beef and Vegetable Casserole.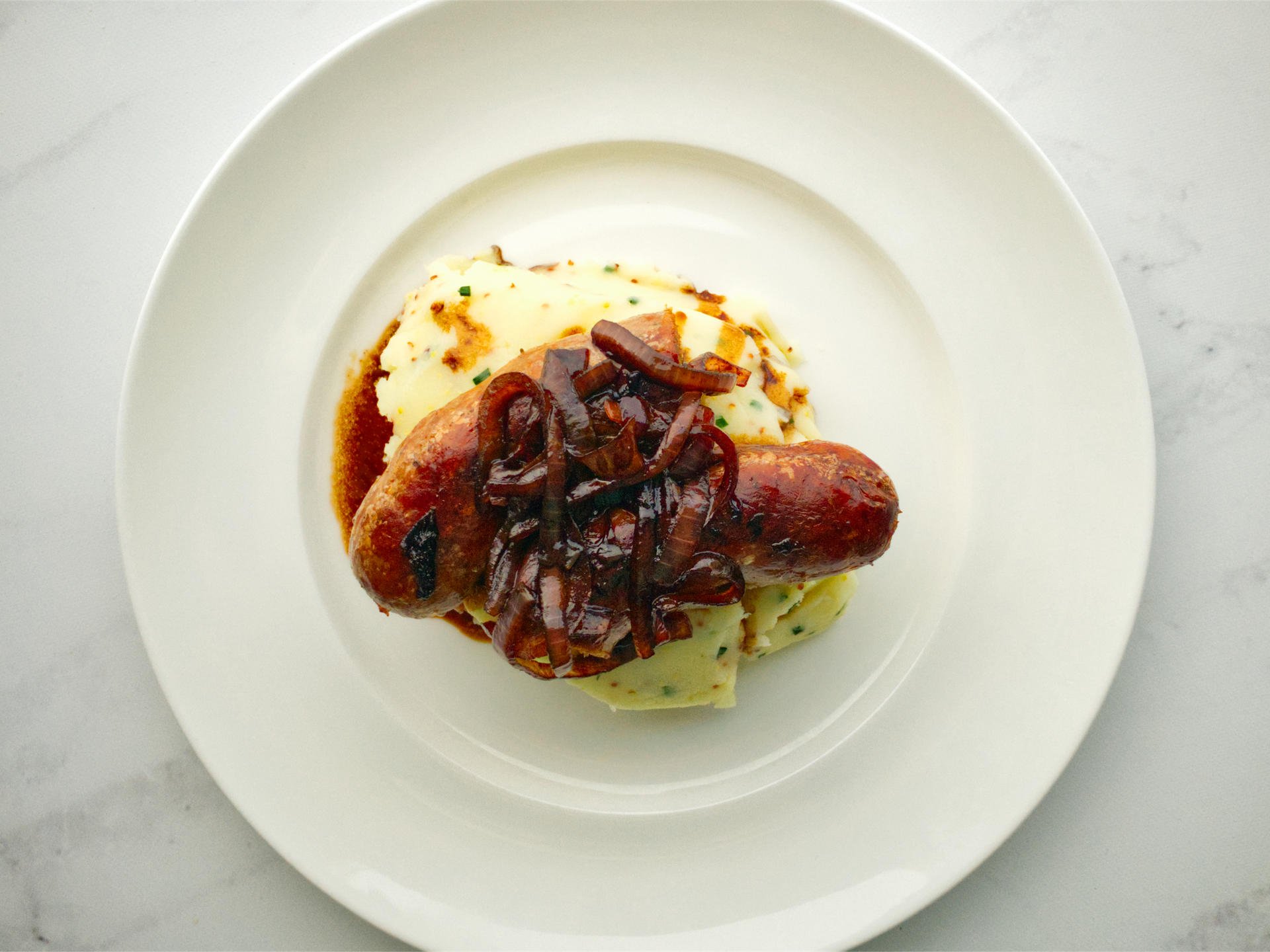 Bangers and Mash
Bangers and Mash is a delicious mid-week dinner that's quick to prepare and fills the tummy. It's also a recipe that's great value for money.
Ingredients
8

sausages

,

good quality meat of your choosing

4

cloves

garlic

,

peeled

3

sprigs

rosemary

15

g

unsalted butter

sea salt

,

to season

olive oil

,

for frying
Onion gravy
1

large

red onion

,

finely sliced and separated

1

tsp

caster sugar

50

g

unsalted butter

100

ml

Balsamic vinegar

40

ml

Worcestershire sauce

100

ml

beef stock

,

or vegetable stock
Mashed potato
1

kg

potatoes

,

peeled and diced

60

ml

olive oil

1

bunch

chives

,

finely sliced

2

tbsp

wholegrain mustard
Instructions
Preheat oven to 180ºC. Bring a pot of salted water to the boil and add the potatoes.

Heat a glug of olive oil in a large oven-proof frying pan on medium-high heat. Add the sausages, gently pricking each with a toothpick or fork to prevent the casings from bursting. Smash the garlic cloves and add to the pan along with the rosemary. Cook the sausages for a few minutes until browned, then add the butter. Once the butter has melted, baste the sausages to coat and the place the pan in the oven to cook.

Place a seperate non-stick frying pan on medium-high heat and add a glug of olive oil. Add the red onion and cook for about 1 minute before adding the sugar and a pinch of salt. Add the butter and stir to coat. Then add the Balsamic vinegar and Worcestershire sauce. Cook for a couple of minutes until reduced slightly, then add the beef stock. Bring to a boil and reduce to a gravy sauce consistency.

Meanwhile, once the potatoes have softened, drain using a colander and return the pot to medium heat. Add the strained potatoes back into the pot and mash using a masher. Reduce the heat to low, add the olive oil and stir using a silicone spatula. Add the chives, mustard and a pinch of salt. Stir until evenly combined.

Evenly divide the mashed potato onto each serving plate. Place the sausages atop the potato and top with the onion gravy. Serve immediately.
Calories:
1018.2
kcal
,
Carbohydrates:
55.4
g
,
Protein:
32.4
g
,
Fat:
74
g
,
Saturated Fat:
25.5
g
,
Polyunsaturated Fat:
8.3
g
,
Monounsaturated Fat:
34.7
g
,
Trans Fat:
0.9
g
,
Cholesterol:
157.3
mg
,
Sodium:
1659
mg
,
Potassium:
1702.3
mg
,
Fibre:
6.4
g
,
Sugar:
9.1
g
,
Vitamin A:
600.4
IU
,
Vitamin B12:
1.5
µg
,
Vitamin C:
55.5
mg
,
Vitamin D:
2.5
µg
,
Vitamin K:
18.2
µg
,
Calcium:
88.5
mg
,
Iron:
5
mg