Southside Kitchen may earn a commission through affiliate links in this post. Read disclosure.
Tabbouleh, or tabouli, is a classic Lebanese dish. It's a refreshing salad made with herbs and freshly chopped ingredients. It tastes great, can be paired with almost any meal and is very easy to prepare. Although traditionally served as part of a meze style meal, it also goes really well as a stand-alone salad. Tabbouleh is right at home alongside lamb dishes like kofta, or it can be served as part of a selection of entrées.
I really enjoy Middle Eastern cuisine. The warming spices add a real sense of coziness and pack a huge amount of flavour into every dish. While not spicy itself, tabbouleh fits right into this style of cooking. The tangy lemon and fresh parsley offset the spices, balancing out the palate. It's one of my favourite salad dishes and it's ready in only 15 minutes.
Fresh ingredients
There's not much to making tabbouleh. It's mainly parsley, mint, tomato, onion and cereal. Bulgur is used as the grain in traditional Lebanese cooking, but I often find it difficult to source. Instead I substitute couscous which is a little less authentic but gives a similar result. Both are wheat-based cereals and the preparation is the same. If you have access to bulgur, it can be substituted directly into the recipe.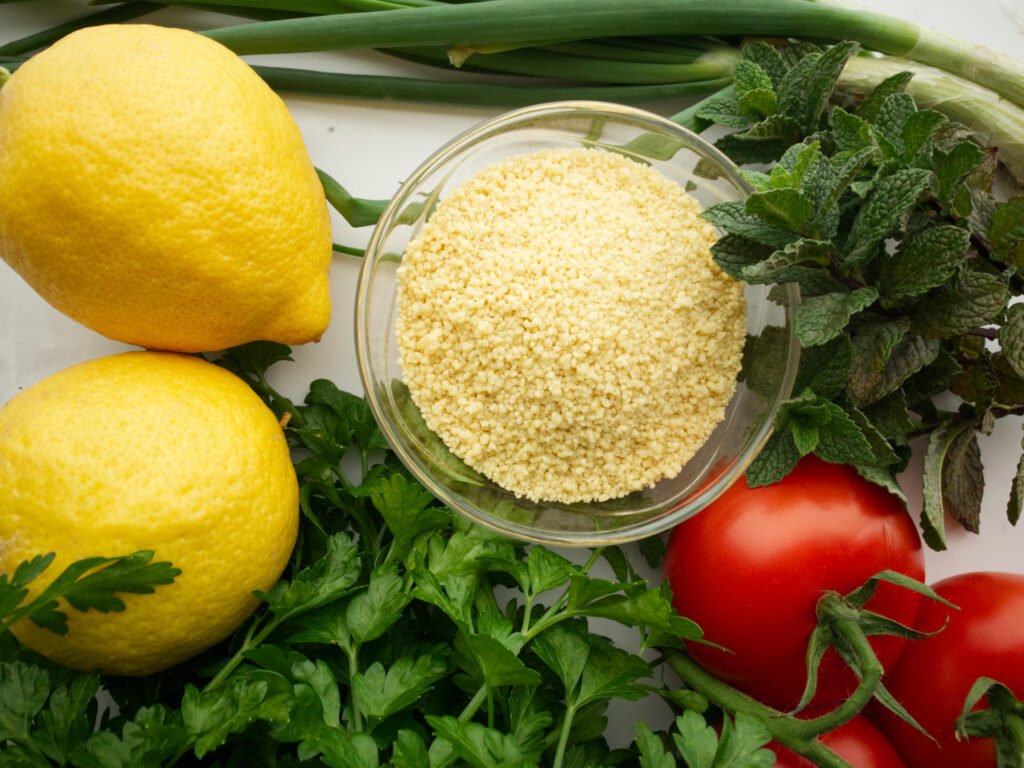 The key is to have an abundance of fresh parsley. This recipe calls for a 'bunch', but the size will depend on where you get it from. It needs to be a large bunch! Going by Australian supermarket standards, you'll need two of their bunches. If you're buying from a local market, one bunch is usually about right. It's even better if you have fresh parsley from your own garden and in that case just grab a decent bouquet.
The recipe also calls for a handful of mint leaves but it's not super important how many you use. I used about five stems of mint and stripped the leaves from those. I usually work off a ratio of about a quarter of the amount of mint as there is parsley.
⭐️ Enjoying this recipe? Subscribe to my newsletter to be one of the first to receive my latest updates direct to your inbox.
Making tabbouleh
Tabbouleh is a very quick recipe to prepare. Prepare the couscous by soaking it in boiling water and lemon juice. It's about a one-to-one ratio of couscous to liquid. I just stand it in a bowl with a plate on top while I chop the fresh ingredients.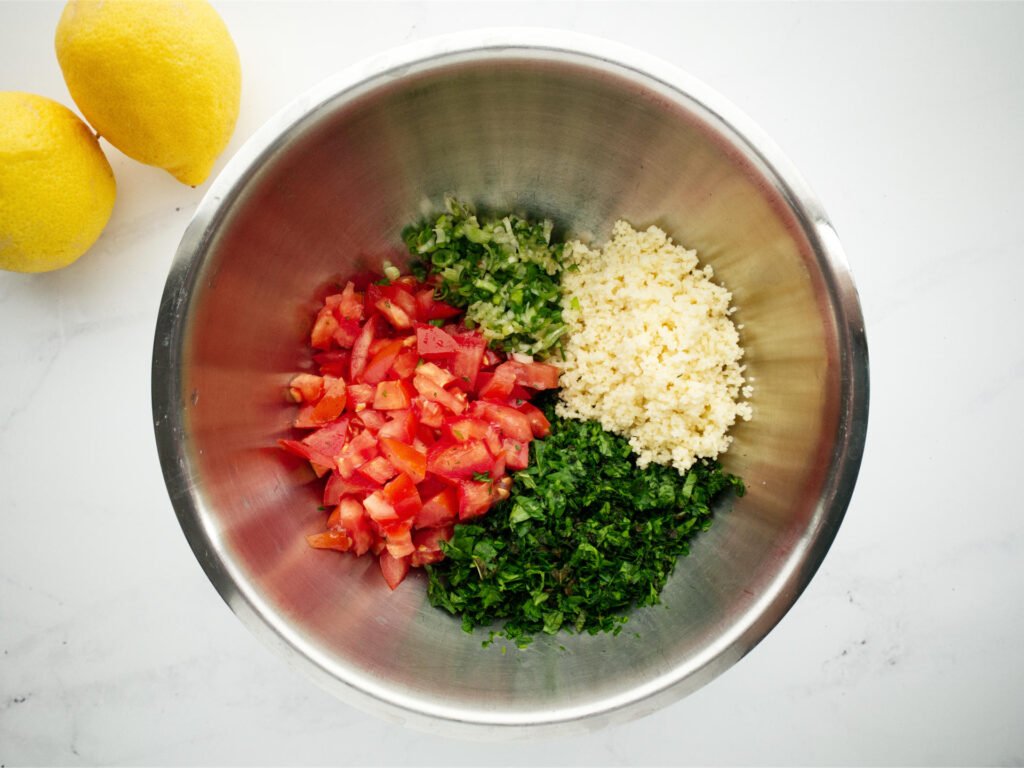 Chopping all the herbs is definitely the most time consuming part of the recipe. It's not particularly difficult but it can take a while depending on your knife skills. Be prepared for a lot of chopping if you want to scale this recipe up for a party! Start by stripping all the leaves off their stems so there's no 'woody' bits in the final salad. Lay all the parsley and mint leaves out on a board and rock a knife back and forth until finely chopped.
Dice the tomatoes into small cubes and add to the herbs with the spring onion. I prepare all the chopped ingredients in a mixing bowl and then transfer them to a serving bowl at the end. Doing this helps to keep the presentation bowl clean as the herbs will make a bit of a mess when you combine everything.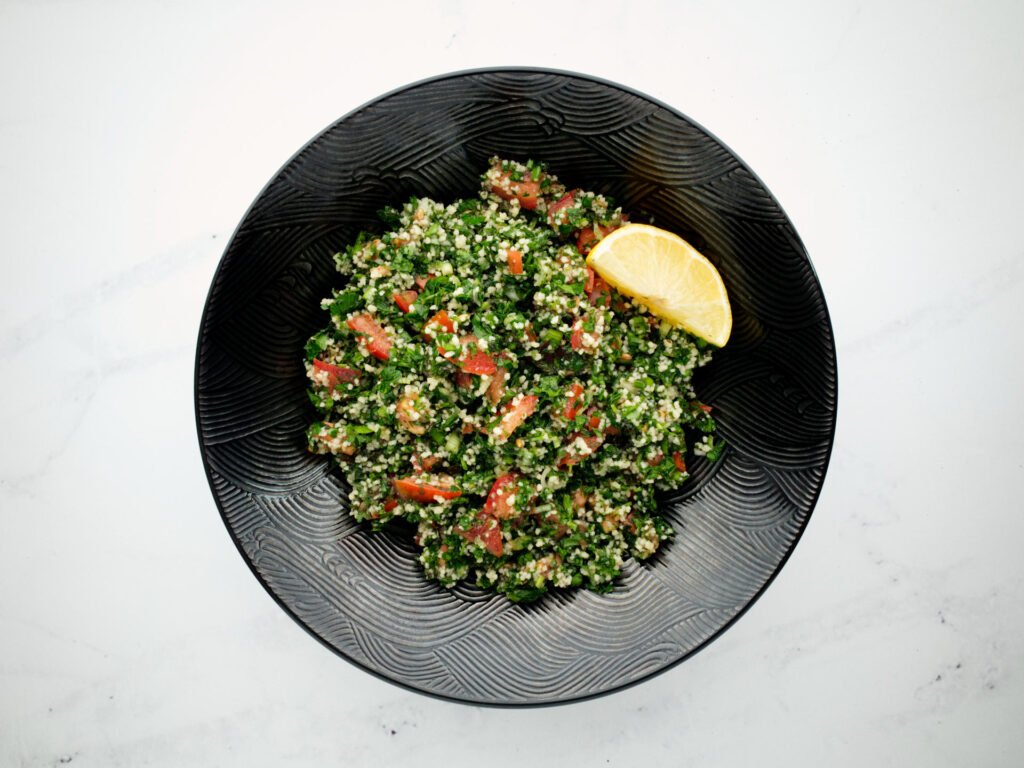 There's a lot of room to adjust the quantities of the ingredients in this one and it's not an exact science. Essentially, the parsley is the main ingredient, so I usually scale up and down the other ingredients based off how much parsley is in my bunch. A good guiding principle is to keep in mind that the dish should appear more green than red or yellow when complete. It should ultimately taste like a zingy parsley salad so if you shortchange on the parsley it won't be the same.
Finish the tabbouleh off with a decent crack of salt and black pepper, and a glug of olive oil. You can serve it immediately, but I like to chill mine for 15-30 minutes before serving. This helps to keep everything crisp while it's on the table.
And that's all there is to it! If you enjoyed this recipe be sure to check out some of my other side dishes – Braised Dutch Carrots and Baby Peas or Brussels Sprouts with Bacon and Walnuts.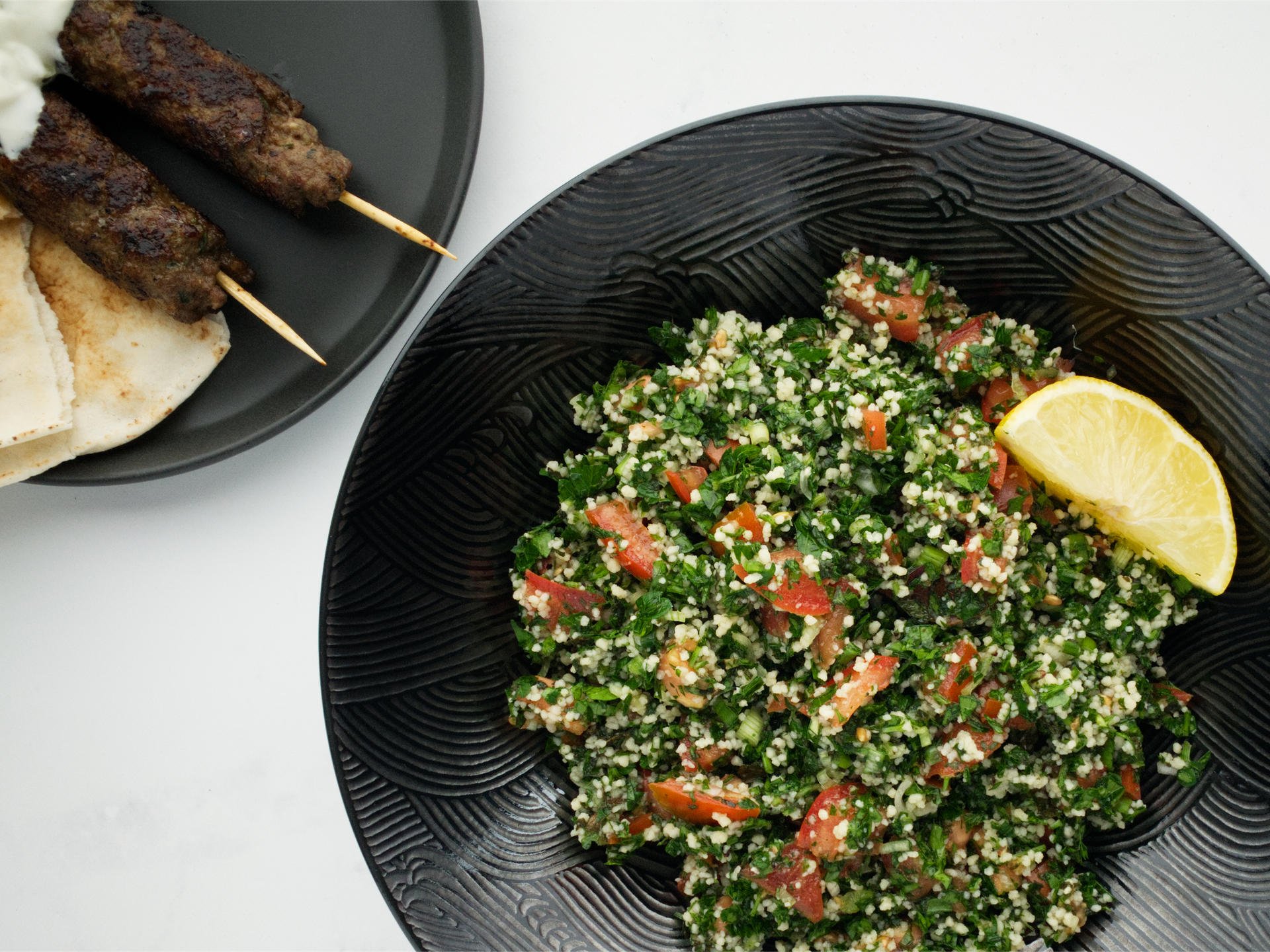 Tabbouleh
Tabbouleh is a refreshing Lebanese salad dish made with herbs and freshly chopped ingredients. It tastes great and is very easy to prepare.
Ingredients
⅓

cup

couscous

2

tbsp

lemon juice

1

bunch

parsley

1

handful

mint leaves

2

large

tomatoes

,

diced

4

spring onions

,

finely chopped

olive oil

,

to season

sea salt

,

to season

black pepper

,

to season
Instructions
Place the couscous in a small bowl and cover with boiling water and lemon juice, keeping the ratio of coucous-to-liquid the same. Cover the bowl with a board or plate. Set aside for 10 minutes.

Finely chop the parsley and mint leaves and place into a large bowl. Using a fork, fluff up the couscous then add to the parsley and mint along with the tomatoes and spring onions.

Season with salt, pepper and a glug of olive oil then mix together until combined. Serve immediately with a lemon wedge or two.
Notes
Serve chilled: I'll often chill tabbouleh for 15-30 minutes before serving as it keeps the herbs crisp on the table.
Prepare in advance: Although tabbouleh is best served fresh, it can be prepared several hours in advance. Simply cover and keep in the refrigerator until serving. I don't recommend making it the day before though as the herbs will lose their freshness overnight and it won't be as good.
Calories:
115.1
kcal
,
Carbohydrates:
17.7
g
,
Protein:
3.5
g
,
Fat:
4
g
,
Saturated Fat:
0.6
g
,
Sodium:
307.6
mg
,
Potassium:
359.9
mg
,
Fibre:
2.9
g
,
Sugar:
3.1
g
,
Vitamin A:
2150.5
IU
,
Vitamin C:
37.5
mg
,
Vitamin K:
274.9
µg
,
Calcium:
43
mg
,
Iron:
1.6
mg