Southside Kitchen may earn a commission through affiliate links in this post. Read disclosure.
Tartare Sauce (or Tartar Sauce) is a simple white sauce that can easily be overlooked. It's a traditional French condiment with a sharp and tangy flavour that can be a bit of an acquired taste. It goes well with seafood dishes and so is often found at fish and chip shops or oyster bars. If you frequent these places you would no doubt be aware that not all tartare sauces are created equal!
There's a wide variety of flavours and a lot of the mass-produced options aren't great. They often taste very acidic or, worse, sweet, and do little to enhance the flavour of the fish. Unfortunately, I think this has led to a lot of people getting the wrong impression of this tasty little sauce.
The good news is, tartare sauce is a really easy side to whip up at home. It requires only a handful of easy to find ingredients – namely mayonnaise, mustard, horseradish and cornichons. All these can be kept in the fridge for an extended period. The advantage of that is it's simple to make this recipe on demand whenever you need. And believe me, you will want to make it on demand because it's so much better than the ones you can buy. I know I say that a lot, but it's true!
Making tartare sauce
There's only really one step to prepare tartare sauce and that's to chop and combine everything. Take the cornichons and dice them finely. I use about a tablespoon which works out to be 2-3 cornichons. If you can't get these, half a small pickle is a great substitute. Finely chop up the spring onion and parsley. Substituting these ingredients is easy too, as fresh chives or dill are great options.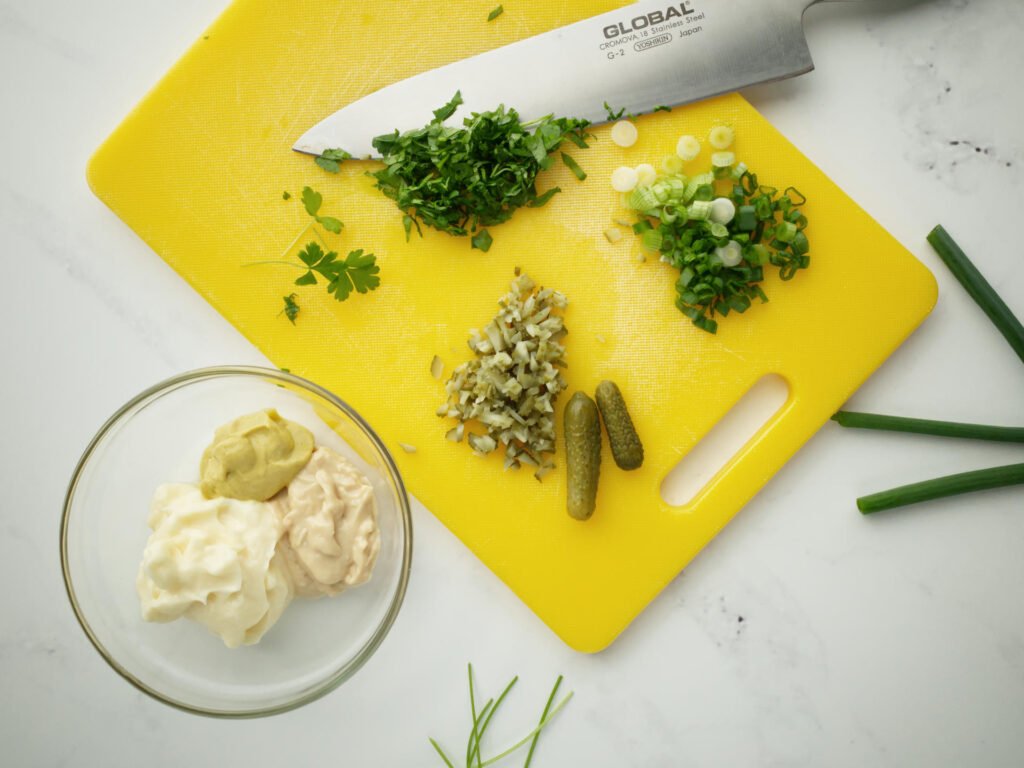 Measure out the other ingredients into a small mixing bowl. I like to add everything as per the recipe and then make minor adjustments as I go. Season with a little salt and pepper to balance everything out. Now stir, stir, stir to mix it all together. The best part about being able to mix the ingredients like this is it's easy to tune the sauce to your own taste. After it's all combined, have a quick taste and see what you think.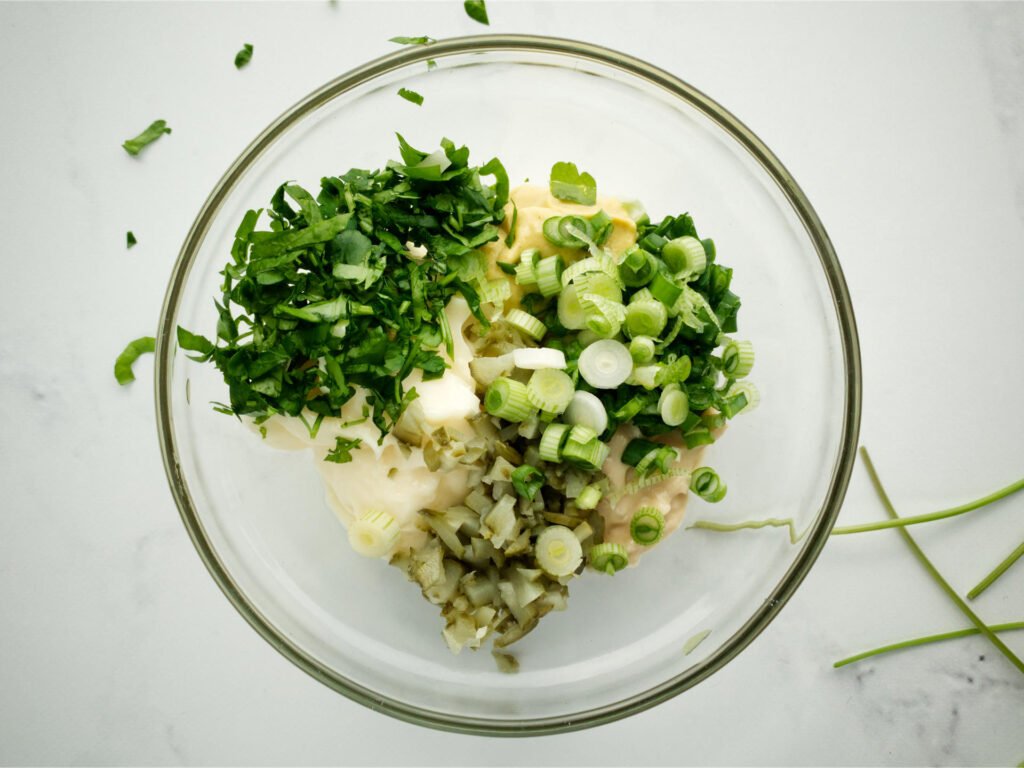 ⭐️ Enjoying this recipe? Subscribe to my newsletter to be one of the first to receive my latest updates direct to your inbox.
Unless you've managed to get everything perfect the first time round, you'll probably need to make a quick adjustment. The tartare sauce will usually either taste a bit too much like mayonnaise or a bit too much like horseradish. The solution is to add a touch more of the opposite one until there's no standout. Go about half a teaspoon at a time and keep tasting until it strikes a balance that you're happy with.
Crack a little more black pepper on top and garnish with a few fresh parsley leaves. It's a good idea to refrigerate the sauce for about half an hour before you want to serve. You can also make this one well in advance. It will keep in the fridge for a few days, just keep it in an airtight container or covered with cling wrap.
Whether you're making your own seafood dish at home, or getting takeaway fish and chips, this tartare sauce is a great accompaniment. Be sure to check out my Pizza Sauce recipe for another great homemade sauce.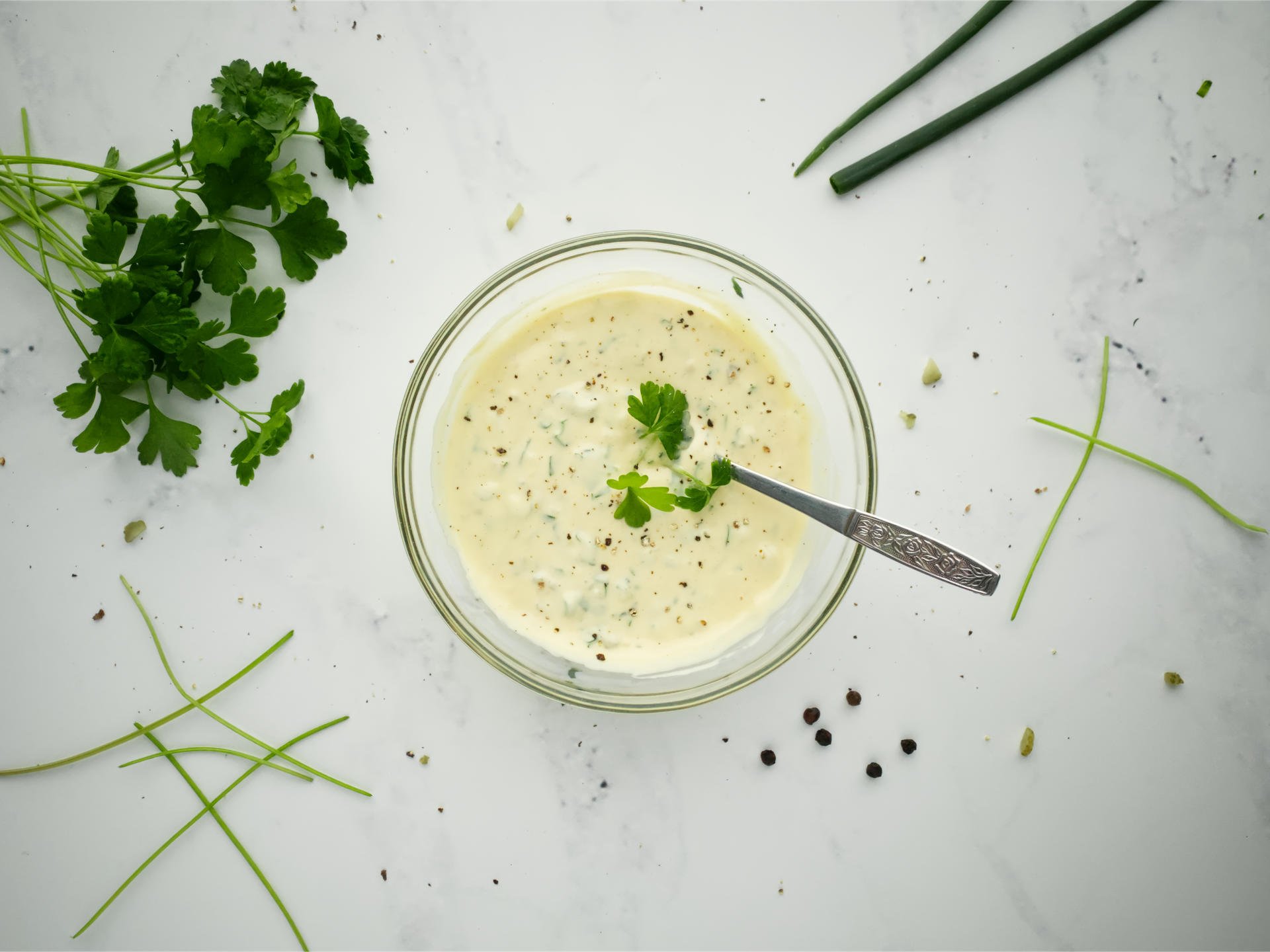 Tartare Sauce
Tartare Sauce is a simple French condiment that can easily be overlooked. It's a great accompaniament to put alongside seafood dishes, oysters or fish and chips.
Ingredients
4

tbsp

mayonnaise

,

whole egg

2

tbsp

horseradish cream

1

tbsp

Dijon mustard

1

spring onion

,

finely diced

1

tbsp

cornichons

,

finely diced

1

tbsp

parsley

,

finely chopped

sea salt

,

to season

black pepper

,

to season
Instructions
Place all the ingredients in a small mixing bowl. Season with a little sea salt and black pepper. Stir with a teaspoon until well combined. Adjust seasoning as necessary.

Cover with cling wrap and refrigerate for 30 minutes.

Serve with a garnish of parsley leaves.
Calories:
42.5
kcal
,
Carbohydrates:
3
g
,
Protein:
0.5
g
,
Fat:
3.3
g
,
Saturated Fat:
0.5
g
,
Cholesterol:
2.2
mg
,
Sodium:
369.9
mg
,
Potassium:
35.7
mg
,
Fibre:
0.5
g
,
Sugar:
1.3
g
,
Vitamin A:
142.3
IU
,
Vitamin C:
4.3
mg
,
Vitamin K:
37.8
µg
,
Calcium:
8.7
mg
,
Iron:
0.2
mg