Southside Kitchen may earn a commission through affiliate links in this post. Read disclosure.
Massaman curry is a popular southern Thai dish. It's commonly served with beef and potatoes in a rich and creamy sauce. Before we get to that though, you need a really good base – that's where the curry paste comes in! I love to make my own curry paste from scratch because the result is so much better than anything you can buy. The flavours are more pronounced and the sauce is far less oily which all translates to a superior meal!
Don't be put off by how many ingredients go into this curry paste. The recipe is very straightforward and all you need is a mortar and pestle with a little elbow grease. Remember, once you've tried it you won't want to go back to store-bought paste so it's definitely worth it! Check out my Beef Massaman Curry recipe to learn more.
It's all in the charring
The first step in making massaman curry paste is important for providing the rich, smoky flavour that this curry is known for. In order to get the best smokiness, you need to char your chillies until they start to blacken. Small red chillies that have been dried and de-seeded are best. The seeds will make the curry too hot and are difficult to crush with the pestle.
I'm using about a dozen of my own home-grown chillies which are quite hot. Some store bought dried chillies, particularly from Asian grocers, can be especially hot so you may only need 6-7. You can tailor the heat to your liking by adjusting the quantity, but traditionally massaman isn't a super hot curry. If you don't have any chillies on hand, you can also substitute them for dried chilli flakes.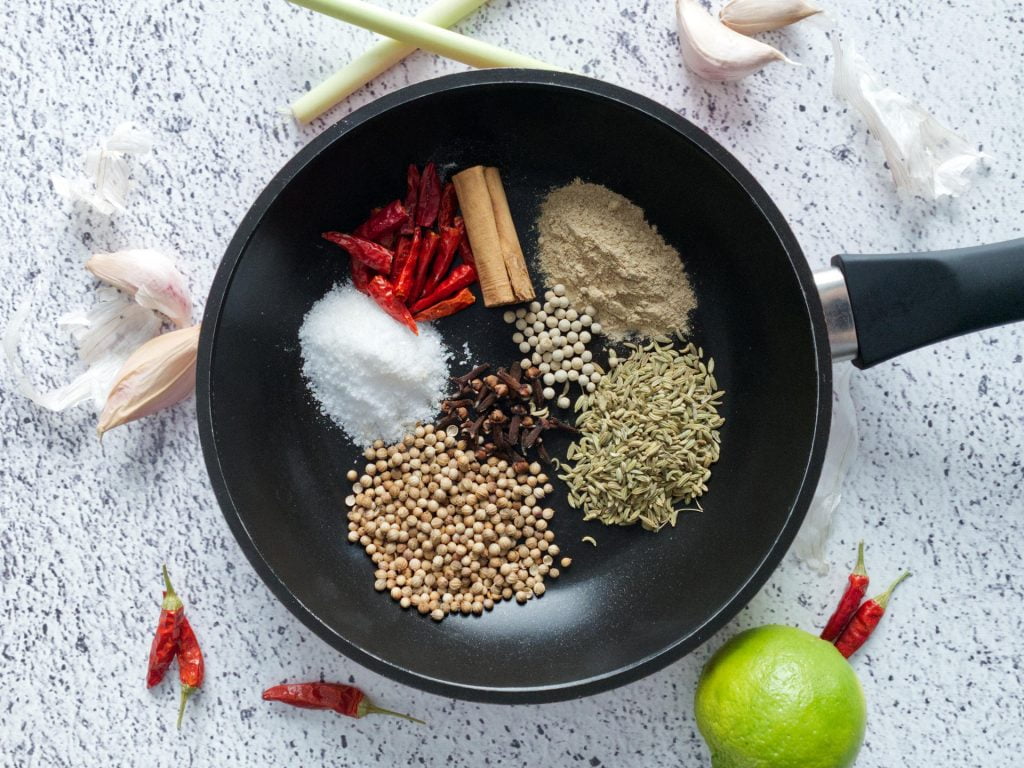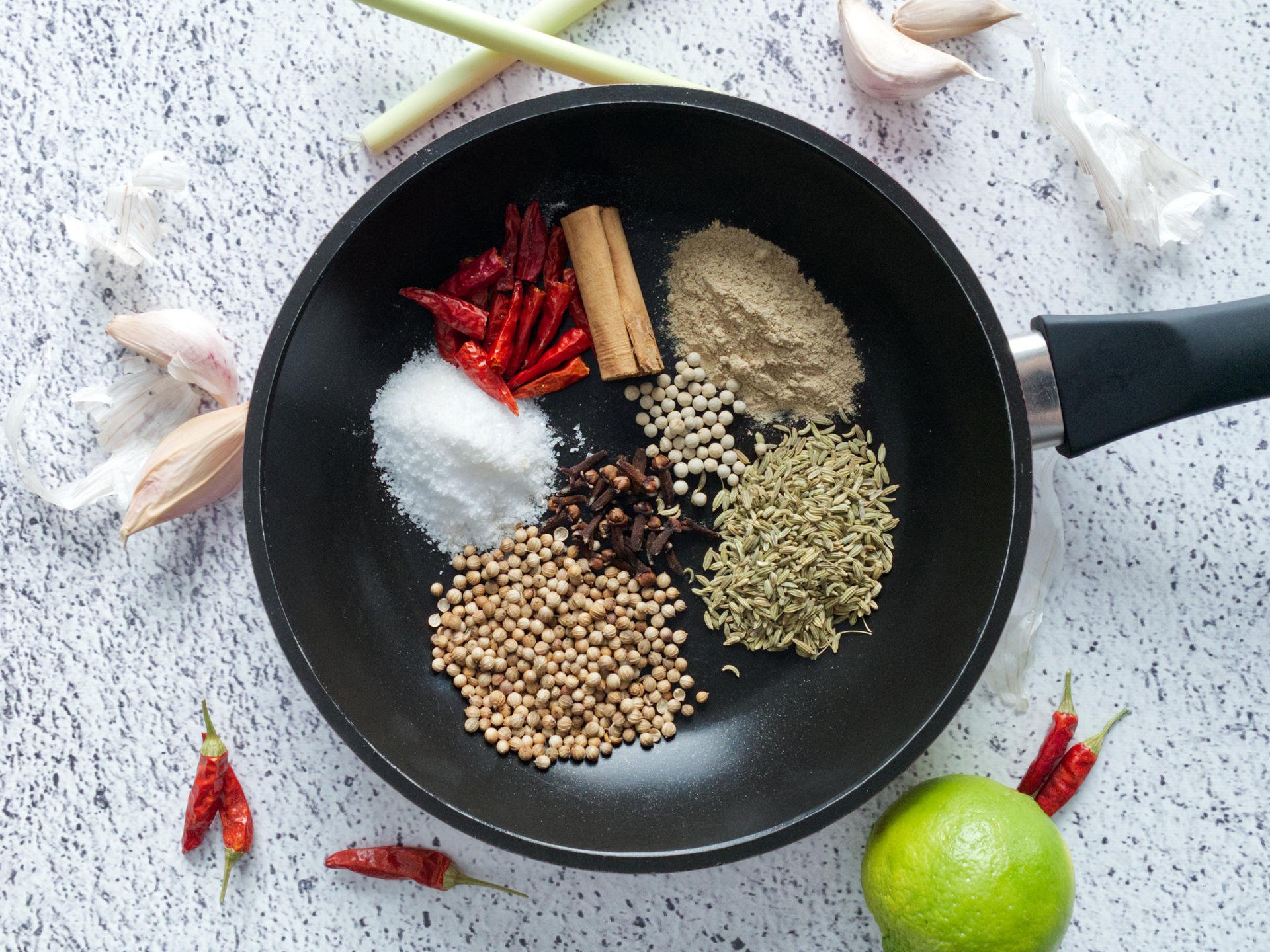 When toasting your spices pay attention to how hot the pan is – aim for a medium heat. If you try to char the chillies too quickly, you'll end up burning the spices. A good rule of thumb – if it starts to give off any smoke, it's too hot. Remove the pan from the heat for a moment and lower the temperature. Go slow and you'll know you're on the right track because your kitchen will smell amazing! When the spices are ready, set them aside in your mortar to cool.
A quick note about mortars
You can make massaman curry paste using a blender or small food processor but I recommend against it. Crushing the paste by hand results in a drier texture and will allow you to store it in the refrigerator for longer. It also results in a more authentic curry! If you need to use a food processor, combine all the ingredients and blend until a smooth paste is formed. Be sure to use the paste within a couple of days.
Sweat the small stuff
There are a lot of great aromatic flavours in Thai cuisine and massaman curry paste is no different. Lemongrass, kaffir lime, galangal and shrimp paste all have unique and wonderful aromas.
If you have a keen eye, you'll notice I'm using dried kaffir lime leaves. I often have trouble sourcing fresh leaves and so it's easier to keep the dried ones in the pantry. If you have a similar issue, my trick is to soak the dried leaves in a bowl of water to rehydrate them a little. Then you can remove the stems and finely slice them before adding to the pan. Dice all the ingredients finely at this point so that it requires less effort to grind them in the mortar later.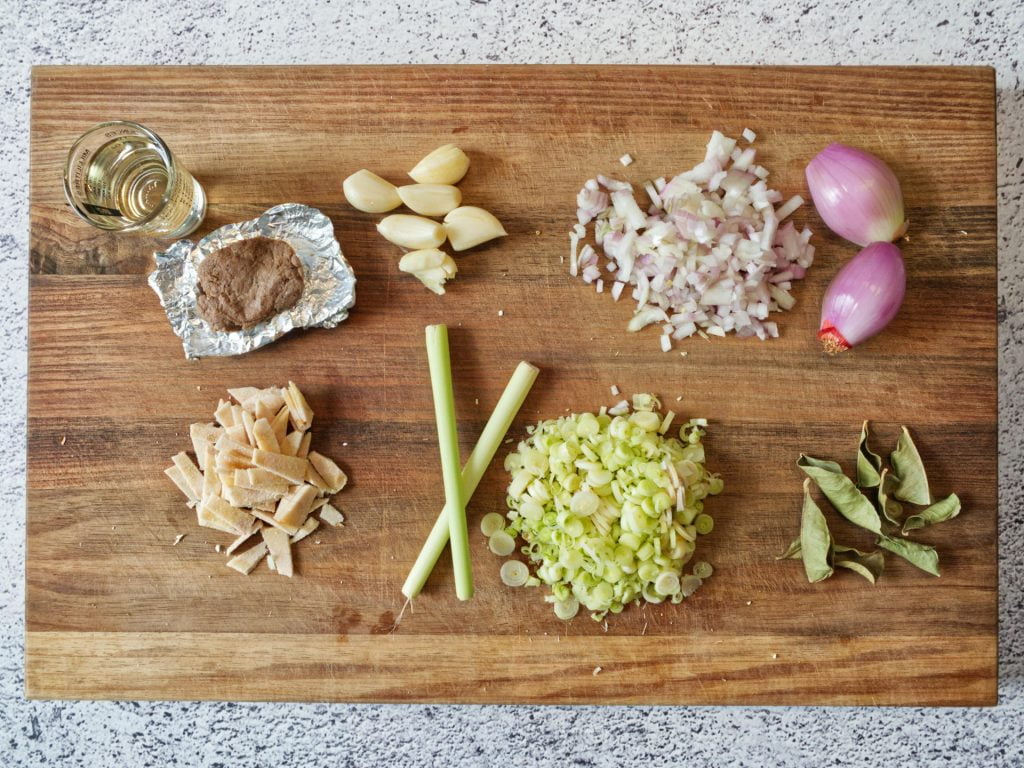 When toasting the shrimp paste, make a small parcel out of some aluminium foil. This allows you to toast for a couple of minutes on each side without the paste sticking. Traditional Thai chefs would accomplish this using a banana leaf. Toasting the paste not only helps to release the flavour, but it also dries it out so that it better incorporates into the other ingredients.
The aim here is to sweat everything in the pan until it softens. Similar to the spices, it's important to cook on a medium heat. Too high and the wetter ingredients will burn on the outside. These ingredients won't crush into the curry paste properly and will end up in the massaman!
Continue to sweat until the shallots turn translucent and the mixture has a soft and slightly mushy consistency. At this point set the pan aside to cool and then combine it in the mortar with the dried spices. Add in the lime zest and nutmeg then prepare to crush.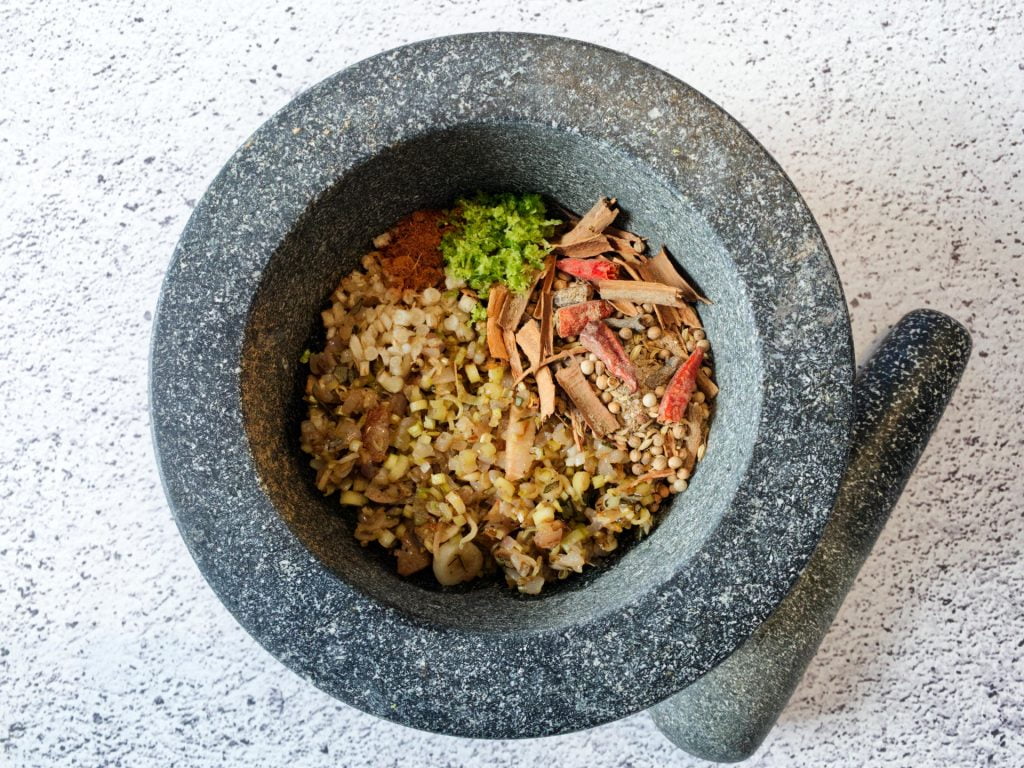 ⭐️ Enjoying this recipe? Subscribe to my newsletter to be one of the first to receive my latest updates direct to your inbox.
Time for a curry paste workout
There's no hiding the fact that this step is where all the work happens. It takes a bit of patience to get a good paste, but this is definitely one of those situations where you're rewarded for your efforts. It will take a good 20-30 minutes of working the mixture with the pestle to form a consistent paste. Take your time and work in an up and down action, paying attention to crush any larger pieces as you go.
Don't use the pestle like a hammer though! If you work gently and grind with a firm pressure you'll get a clean result without wearing yourself out. I like to work my way around the mortar scraping down the sides with the pestle as I go.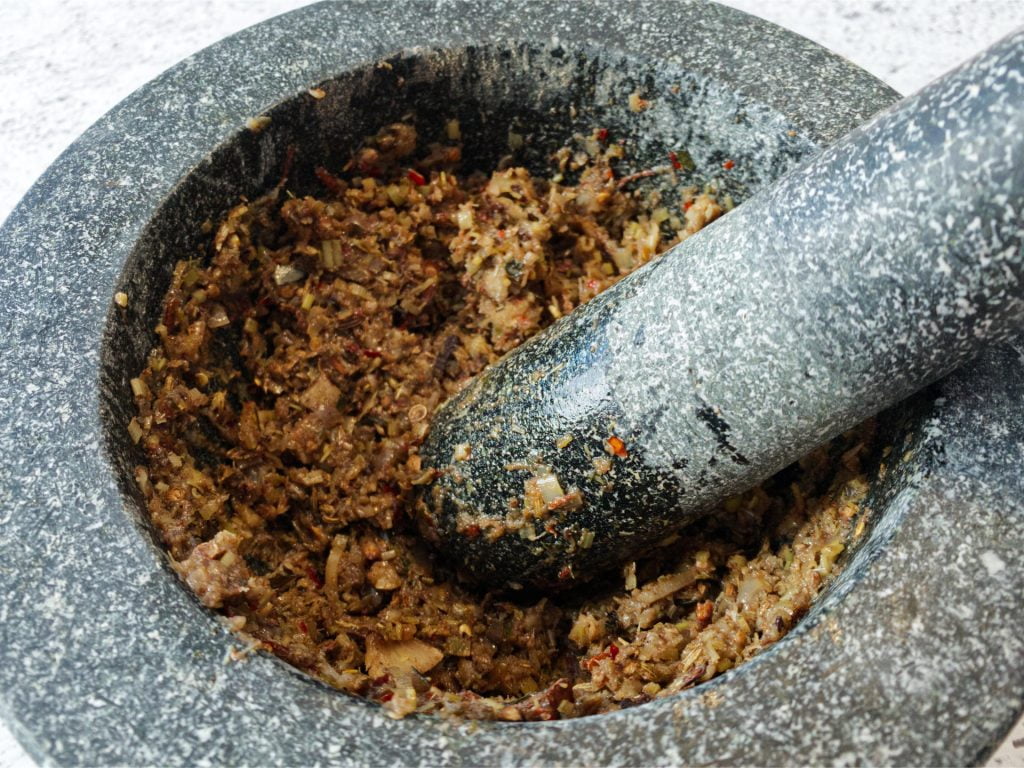 At times it may feel like the curry paste will never come together, but continue for a few minutes and you should notice a big improvement. A few minutes more and it will be even better. The idea isn't to make a completely puréed consistency. Instead, aim to have a soft paste that is well combined and has all the larger pieces ground out. It should be moist and a little sticky so that it holds its shape when pressed together.
It's worth mentioning that the curry paste will be quite hot if you taste it at this point and that's expected. If it's beyond your acceptable level of spice, don't be alarmed. When combined with the coconut milk and other ingredients in the massaman curry proper, the heat will mellow significantly.
That's really all there is to it. The curry paste can now be used to make a few varieties of massaman. One of the most common, and my particular favourite, is with beef but you can also make a vegetarian or chicken version. Check out my Beef Massaman Curry recipe for all the details.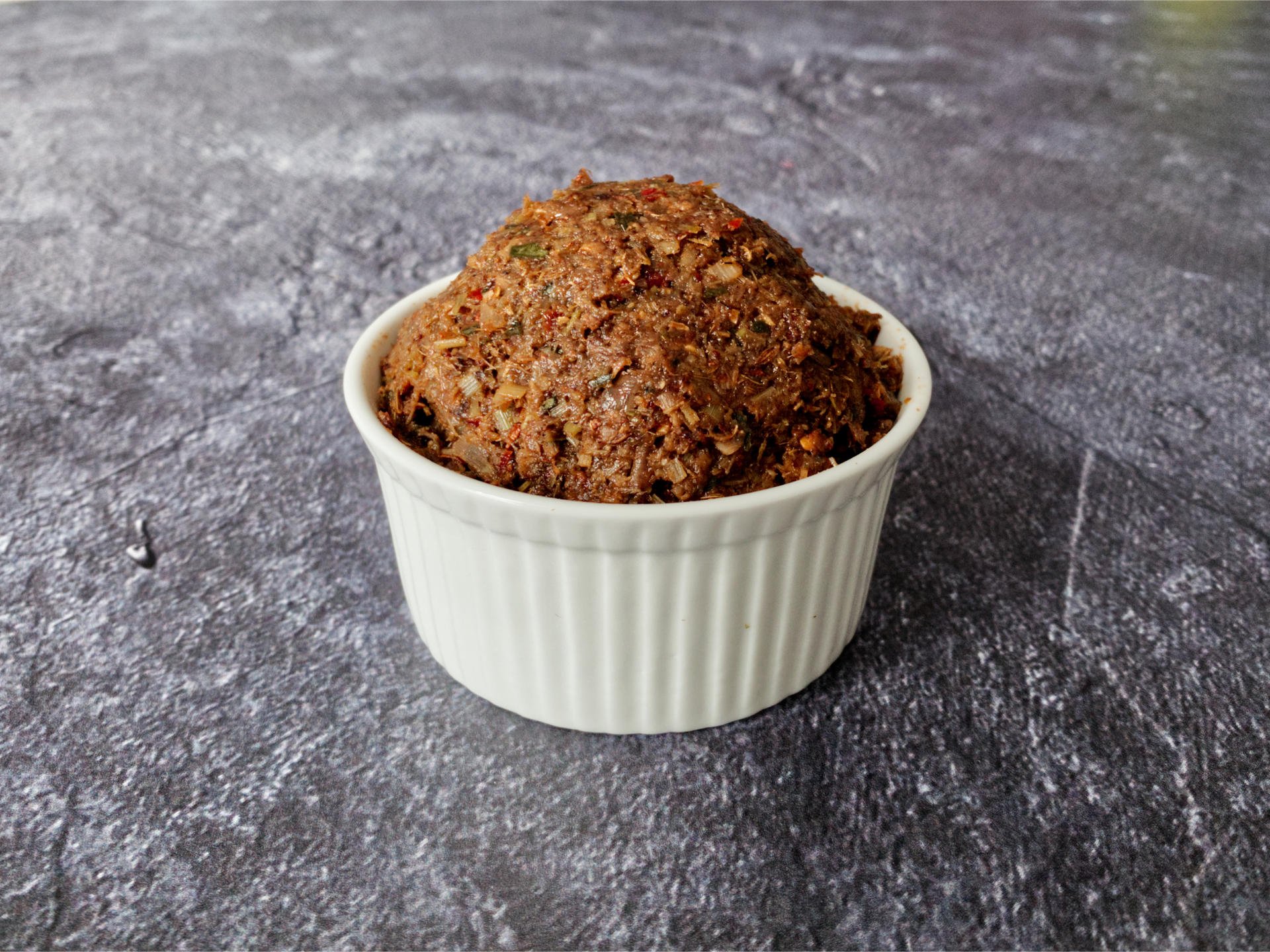 Massaman Curry Paste
Home-made Thai massaman curry paste is better than anything you can buy. Once you've tried this easy and delicious recipe you'll never want to go back.
Ingredients
6

g

coriander seeds

6

g

cumin seeds

1

g

ground cardamom

3

g

cinnamon quills

1

g

cloves

2

g

white peppercorns

10

red chillies

,

dried and de-seeded

15

g

sea salt

20

g

shrimp paste

30

ml

sunflower oil

120

g

shallots

,

finely chopped

30

g

garlic

,

roughly chopped

60

g

lemongrass

,

finely sliced

20

g

galangal

,

peeled and finely sliced

10

kaffir lime leaves

3

g

lime zest

,

grated

6

g

coriander root

,

thoroughly washed and roughly chopped

1

g

ground nutmeg
Instructions
Warm a frying pan over medium heat. Add the coriander seeds, cumin seeds, ground cardamom, cinnamon quills, cloves, white peppercorns, dried red chillies and salt. Cook for several minutes, stirring occasionally, until the chillies blacken and spices are toasted. Transfer to a mortar and set aside.

Wrap the shrimp paste inside a small piece of aluminium foil and fold it over to form a parcel. Place it in the frying pan and toast on medium heat for 1-2 minutes on each side. Remove the shrimp paste from the parcel and set aside.

Heat the oil in the frying pan and cook the shallots, garlic cloves, lemongrass, galangal, kaffir lime leaves and shrimp paste until softened and starting to brown. Remove from the heat and allow to cool.

When cooled, transfer the mixture to the mortar and combine with the toasted spices. Add the lime zest, coriander roots and nutmeg then grind everything until smooth.
Notes
The curry paste can be stored in the refrigerator for up to five days, or frozen for up to three months.
Check out my Beef Massaman Curry recipe to learn how to use the curry paste to make massaman curry.
Calories:
65.1
kcal
,
Carbohydrates:
8.3
g
,
Protein:
2.7
g
,
Fat:
3
g
,
Saturated Fat:
0.3
g
,
Cholesterol:
19
mg
,
Sodium:
549.8
mg
,
Potassium:
215.6
mg
,
Fibre:
1.4
g
,
Sugar:
2.8
g
,
Vitamin A:
363.3
IU
,
Vitamin C:
55.8
mg
,
Vitamin K:
5.5
µg
,
Calcium:
34.1
mg
,
Iron:
1.5
mg