Southside Kitchen may earn a commission through affiliate links in this post. Read disclosure.
Smoky Edamame with Chilli is an extremely quick and tasty snack that can be whipped up in only seven minutes. Traditionally, edamame is served blanched in Japanese cuisine and is eaten at the start of a meal to cleanse the palate. It's also served as a snack and can be prepared either as whole pods, or less commonly, as shelled beans. I've always liked the taste of edamame but sometimes just blanching them can be a little bland.
The inspiration for this dish comes from one of my favourite restaurants in Melbourne – Uncle. They serve a spicy edamame course at the start of their banquet meal that is oh so delicious. Although I have no idea how they make theirs, I've been trying to recreate similar flavours at home. This is my take on it and I think it's just as tasty.
Easy smoky edamame with chilli
There is very little to this recipe so it's super easy to put together. The edamame pods need no preparation at all. They don't need to be trimmed or shelled. If your pods are frozen, they can be used directly from the freezer. It couldn't be simpler.
Firstly, boil the edamame in a pot of water for exactly three minutes. Then immediately drain and transfer to a bowl of cold water. Doing this prevents the edamame from overcooking and helps to keep the pods intact. Cooking for even one minute longer will see the shells split and the edamame will not be the same!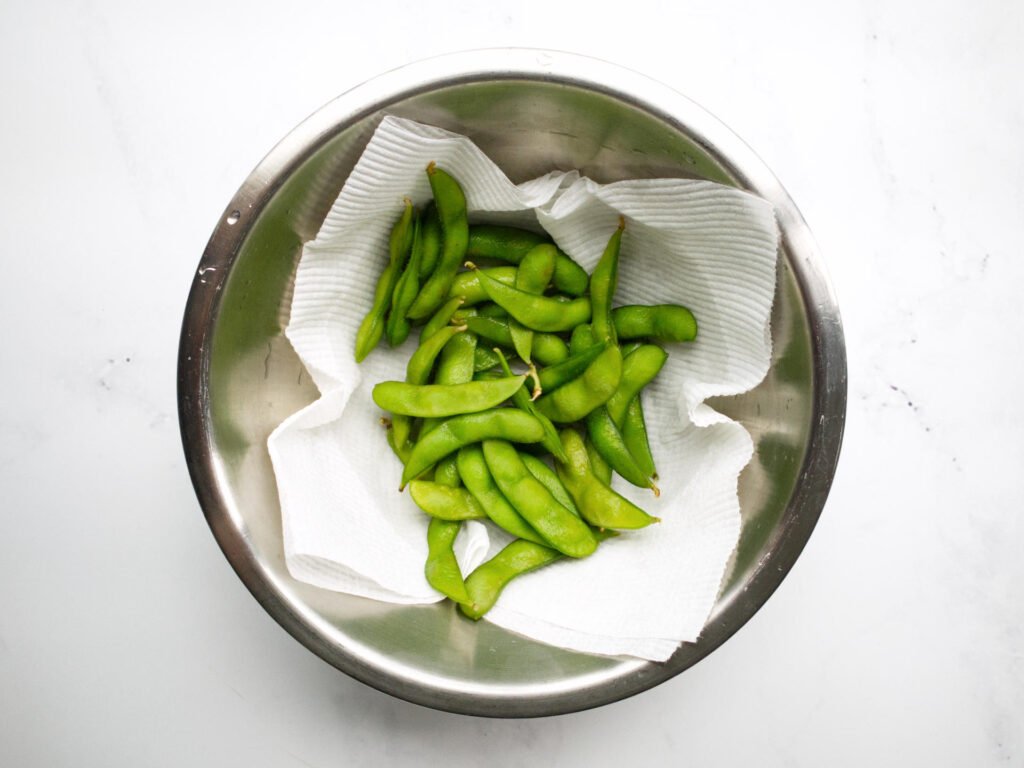 Once the pods have cooled in the water for about 30 seconds, drain them again and pat dry with paper towel. They don't have to be completely dry, but if they are too wet they will react with the oil in the next step.
Next heat a wok on very high heat – the highest setting you have. Once the wok has heated up, add the sesame oil and toast it until it just begins to smoke. Keep a close eye on it as oil at these temperatures can be a hazard if not treated with respect. Add in the edamame pods, stirring to coat with the oil. Leave them to cook for one minute and then add the dried chilli flakes. Now continue to cook for a further two minutes, stirring constantly to char on all sides.
After two minutes, turn off the heat completely. Add the soy sauce and stir to coat. Keep stirring until all the sauce has evaporated. It will disappear quite quickly and that's totally fine. Season with a good pinch of salt and black pepper then transfer to a serving dish.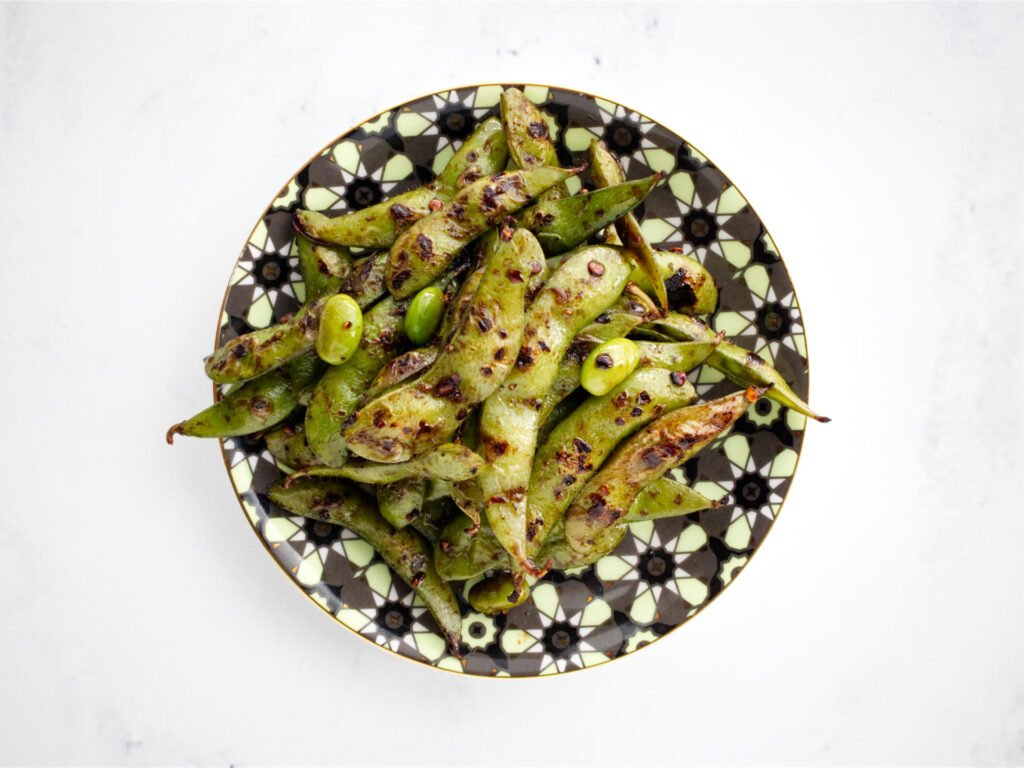 ⭐️ Enjoying this recipe? Subscribe to my newsletter to be one of the first to receive my latest updates direct to your inbox.
Eating edamame
Smoky Edamame with Chilli is best eaten immediately. The dish is much better warm than it is cool, although it can be stored in the refrigerator if there's any leftovers. Just make sure to consume them within 48 hours.
If you're new to eating edamame, it's important to note that you don't eat the actual pod. Although the shell is technically edible, only the beans inside are eaten. The pod itself is very tough, stringy and not easy to digest. The shell's purpose is to keep the beans fresh and so it's usually kept on right up until they are eaten. For this reason, the most common way to eat edamame is by placing the pod between your teeth and sliding the beans into your mouth. It can take a little practice, but once you get the hang of it, it becomes quite easy to gnaw your way through a whole bowlful!
It's as simple as that. Once you've had edamame this way I guarantee you'll want more. It's a delicious snack that can be prepared in minutes. Serve it to wow your dinner guests before a meal and you'll whet their appetites in no time.
If you'd like to see more simple recipes like this one, check out my Quick and Easy collection.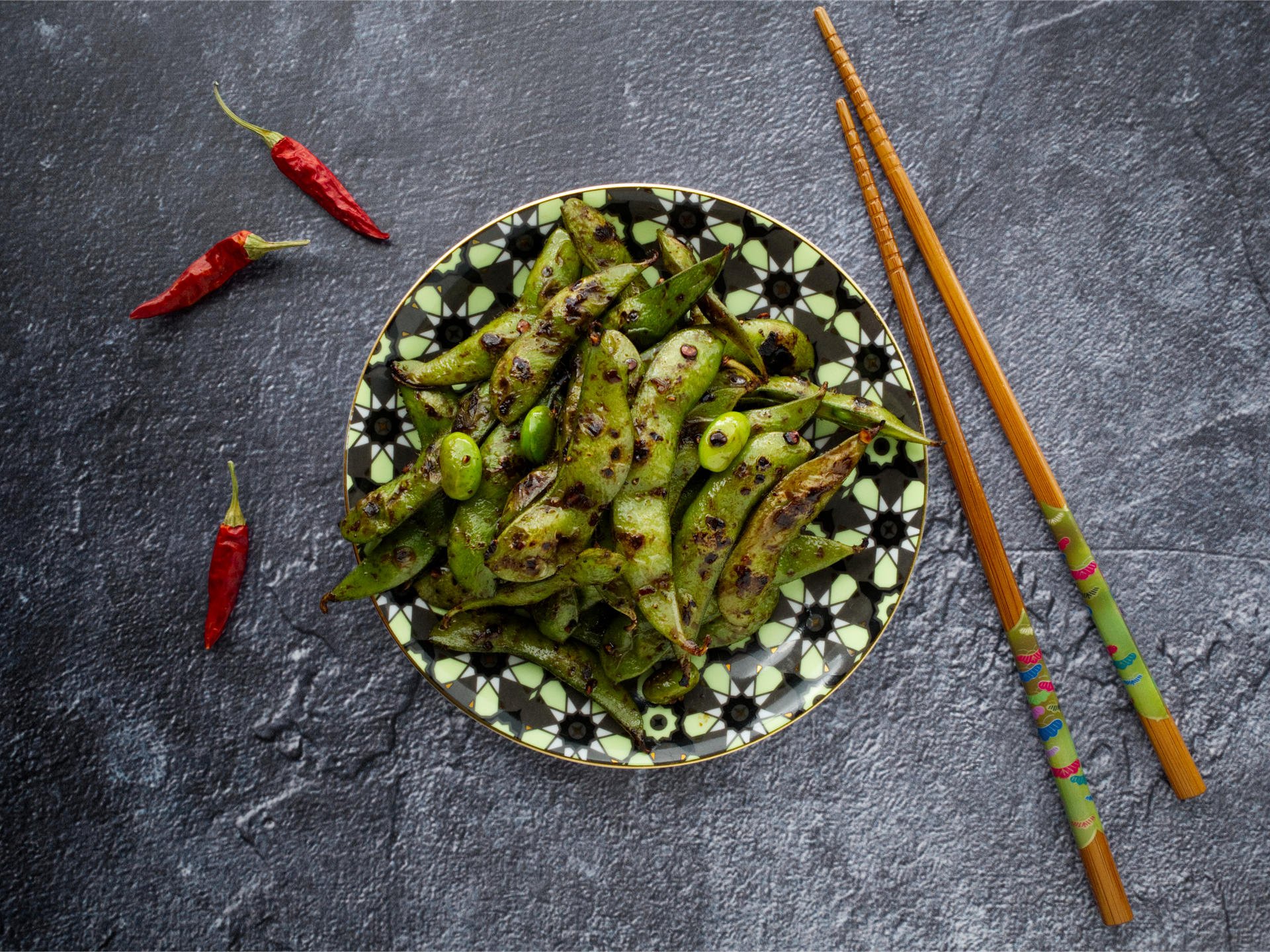 Smoky Edamame with Chilli
Smoky Edamame with Chilli is a delicious snack that can be whipped up in only seven minutes. It's simple Japanese-inspired cooking at home.
Ingredients
150

g

edamame pods

2

tbsp

sesame oil

½

tsp

dried chilli flakes

1

tbsp

soy sauce

black pepper

,

to season

sea salt

,

to season
Instructions
Bring a small saucepan of water to the boil. Add the edamame and boil for 3 minutes. Immediately drain using a colander and transfer to a bowl of cold water. Cool for 30 seconds before draining and patting dry with paper towel.

Place a wok on very high heat and add the sesame oil. Heat the oil until it just begins to smoke then add the cooked edamame. Stir to coat the edamame in the oil, then fry for 1 minute without stirring. Add the dried chilli flakes and fry for a further 2 minutes, stirring constantly to char all sides. Turn off the heat then add the soy sauce, continuing to stir until the sauce has evaporated with the residual heat of the wok.

Season with a good pinch of salt and black pepper. Serve immediately.
Calories:
223.3
kcal
,
Carbohydrates:
8.5
g
,
Protein:
9.2
g
,
Fat:
18
g
,
Saturated Fat:
2.5
g
,
Sodium:
864.4
mg
,
Potassium:
346.1
mg
,
Fibre:
4.2
g
,
Sugar:
1.8
g
,
Vitamin A:
148.3
IU
,
Vitamin C:
4.6
mg
,
Vitamin K:
23.3
µg
,
Calcium:
47.3
mg
,
Iron:
1.9
mg