Southside Kitchen may earn a commission through affiliate links in this post. Read disclosure.
Potatoes cooked in duck fat are amazing, and this recipe for Duck Fat Hasselback Potatoes is a fun side dish to show off when you're entertaining family and friends. It's no secret that I love potatoes. I cook them just about every way possible… and there are a lot of possibilities! This recipe is one of the more unusual options but it's a real crowd pleaser.
Hasselback potatoes are a Swedish invention. They're named after the Hasselbacken Restaurant in Stockholm, where they were first created by a trainee chef in 1953. Although the preparation is quite simple, when cooked, Hasselback potatoes look fun as the slices fan open. Think of it like a potato accordion! The skins turn super crispy and the slots leave an opportunity for adding toppings which create endless flavour combinations.
Preparing Hasselback potatoes
In order to get the best results from this recipe, use smaller potatoes. If the potatoes are too large, they won't fan out as nicely and they'll take longer to cook all the way through. Try to keep all the potatoes roughly the same size. If there's any particularly large ones, cut them in half and use the flat side as the base.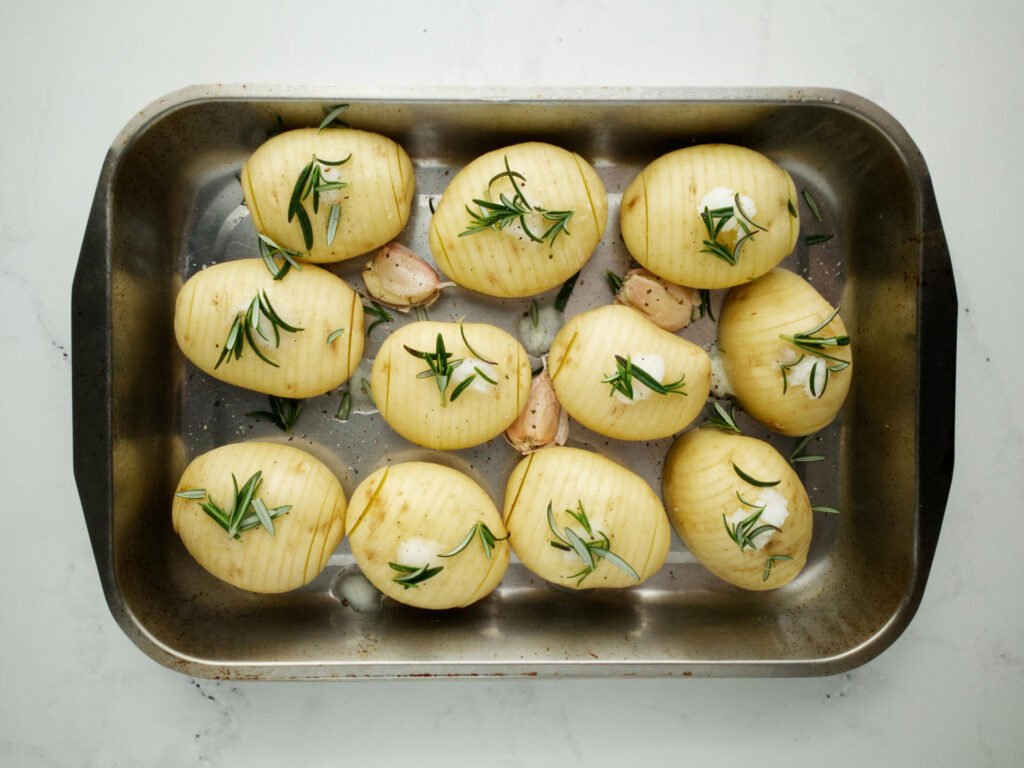 The slicing of the Hasselback pattern can be a bit cumbersome but there is a handy trick. To make the process a cinch, lay a couple of wooden spoons parallel across your chopping surface. Place each potato between the handles of the wooden spoons and slice down until you hit the spoons. Don't use your best serving spoons for this though! Grab the oldest wooden ones you've got as you'll rough the handles up a bit as you slice.
The wooden spoon trick will prevent you from cutting too deep and will have the added benefit of making all the cuts look the same. Aim to slice about every 3mm so that you get the maximum fanning effect… and really crispy skins. Take your time to ensure that the slices are parallel and even thickness. Pay extra care on the ends to ensure that you don't accidentally chop all the way through the potato.
Choosing your topping
I mentioned above that there's endless flavour combinations when making Hasselback potatoes. It's a great opportunity to experiment and have a bit of fun. There's really no right or wrong way when it comes to choosing a topping. In this recipe I'm using duck fat, rosemary and blue cheese but it's very easy to change it up to match whatever you're serving with. Thyme is a great alternative to rosemary and you can opt for a cheddar or mozzarella if blue cheese isn't your thing. If you want to make this recipe vegetarian, just swap the duck fat for olive oil. All the quantities stay the same.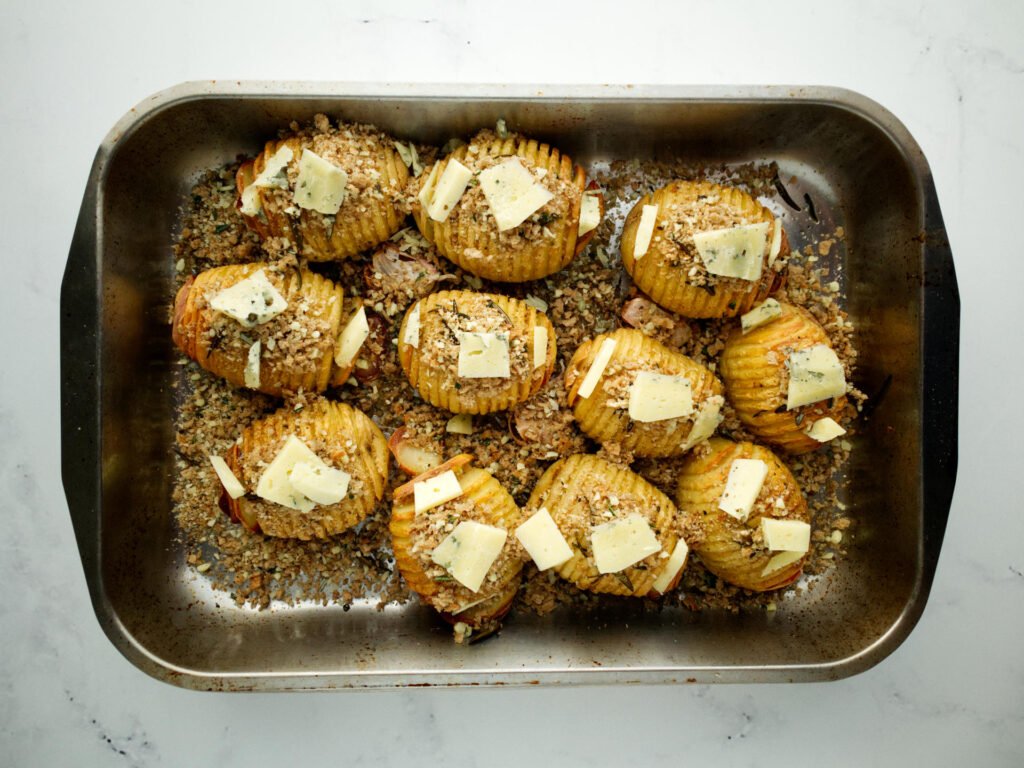 The toppings are added about fifteen minutes before the end of the cooking time. This gives the best opportunity for the flavours to seep down into the potatoes as they'll already be fanned open. I like to add a touch more olive oil to each potato at this point too. It helps crisp everything up and turns the skins a rich golden colour. Don't go overboard though, otherwise the potatoes will be greasy.
⭐️ Enjoying this recipe? Subscribe to my newsletter to be one of the first to receive my latest updates direct to your inbox.
The eyes eat first
The breadcrumbs in this dish add a little extra crunch and take the presentation to a new level. Your dinner guests will be amazed at how fun this dish looks on the plate and they'll want to know exactly how you did it. It's a great conversation starter, and as my step-sister often says, the eyes eat first!
This is one flavourful side dish. The richness of the blue cheese is balanced out by the simplicity of the potato and rosemary. It all comes together into a package that's crunchy on the outside and tender on the inside. You can't go wrong serving this one.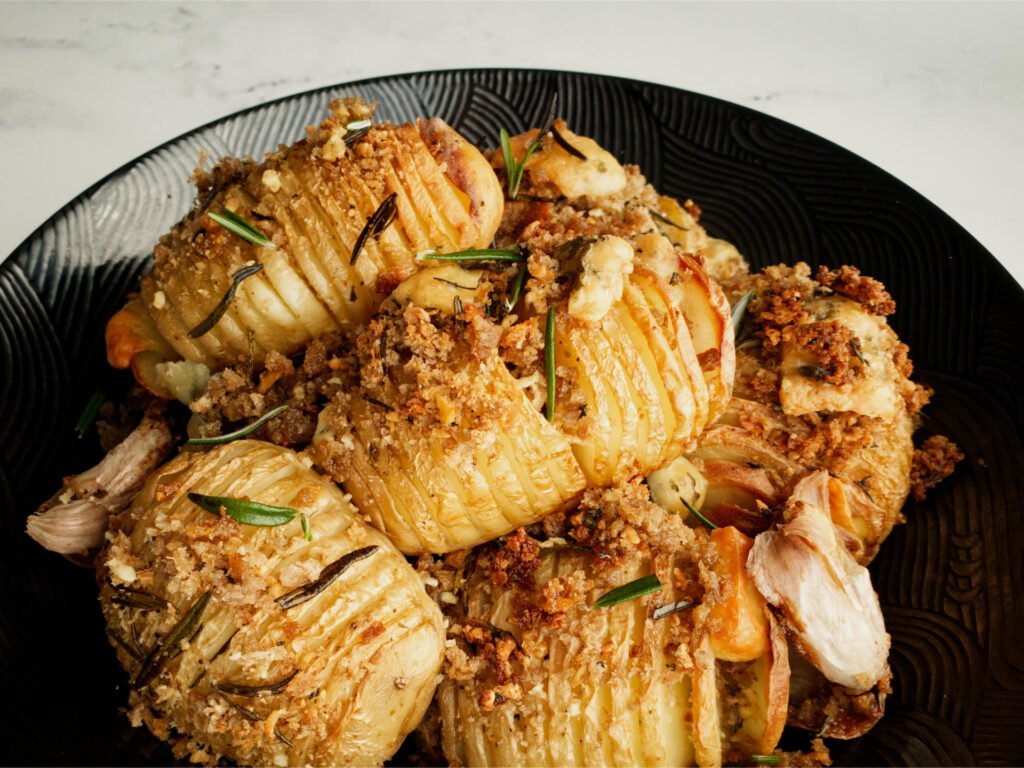 Duck Fat Hasselback Potatoes go well with any meal that you'd ordinarily serve roast potatoes alongside. They're a great option to keep up your sleeve when you want to show off a bit. I'll often cook these at Christmas time and serve them with ham and turkey. They're also great with roast lamb or chicken. I mean I'll eat them on their own, so really they go with almost anything!
Create a feast at home by pairing your potatoes with my Braised Dutch Carrots and Baby Peas and Brussels Sprouts with Bacon and Walnuts. Enjoy!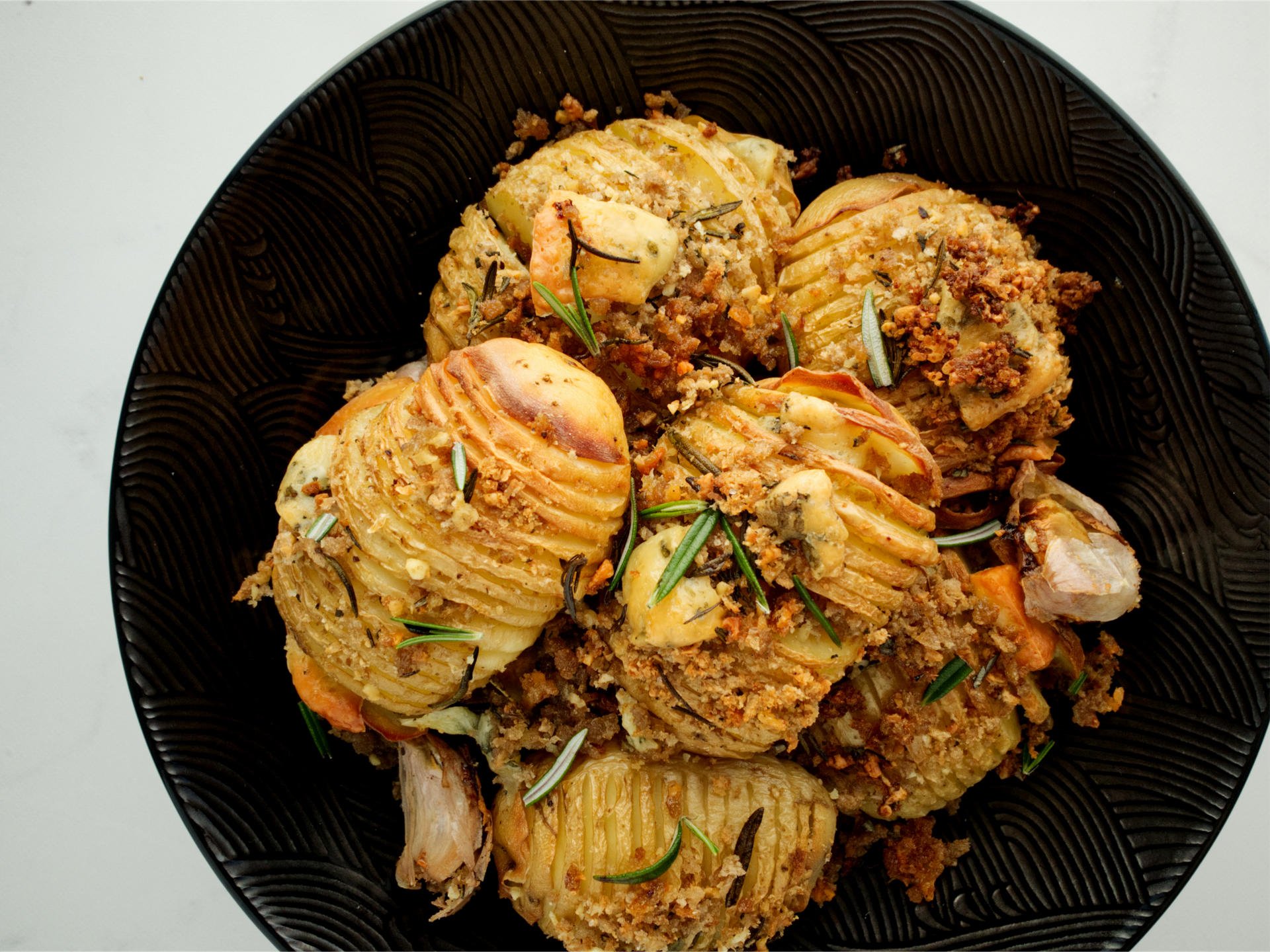 Duck Fat Hasselback Potatoes
Potatoes cooked in duck fat are amazing, and this recipe for Duck Fat Hasselback Potatoes is a fun side dish to show off when you're entertaining family and friends.
Ingredients
2

kg

potatoes

,

white, small, washed

4

tbsp

duck fat

6

sprigs

rosemary

,

roughly chopped

3

cloves

garlic

2

slices

bread

,

stale

120

g

blue cheese

2

tbsp

olive oil

sea salt

black pepper
Instructions
Preheat the oven to 200ºC. Lay two wooden spoons parallel across a chopping board. One at a time, place each potato between the wooden spoon handles and slice about two-thirds deep at 3mm intervals.

Place the potatoes in a large roasting tray with the cut sides facing up. Top each with half a teaspoon of duck fat, pressing it into the grooves. Sprinkle with about a third of the rosemary and season with salt and pepper. Squash the unpeeled garlic cloves under a knife and place them into the tray with the potatoes.

Roast in the oven for 1 hour and 15 minutes, or until the potatoes turn a golden colour.

Meanwhile roughly tear the bread into a baking tin and toast in the oven for 10 minutes. Remove and allow to cool. Place into a small food processor with another third of the rosemary, half the blue cheese and a good crack of salt and pepper. Pulse for 20 seconds until the bread is a rough crumb.

When the potatoes are ready, remove from the oven and top with the breadcrumbs. Crumble the remaining cheese over the top and sprinkle with the remaining third of the rosemary. Add a little olive oil to each potato and return to the oven for 15 minutes.

Transfer to a warmed serving bowl and serve immediately.
Calories:
354.3
kcal
,
Carbohydrates:
48.1
g
,
Protein:
9.1
g
,
Fat:
14.7
g
,
Saturated Fat:
5.5
g
,
Cholesterol:
17.6
mg
,
Sodium:
551.6
mg
,
Potassium:
1108.2
mg
,
Fibre:
5.9
g
,
Sugar:
2.5
g
,
Vitamin A:
114.5
IU
,
Vitamin B12:
0.2
µg
,
Vitamin C:
49.6
mg
,
Vitamin D:
0.4
µg
,
Vitamin K:
8
µg
,
Calcium:
120.9
mg
,
Iron:
2.3
mg