Southside Kitchen may earn a commission through affiliate links in this post. Read disclosure.
Braised Dutch Carrots and Baby Peas are the perfect accompaniment to a hearty winter's meal. This quick and simple recipe is both healthy and filling. It looks great on the table and is so versatile it pairs well with so many things. It's a perfect match for rich beef stews, simple steak dinners or hearty chicken roasts, and it's ready in just 30 minutes. If you need inspiration for a great pairing, try my Shepherd's Pie recipe.
All you need to make this delicious side dish is a large non-stick frying pan. The flavour comes from cooking the carrots in butter and finishing everything off in chicken stock. If you prefer a vegetarian option, vegetable stock also works just as well.
These days there's lots of commercial 'chicken style' stocks available and these are often vegan friendly, meaning they don't actually contain chicken but offer a similar flavour. Generally these are the stocks I use most of the time as they are easy to have on hand in the pantry. I never bother with the pre-made liquid stock – you pay five times the price for it and you're basically buying water. Just get the powdered alternatives, bring your own water, and you'll get so much better value for money.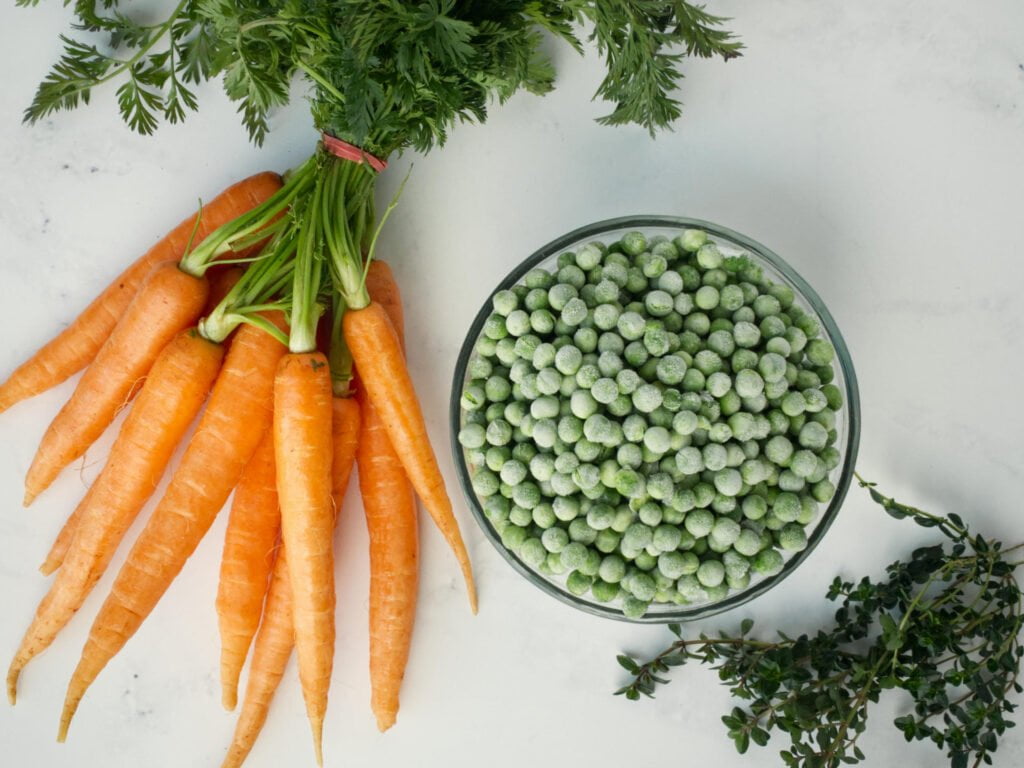 If you've never cooked your vegetables in stock before, you are missing out on one of the simplest ways to elevate your food. The carrots and baby peas infuse with the flavours of the stock and the herbs add a little fragrant kick. It turns otherwise boring frozen peas into something delicious. Seriously, every time I serve peas like this to friends they want to know how I did it. It tastes like it's straight from a restaurant and it couldn't be any easier. You also avoid having to strain off any water from the vegetables so it keeps them moist and saucy when you serve. It also means you're not throwing away any of the flavour.
Preparing the Dutch carrots
Carrots are a root vegetable and I like to honour this by serving them as close to their raw state as possible – unpeeled and with their tops still attached. Carrots are also one of the few vegetables where eating them cooked is more nutritious than raw. Although this means it saves time by not having to bother with peeling, it does call for extra attention to cleaning. I start by trimming the top bushy part off the carrot to about 2-4cm from the head. This gives little green carrot tops that look great on the plate when served. They're also another nutritious part of the vegetable that are perfectly edible so don't just throw them away.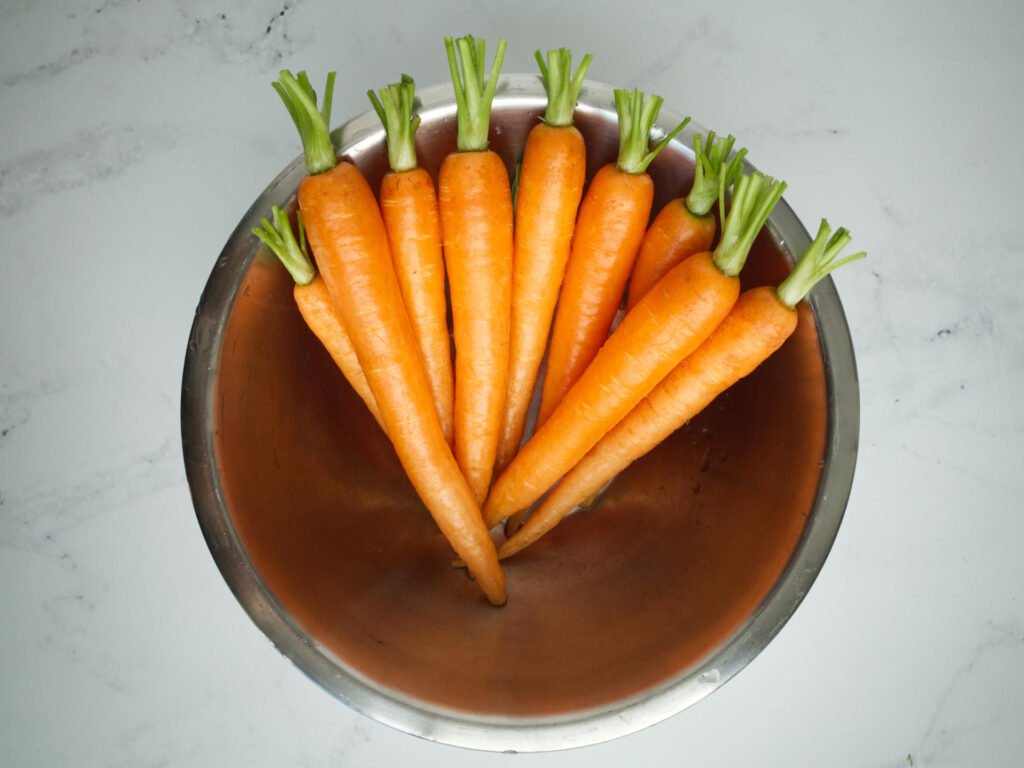 Once the tops have been trimmed, it's important to clean the carrots. I like to use a dish scrubber, but a clean sponge, old toothbrush or paper towel will work too. Scrub the outsides of the carrots until any dirty parts are gone. If the carrot has a few stringy whiskers, scrub these off too.
Pay particular attention to the top part of the carrot where the green stem attaches. There's often a ring of dirt around this part and it needs to be cleaned away. The best way to do this is to use a toothpick or other pointed object. Don't skip this step! If you leave the dirty bits on, you will notice it when you eat the carrots and it's not enjoyable. You can always peel the carrots if you prefer.
⭐️ Enjoying this recipe? Subscribe to my newsletter to be one of the first to receive my latest updates direct to your inbox.
Braising time
Braising is often associated with cooking meat, but it essentially means to fry and then stew. Starting off these carrots by frying in a little butter adds extra flavour. It also creates a hint of sauce when you reduce the stock. This means the vegetables stay moist when you serve them instead of being dry and boring. Add plenty of seasoning right at the start – a few cracks of black pepper and a little salt. Keeping in mind the stock will add a bit of saltiness later too.
Fry the carrots in the butter for a good 5-10 minutes to get a bit of colour on them. At this point add in the stock and stew for about 5 minutes before adding the peas and thyme. Braising like this essentially gives the best of both worlds. Appealing colouring from the frying and perfectly cooked all the way through from the stewing. Continue to cook on a high heat until the stock has almost reduced to nothing, but keeping just a little in the pan to keep everything moist.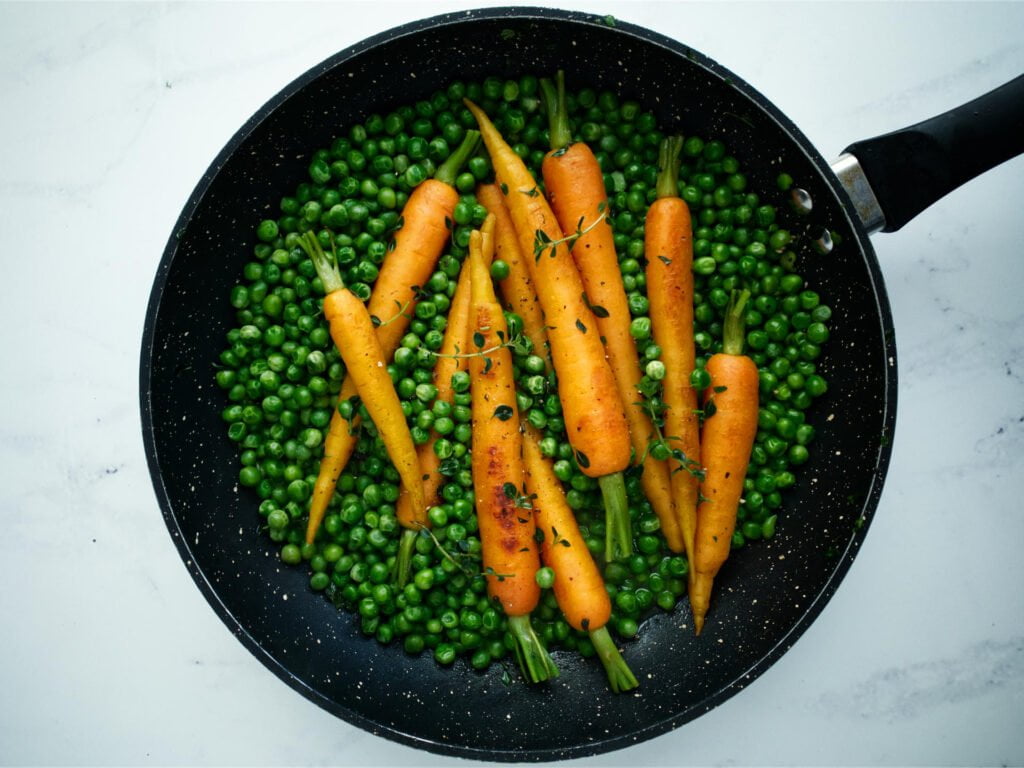 That's all there is to it. Delicious Braised Dutch Carrots and Baby Peas in just 30 minutes. Transfer to a serving bowl and enjoy hot. Be sure to spoon a little of the pan juices over the top when serving to keep the richness of the butter flavour. Everyone will love it! If you're looking for other sides to serve with this dish, be sure to check out my Roast Potatoes with Sage and Garlic or Duck Fat Hasselback Potatoes recipes.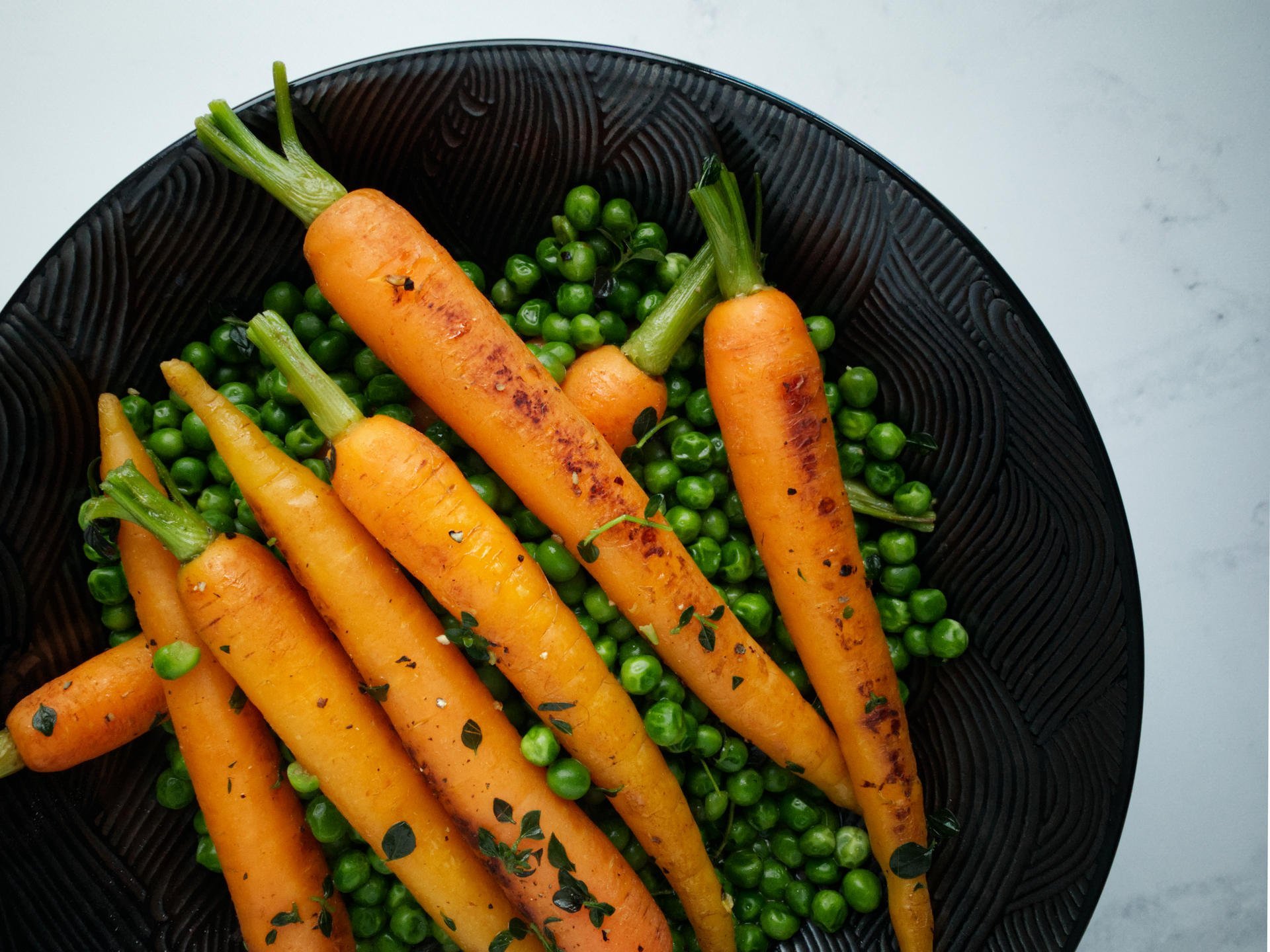 Braised Dutch Carrots and Baby Peas
The perfect accompaniment to a hearty winter's meal. A quick and simple recipe that's healthy and filling.
Ingredients
10

g

unsalted butter

1

bunch

Dutch carrots

300

ml

chicken stock

400

g

frozen baby peas

5

sprigs

thyme

,

roughly chopped

sea salt

,

to season

black pepper

,

to season
Instructions
Trim the tops off the Dutch carrots leaving about 2-4cm of the green stem intact. Thoroughly wash the carrots, scrubbing to remove any stringy bits. Using a toothpick, remove any dirt from around the top of the carrot at the base of the green stem. Finally, trim off any stringy root parts from the end of the carrots.

Place a knob of butter in a large non-stick frying pan and melt on medium-high heat. Add the carrots and season with salt and pepper. Cook for about 10 minutes, shaking the pan occasionally to brown the carrots on all sides.

Pour in the chicken stock and cook the carrots for 3-5 minutes until they start to soften. Add in the baby peas and thyme sprigs. Cook in the stock, shaking the pan occasionally, until the liquid has reduced to almost nothing. Serve immediately.
Notes
Make it vegetarian: Swap the chicken stock for vegetable stock.
Calories:
121.3
kcal
,
Carbohydrates:
19.9
g
,
Protein:
6.2
g
,
Fat:
2.4
g
,
Saturated Fat:
1.2
g
,
Cholesterol:
4.3
mg
,
Sodium:
92.5
mg
,
Potassium:
460.1
mg
,
Fibre:
6.8
g
,
Sugar:
8.9
g
,
Vitamin A:
13120.5
IU
,
Vitamin B12:
0.1
µg
,
Vitamin C:
35.9
mg
,
Vitamin K:
28.3
µg
,
Calcium:
55.3
mg
,
Iron:
2.3
mg