Southside Kitchen may earn a commission through affiliate links in this post. Read disclosure.
I've been spending a lot of time baking breads lately and today I'm sharing my flatbreads recipe. Although I've been experimenting with quite a few different doughs, this one has become a real family favourite. It's a quick and easy recipe to follow and the flatbreads are super versatile.
I like to use them for sandwich wraps at lunchtime or serve them alongside curries and stews as a side. I've also used them to make lamb souvlaki and they're a great stand-in for naan bread or roti. They have a great texture and won't fall apart and leak juices all over your hands.
The best part is the whole recipe takes less than an hour so you don't even need to be super organised to get this one on the table. And it only needs seven ingredients, most of which are probably already in your pantry. There's really no limits and they are so much better than anything you can buy from the supermarket!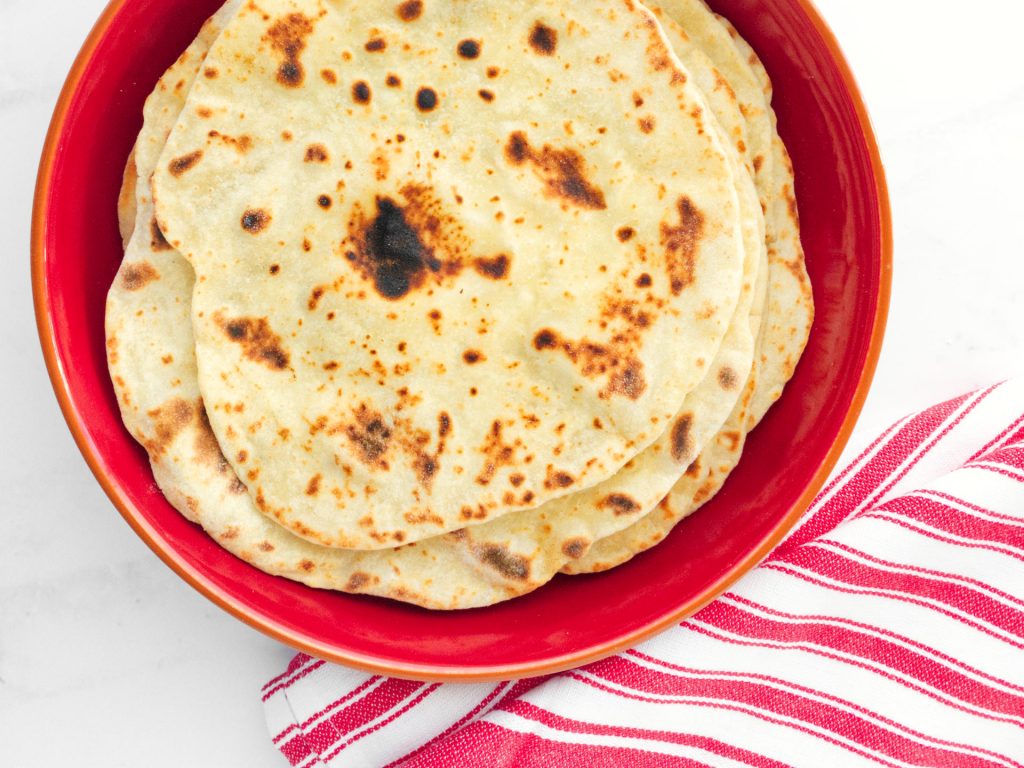 Making dough for flatbreads
Making the flatbread dough is a straightforward process. Start by combining all the dry ingredients in a mixing bowl. Flour, garlic power, baking powder and salt. The garlic powder can be removed to suit your taste, or feel free to substitute it for a herb or two. Just be sure that all the dry ingredients are well combined so that the baking powder is evenly distributed.
Then make a well in the centre and add in the wet ingredients. Plain yoghurt, milk and olive oil. I use lactose free milk and yoghurt when I make these but it works either way. You could also use vegetable oil if you wish. At this point the mix will look a little strange but once you mix it all together it will form into a rough dough.
When mixing everything together it can get a little messy. I like to use a dough whisk for this purpose but if you don't have one, a metal spoon is the next best thing. The dough will be quite sticky at the point so once most of the mix is brought together, get in there with your hands and knead it until it forms a uniform texture.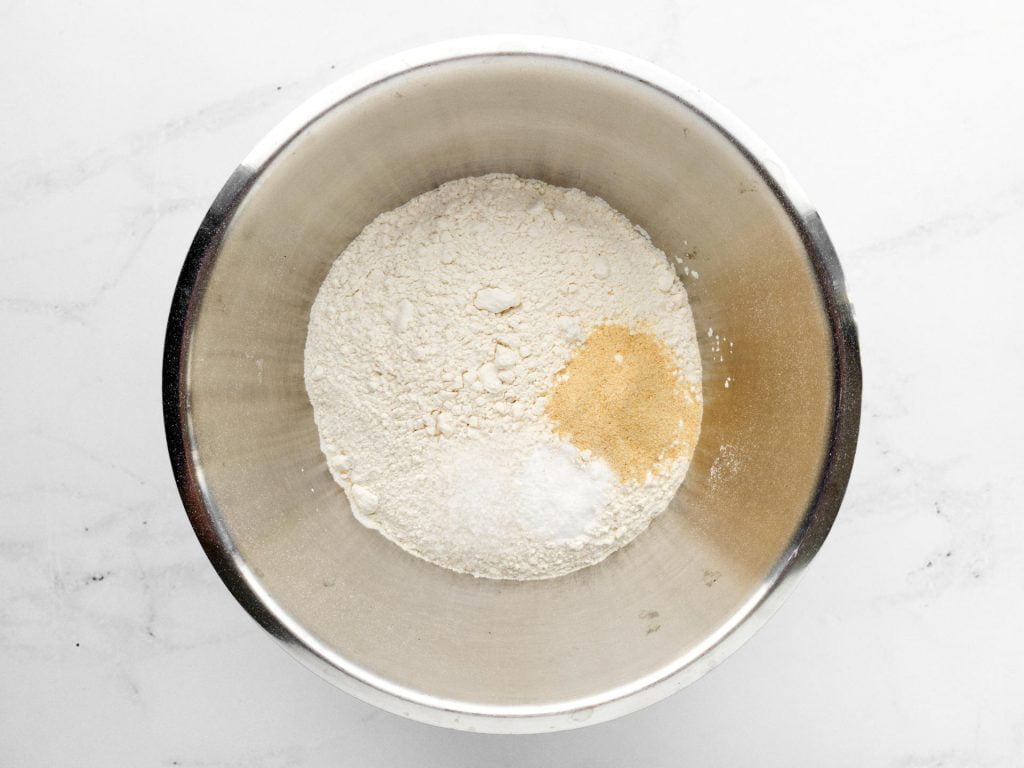 It's important to note that once you start kneading, the dough will dry out a little but before you adjust the mix, keep kneading for a couple of minutes and it should start to get a little more sticky. We're looking for a slightly sticky dough here because the higher the moisture content, the puffier the flatbreads will be. Once the dough is well formed and sticks to your hand slightly, add a little olive oil and rub the dough to coat. Again, you can use vegetable oil here if you wish.
If the dough isn't becoming sticky after kneading for a few minutes, add a little extra milk, about 5-10 ml at a time until you get the desired texture.
Cover the bowl with a tea towel or wrap and set aside for 30 minutes.
⭐️ Enjoying this recipe? Subscribe to my newsletter to be one of the first to receive my latest updates direct to your inbox.
Divide and roll
When the time is up, knead the dough a few more times to incorporate any of the oil and then divide it into 8 equal portions. Don't be too fussy about the size of each portion as I think some of the charm of flatbreads is their imperfect shapes.
It's very easy to adjust the size of the flatbreads at this point. Dividing into 8 portions will yield flatbreads that are about the size of a small dinner plate. If you want smaller flatbreads, you could easily divide the mix into 10 or 12 portions. Similarly, you could adjust it to get 6 larger breads. I think 8 is a good size and works out to about 2 per person, depending on what you are serving them with.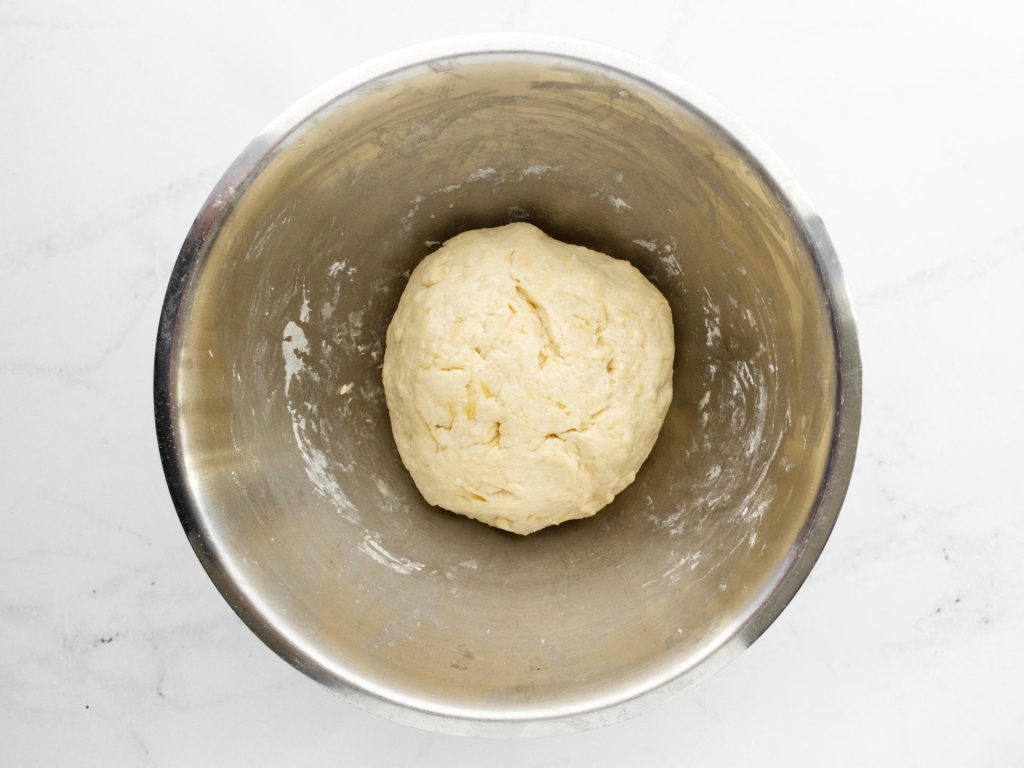 The final step is to roll out the dough. This part can take a little practice because the dough will still be quite sticky to work with but remember that the stickiness is important to get the puffiest breads. Working one portion at a time, place the dough onto a floured surface. I like to use a decent amount of flour for this but essentially gauge it based upon whether or not the dough sticks.
Using a floured rolling pin, roll out the dough to form a roughly rounded shape. I find it best to roll up and down in one direction to form an oval shape then flip the dough over and rotate it 90 degrees. Then roll up and down again to form a round shape. Keep repeating this process until the dough is about 3-4 mm thick.
Don't worry about whether the thickness is completely uniform, if there's some parts that rolled a little thinner, it will not make any difference to the final bread. You'll still get great flatbreads that won't leak on you. That's one of the things that makes this recipe so reliable.
At this point you can either start to cook the flatbreads while you roll out the next one or stack them and cook them all at once. I prefer to cook while I roll as it gets the job done a little quicker but it works either way. If you choose to stack them, just place a little flour between each layer so they don't stick.
Cooking flatbreads
Now it's time too cook the flatbreads. This is the fun part because they will puff up in the pan and are quite satisfying to watch. Heat the pan to a medium high heat. It's important to be hot but not so hot that it burns the breads before they have cooked through. Place a little olive oil in the pan and add the flatbread.
Cook for about 60 seconds and then flip using a spatula. If you're rolling out the flatbread dough while you're doing this, you should easily be able to roll out the next one before this has finished. The second side will take a little less time to cook, perhaps 40-50 seconds. Have a peek and when it looks golden brown, it's ready.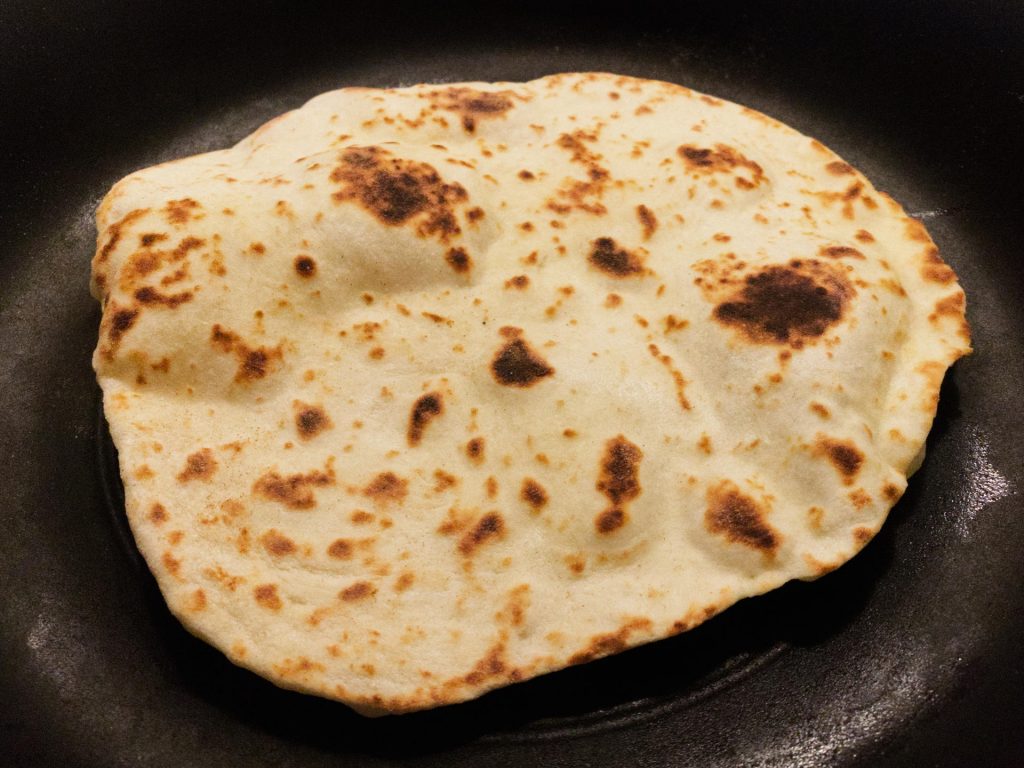 You should find that the dough will puff up during the frying process. Some flatbreads are likely to puff up more than others, and I've had the occasional one that completely inflates! When this happens, simply press down on the bread lightly with a spatula to keep the dough on the surface of the pan. Don't be afraid that this will somehow compromise the fluffiness of the bread, it won't. It's simply because the structures inside the dough have formed such that hot air gets trapped inside and has no way to escape.
When the flatbread is cooked to your liking, transfer it to a plate and cover with a clean tea towel. It's important to keep the breads covered because it not only keeps them warm, but it prevents them from drying out. Soft, yummy flatbreads are the aim!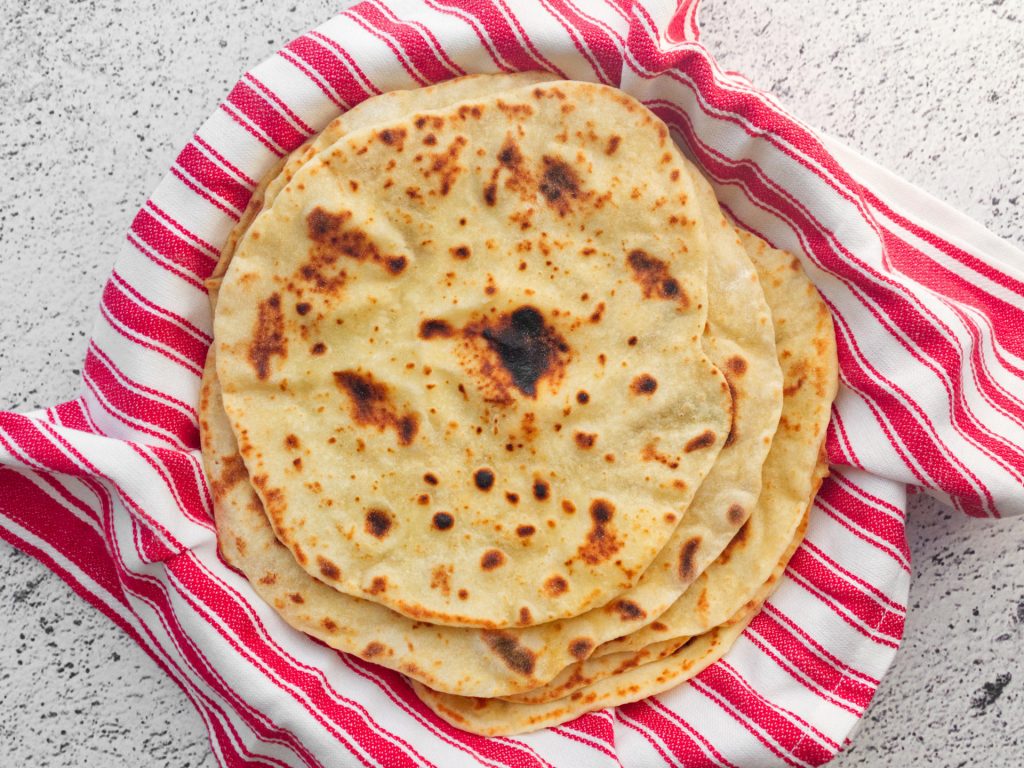 Serving flatbreads
That's all there is to it. The flatbreads are best served immediately while they are still warm. They work great as a whole bread, or can be torn into pieces and dipped into curries and sauces.
Leftovers can be stored in an airtight container for a couple of days. I find it best to give them a quick zap in the microwave before serving to soften them up. About 20-30 seconds is usually all it takes.
I mentioned above that they go with so many things so if you need some ideas, check out these recipes for inspiration:
Mix it up and serve Beef Massaman Curry with flatbreads instead of rice (or both!).
Serve alongside Tabbouleh with some lamb back-strap and baba ghanoush for the ultimate Lebanese grazing plate.
Mop up your plate of Beef and Vegetable Casserole or just wrap the leftover beef with some salad into a tasty lunchtime snack.
However you choose to serve them, these delicious flatbreads are a great recipe to have under your belt. Enjoy!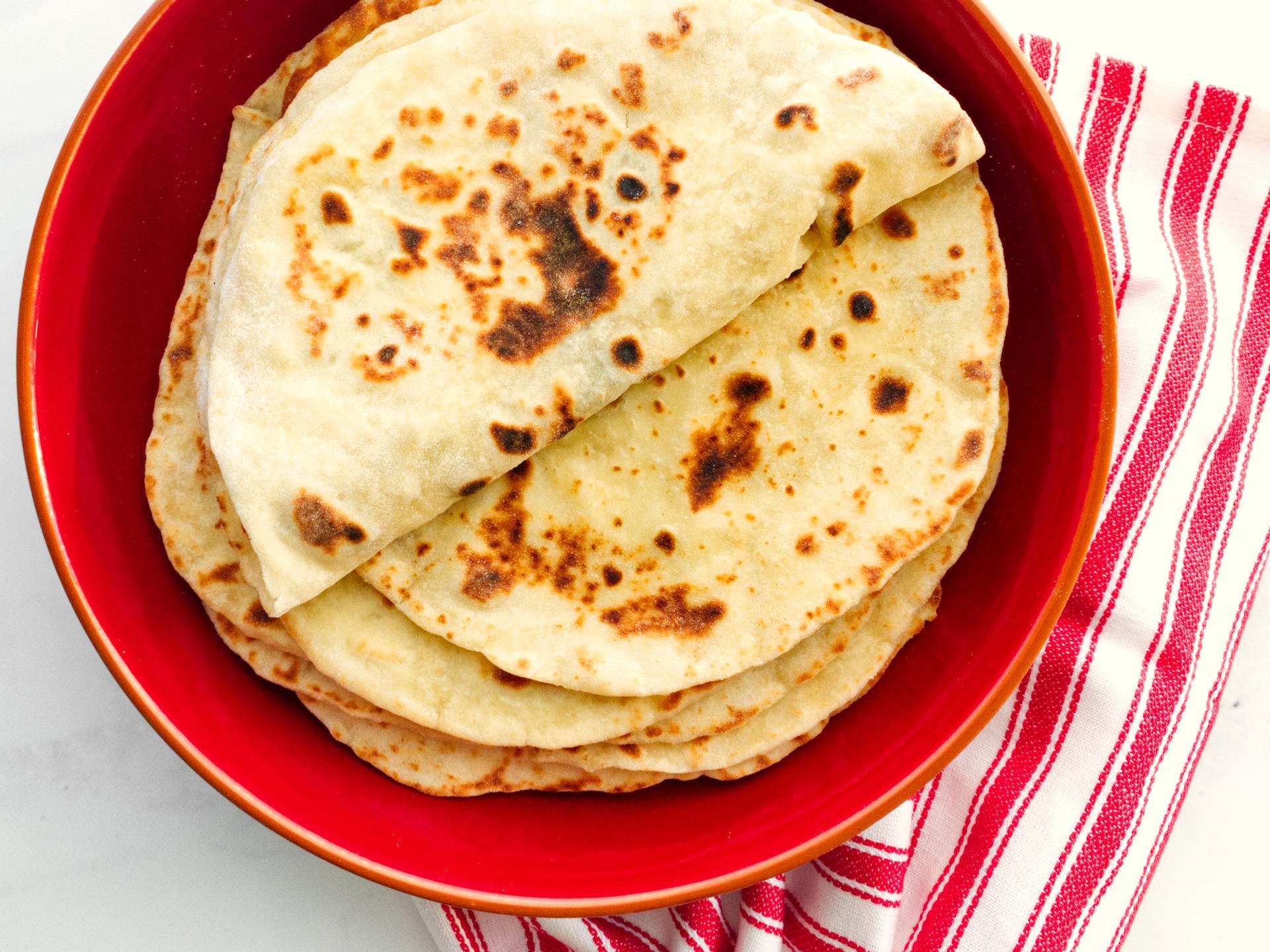 Flatbreads
This simple and delicious recipe makes the best flatbreads. Ready in under an hour, it's great for wraps or as a replacement for roti or naan.
Ingredients
450

g

plain flour

,

plus extra for rolling

2

tsp

garlic powder

1

tsp

baking powder

1

tsp

sea salt

,

finely ground

180

g

plain yoghurt

60

ml

olive oil

,

plus extra for frying

155

ml

milk
Instructions
Combine flour, garlic powder, baking powder and salt in a large mixing bowl. Mix well to ensure the baking powder is evenly distributed.

Make a well in the centre and add the yoghurt, olive oil and milk.

Mix with a dough whisk or metal spoon to bring together into a shaggy dough.

Using your hands, knead the dough for a few minutes until it creates a well-formed ball. The dough should be workable but slightly sticky to the touch. Note that the more the dough is kneaded, the stickier it will become. Once it starts to get a little sticky, stop kneading at that point.

When the dough is sticky, rub with a little olive oil to coat and place in the mixing bowl to rest. Cover and set aside for 30 minutes.

Knead the dough for another minute to mix through any residual oil and divide into 8 equal portions. Roll each portion into a ball.

Working one ball at a time, place the dough on a floured surface and flatten with the palm of your hand. Using a floured rolling pin, roll the dough into a round about 3-4 mm thick.

Add a dash of olive oil to a large non-stick frying pan over medium-high heat. Fry the flatbread for about 1 minute per side, or until golden and fluffy. If the dough inflates, lightly press with a spatula to keep the bread on the surface of the pan.

Meanwhile, roll out the next flatbread and repeat until all are cooked, transferring each to a plate and covering with a tea towel to keep soft. Serve warm.
Notes
Make it lactose free: I always make these flatbreads with lactose free ingredients and it's as easy as substituting the milk and plain yoghurt for lactose free varieties. Everything else stays the same.
Leftovers? Simply cover any leftovers with an airtight wrap and store in a dark, dry place. When ready to use, place in the microwave and cook for 20-30 seconds before serving.
Calories:
299.4
kcal
,
Carbohydrates:
45.6
g
,
Protein:
7.3
g
,
Fat:
9.4
g
,
Saturated Fat:
2
g
,
Polyunsaturated Fat:
1.1
g
,
Monounsaturated Fat:
5.9
g
,
Cholesterol:
4.9
mg
,
Sodium:
369.1
mg
,
Potassium:
130
mg
,
Fibre:
1.6
g
,
Sugar:
2.2
g
,
Vitamin A:
53.7
IU
,
Vitamin B12:
0.2
µg
,
Vitamin C:
0.1
mg
,
Vitamin D:
0.3
µg
,
Vitamin K:
4.8
µg
,
Calcium:
88.2
mg
,
Iron:
2.8
mg