Southside Kitchen may earn a commission through affiliate links in this post. Read disclosure.
Following on from my Massaman Curry Paste recipe, today I'm making the actual curry. Beef massaman curry is a traditional Thai dish that has many of its roots in Indian cuisine. Full of spices and rich aromatics, it's the perfect winter warmer when you're craving a cosy night in.
It's one of my favourite curries and I have played around with this recipe quite a bit over the years. There are certainly more authentic recipes than mine, but I've made minor adjustments to account for ingredients that are more readily available in Australia.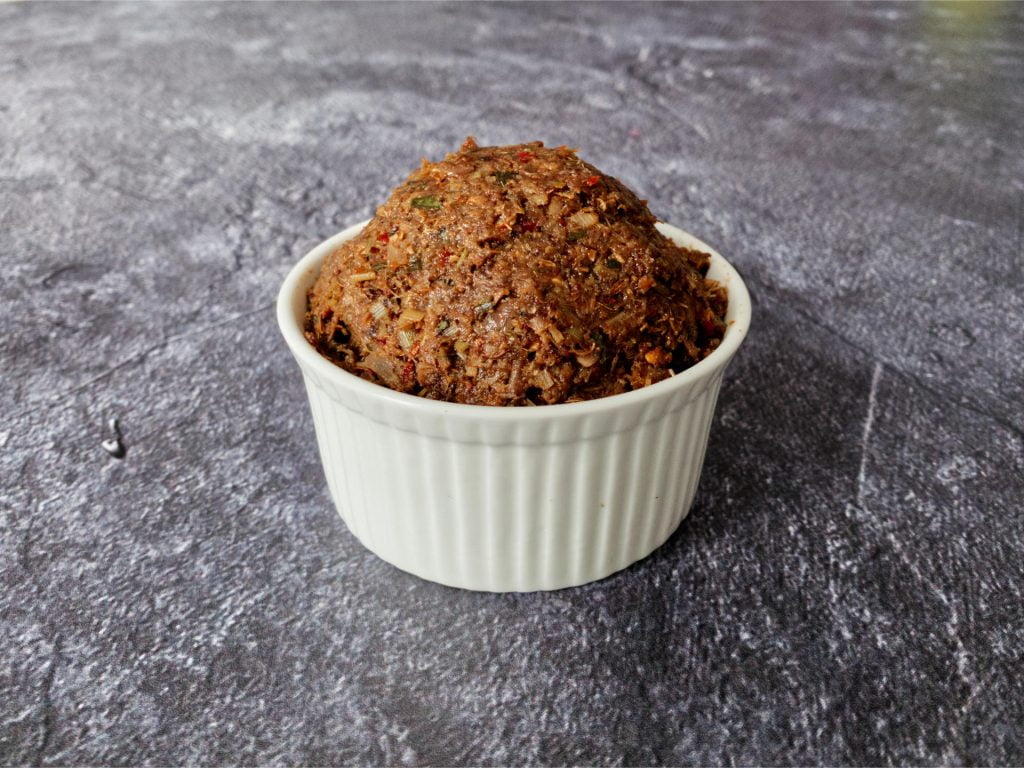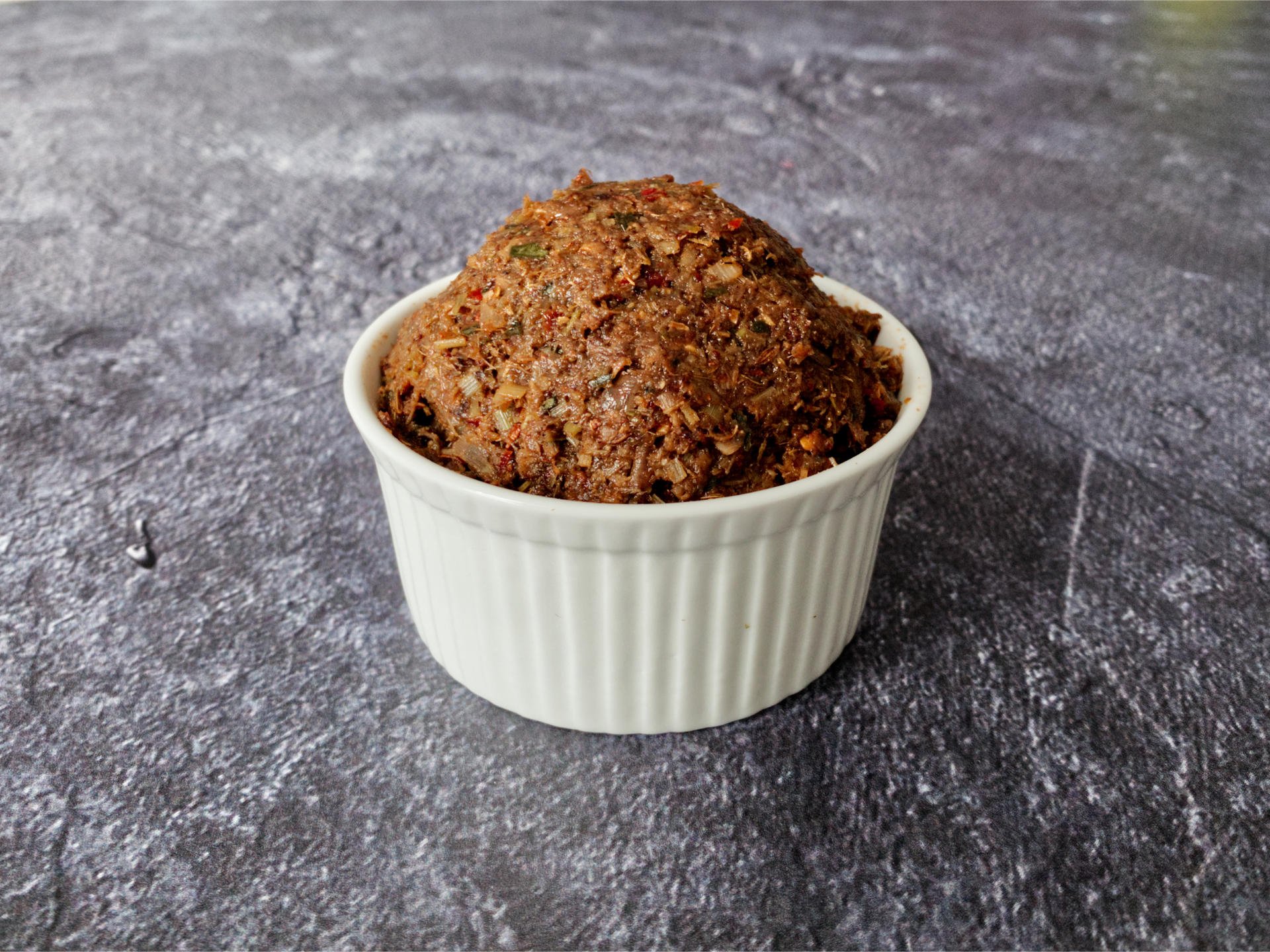 On its own, this recipe is quite straightforward. All of the hard work in creating this tasty dish is spent making the paste. If you want a shortcut, you can substitute the home-made curry paste with a store-bought variety but if you ask me, they're all pretty average by comparison.
Making it yourself from scratch is not that difficult and it's well worth the effort. Your kitchen will smell amazing from all the spices, and the final curry will rival any home delivery option. Check out my Massaman Curry Paste recipe for more details. The paste recipe will yield about twice what you need for one batch of curry so you can either halve the recipe, or store some in the fridge for later.
Making the beef massaman curry sauce
Discounting the paste, beef massaman curry is almost a one pot wonder. Everything is combined in the same pot and slow cooked until the beef is tender and falls apart.
Start by frying the curry paste for a minute or two in the sunflower oil. Give it a good stir to break up the paste but don't overcook it. If it burns it will tarnish the delicate flavours. All the wet ingredients are added at this point along with the cardamom pods and cinnamon quills. It doesn't necessarily look the best right now, but it will smell amazing.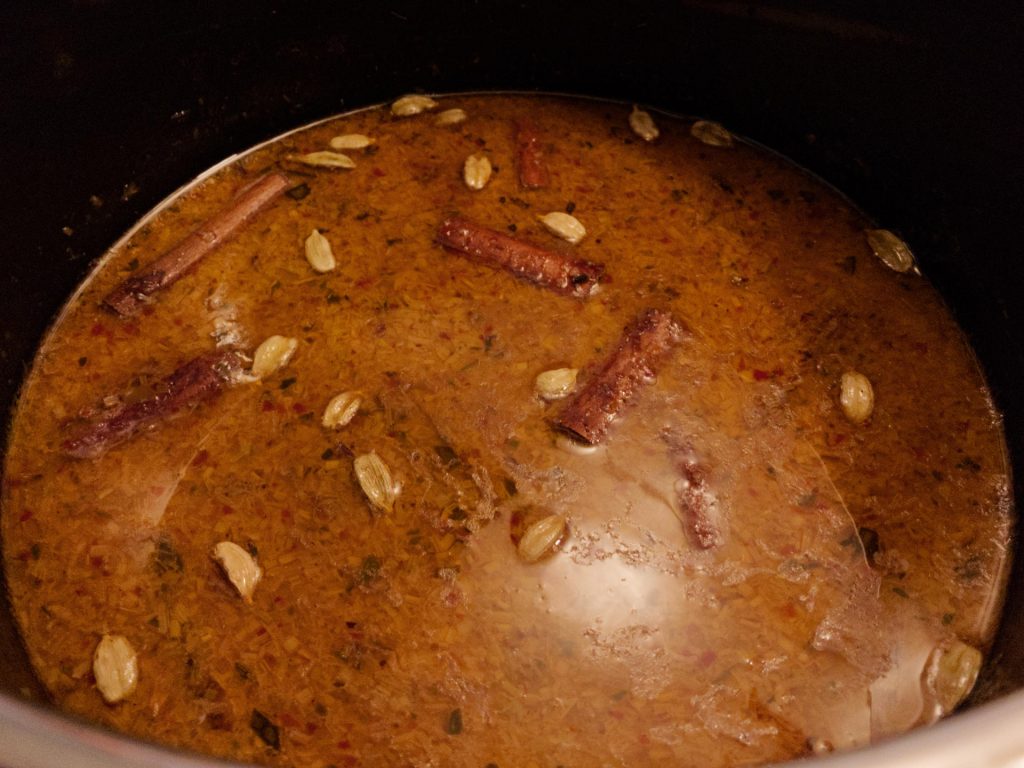 It may seem like there's a lot of oil in this recipe. In the early stages of preparing the curry sauce, you'll notice that a reasonable layer of oil forms on top. Don't worry about trying to skim it off, it will fully combine later on and you won't notice it at all.
The reason for using sunflower oil is so that it doesn't take over the flavour of the dish. Vegetable oil is a good substitute, but any mild oil is fine. Just avoid olive oil in a recipe like this. It will completely change the flavour and overpower the amazing ingredients in the curry paste.
One thing to point out in this recipe is the tamarind purée. There are lots of variations on preparing tamarind for use in curry. A lot of recipes will call for tamarind juice but it's not always easy to find unless you look in specialty stores. I avoid the problem altogether by diluting some tamarind purée in hot water, which gives a similar result. If you do have tamarind juice on hand, you can very easily substitute it. Instead of using the purée, use about 250ml of tamarind juice and then add 300ml of plain water to the curry instead.
⭐️ Enjoying this recipe? Subscribe to my newsletter to be one of the first to receive my latest updates direct to your inbox.
It's beefy time
While the sauce is lightly simmering, it's time to prepare the beef. The meat is going to be slow cooked in the curry, so it needs to be seared to give it extra flavour before being added to the sauce. I also don't season the beef as the curry paste already contains quite a bit of salt, and adding more will make it too salty. If you're using a pre-made sauce, you will need to adjust accordingly.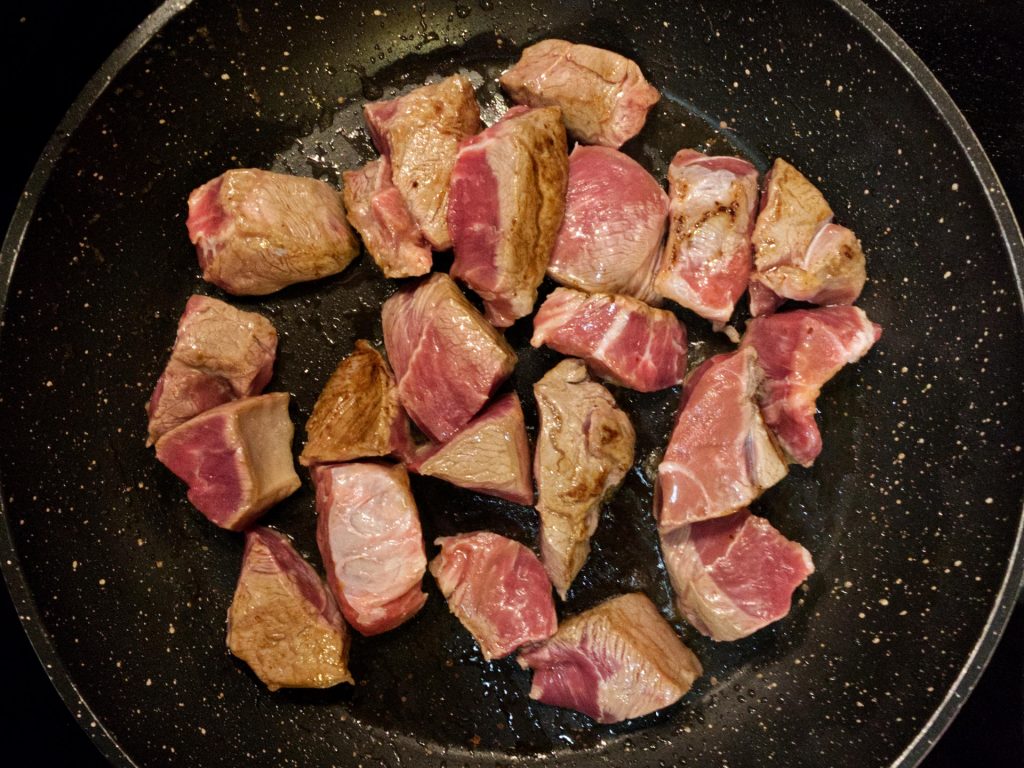 Using a frying pan on high heat, fry the beef in a little sunflower oil. Toss it around until it turns a golden brown colour on all sides. It's better to be more brown than less at this point, but don't cook it completely otherwise it won't fall apart as nicely when it stews. I cut the beef into quite large chunks to avoid it shredding away to nothing. The larger pieces will usually only split into two or three smaller ones and this gives good bite sizes of meat in the final dish.
Cooking time can vary depending on the beef cut used and how large the chunks are. A good rule of thumb is to cook the sauce until the beef is just able to be separated with a fork. At this point add the potatoes and shallots and cook for about 45 minutes.
By this time the beef should be completely tender when tested with a fork. If it isn't, keep cooking until the beef is falling apart. Keep an eye on the sauce level though. If you need to cook the curry for longer than the recipe, be sure to cover the pot with a lid so that the sauce doesn't thicken too much. You can always add a little water if you notice it getting low.
Plating up
Finally, plate up the beef massaman curry in a bowl with some steamed rice. I aim for about a 50/50 split between rice and curry. I used long-grain white rice here but you can use whichever you prefer. Jasmine or short-grain are great options.
To plate it up with a bit of wow factor, put the rice in the bowl first and push it to one side with the back of a spoon. Then carefully spoon the curry into the other half of the bowl. Place a cinnamon quill from the pot on top and then sprinkle with peanuts and dried shallots. Top it with some fresh coriander leaves and enjoy!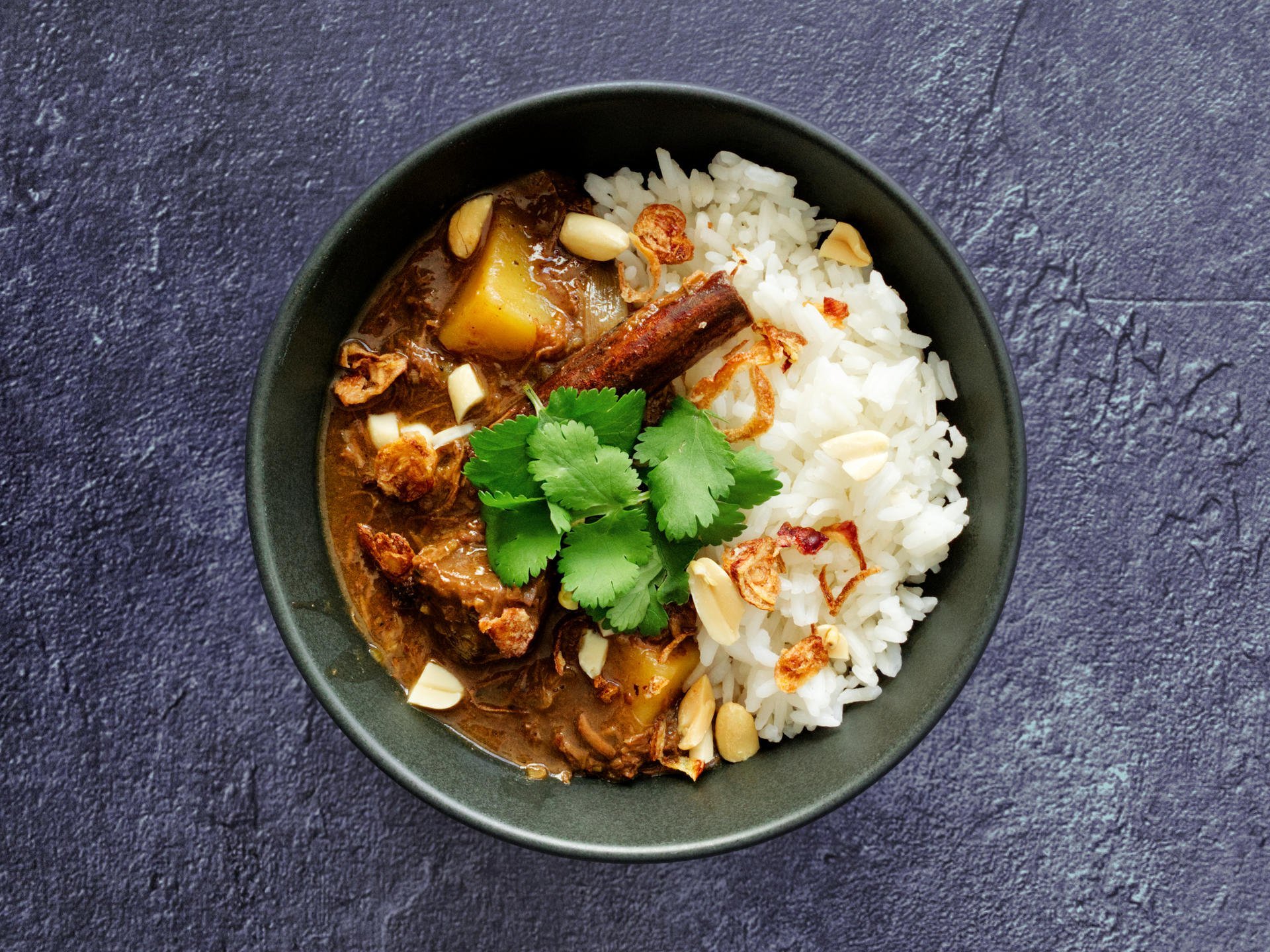 Beef Massaman Curry
Beef massaman curry is a Thai dish full of spices and rich aromatics. This yummy recipe is a perfect winter warmer for a cozy night in.
Ingredients
1

tbsp

tamarind purée

100

ml

sunflower oil

120

g

massaman curry paste,

see recipe

800

ml

coconut milk

80

g

palm sugar

150

ml

fish sauce

20

cardamom pods

20

g

cinnamon quills

800

g

beef

,

oyster blade or similar, roughly diced

20

ml

sunflower oil

,

for frying

250

g

potatoes

,

roughly diced

2

shallots

,

small, peeled and quartered

1

tbsp

unsalted peanuts

,

roughly chopped

1

tbsp

dried shallots

1

tbsp

coriander leaves

rice

,

to serve
Instructions
Place the tamarind purée and

650

ml boiling water in a measuring jug or pot. Stir until the purée has completely dissolved then set aside.

In a large saucepan, heat the oil over a high heat and add the curry paste. Lightly fry for 1-2 minutes being careful not to burn the paste.

Add the coconut milk and tamarind water. Bring to the boil and then reduce to medium heat. Add the palm sugar, fish sauce, cardamom pods and cinnamon quills. Stir until the palm sugar has completely dissolved.

Meanwhile, in a hot frying pan, add oil and sear the beef chunks until they start to turn golden brown on all sides. You may need to do this in batches. Once cooked, add the beef to the curry and bring to the boil. Reduce to a low heat and simmer for about 2 hours, stirring occasionally.

Stir in the potatoes and shallots and cook for another 45 minutes, or until the potatoes are soft and beef pulls apart when tested with a fork. Remove from heat.

Serve the curry in a bowl with a side of steamed rice. Garnish with a sprinkling of peanuts, dried shallots and coriander leaves.
Calories:
831.3
kcal
,
Carbohydrates:
42.7
g
,
Protein:
38.8
g
,
Fat:
59.8
g
,
Saturated Fat:
30
g
,
Cholesterol:
101.7
mg
,
Sodium:
2636.6
mg
,
Potassium:
1360.8
mg
,
Fibre:
6.6
g
,
Sugar:
15.1
g
,
Vitamin A:
373.1
IU
,
Vitamin B12:
2.6
µg
,
Vitamin C:
67.4
mg
,
Vitamin K:
10.2
µg
,
Calcium:
163.2
mg
,
Iron:
10.6
mg