Southside Kitchen may earn a commission through affiliate links in this post. Read disclosure.
Today I'm making Brussels Sprouts with Bacon and Walnuts. It's a great side dish to go with roasts, Sunday lunch or festive gatherings. This super simple recipe can feed a small army and best of all it's delicious. I cook this side almost every Christmas as it goes really well with turkey and ham. Best of all it's a very quick and easy recipe that's ready in only twenty minutes!
Brussels sprouts aren't that bad
Sadly Brussels sprouts seem to have a poor reputation with a lot of people. For me, I know this stems from experiences growing up when sprouts were served overcooked and soggy.
For some reason my parents and grandparents used to cut a cross in the top of their sprouts and then boil them within an inch of their lives. But overcooking the sprouts like this causes them to lose all their flavour. Not to mention the texture becomes a mushy paste-like substance that is particularly unpleasant. It was therefore no wonder that I came to dislike them. It wasn't until I started experimenting with new recipes as an adult that I decided to give them another shot and came to my senses.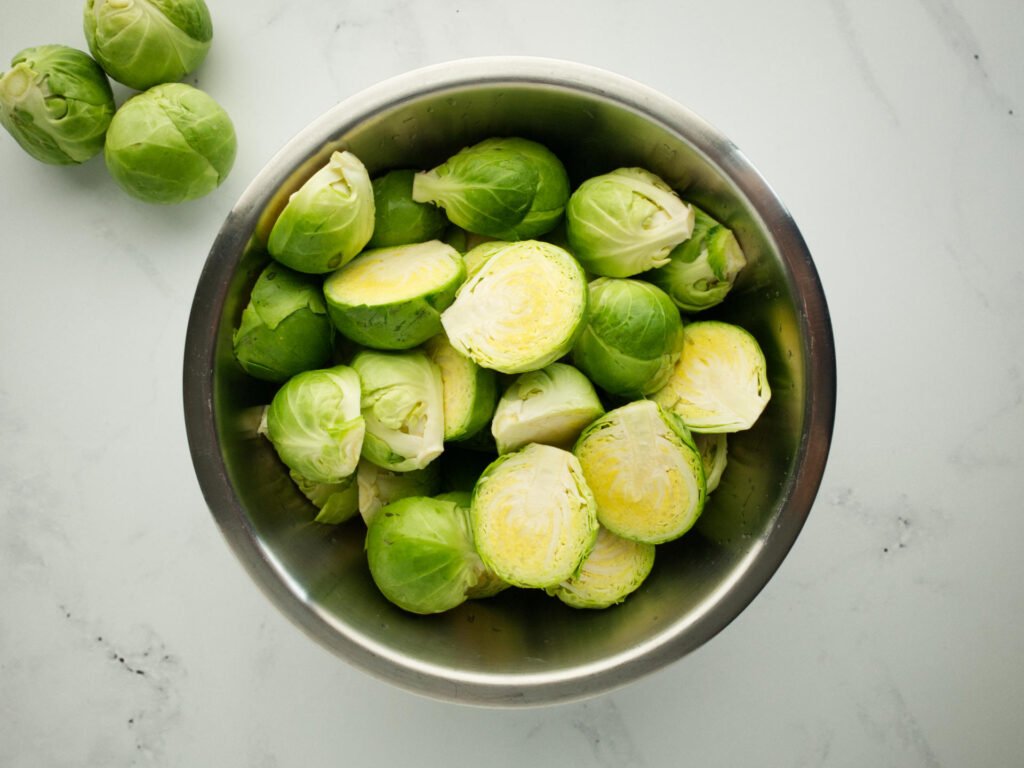 With my new-found appreciation for this humble little vegetable I realised the trick is to not overcook them. Cut them in half so that they can cook more quickly. Doing this also releases all the bitterness from the sprouts which is centred around the stem of the vegetable. Blanch them for just a few minutes in salted boiling water. They should cook all the way through, but not so long as to make them wet and soggy. Cooking in this way will preserve a bit of structure and keep them slightly crunchy when eaten.
Sprouts on their own can also be pretty bland and that's why it's also important to serve them with something that adds a good dose of flavour. The bacon, walnuts and lemon in this recipe do just that. The sprouts soak up the lemon juices and pack a bit of zing that stops them from just tasting like cabbage. It's what makes Brussels sprouts with bacon and walnuts such a hit in my house.
⭐️ Enjoying this recipe? Subscribe to my newsletter to be one of the first to receive my latest updates direct to your inbox.
Everything is better with bacon
Bacon does have a bit of a cult following as a magical ingredient that can add flavour to almost anything. Although I'm yet to be convinced that it's the best combination to go with ice cream, in this dish it's a winner. Generally, the thicker the bacon pieces, the better. Lardons are ideal but aren't always easy to come by. Being stuck in COVID-19 lockdown has limited my options so I'm just using regular sliced bacon today. It does the job, but does dry out a little quicker than if it were thickly sliced. If you get it from a butcher, request slices about 1cm thick and then thickly dice it for the best results.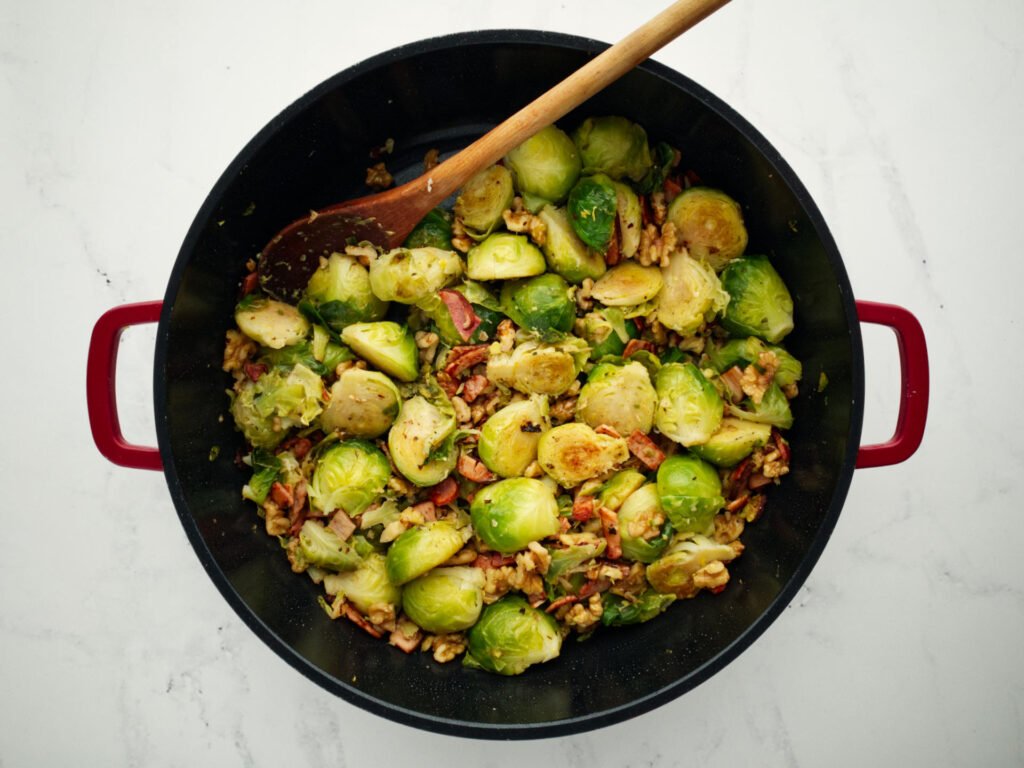 I like to serve this dish straight from the pan. It keeps the meal warm and prevents the sprouts from drying out. If I'm entertaining a large group, I'll plate it into a pre-warmed serving bowl. Leftovers will keep for a few days in the fridge but the sprouts won't be as good as when they are freshly cooked. For this reason I recommend only cooking what you need and making a fresh batch each time.
Brussels Sprouts with Bacon and Walnuts is a versatile side dish. It will go well with anything hearty – particularly winter comfort food. It's a great combination with my Shepherd's Pie recipe or you can serve it with a roast alongside my Braised Dutch Carrots and Baby Peas and Duck Fat Hasselback Potatoes.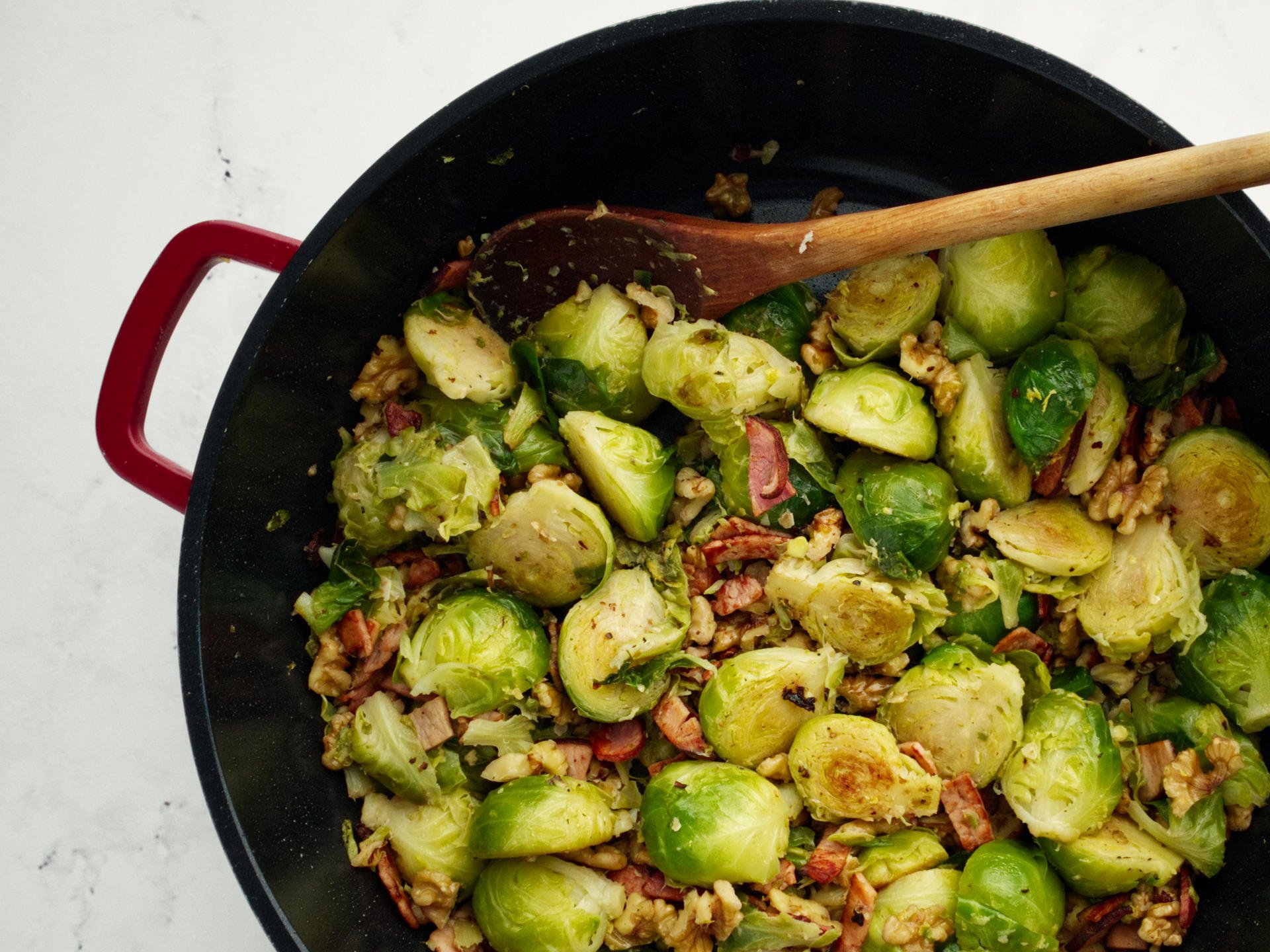 Brussels Sprouts with Bacon and Walnuts
Brussels Sprouts with Bacon and Walnuts is a great side dish to go with roasts, Sunday lunch or festive gatherings. This super simple recipe can feed a small army and best of all it's delicious.
Ingredients
1

kg

Brussels sprouts

,

loose outer leaves removed

1

tbsp

olive oil

200

g

bacon

,

thick slices, diced

150

g

walnuts

,

roughly chopped

1

tbsp

lemon zest

1

tbsp

lemon juice

sea salt

,

to season

black pepper

,

to season
Instructions
Trim the bases off the Brussels sprouts and cut in half lengthways (ensuring the cut goes through the centre of the base).

Bring a saucepan of salted water to the boil. Add the sprouts and blanch for 3 minutes then transfer to a colander to drain.

Heat the olive oil in a large frying pan and fry the bacon for a few minutes, until golden and starting to crisp. Add the sprouts and season with salt and pepper. Cook for 3-5 minutes, tossing occasionally, until the sprouts start to colour.

Add the walnuts, lemon zest and lemon juice. Adjust the seasoning to taste. Serve immediately from the pan or in a warmed serving dish.
Calories:
282
kcal
,
Carbohydrates:
14
g
,
Protein:
17.8
g
,
Fat:
19.7
g
,
Saturated Fat:
5
g
,
Cholesterol:
35.7
mg
,
Sodium:
854.4
mg
,
Potassium:
568.9
mg
,
Fibre:
6.1
g
,
Sugar:
3.3
g
,
Vitamin A:
942.5
IU
,
Vitamin C:
108.2
mg
,
Vitamin K:
222.8
µg
,
Calcium:
70.9
mg
,
Iron:
2.3
mg