Southside Kitchen may earn a commission through affiliate links in this post. Read disclosure.
I have always loved traditional lemonade. From a very young age it's been one of my preferred drinks, easily topping 'normal' lemonade. There's just something about the hit of sourness that you get with every mouthful that I find really appealing. These days there's no shortage of commercial variants of traditional lemonade but it's really quick and easy to make at home. This recipe is my take on this delicious and refreshing drink.
I go through a lot of lemons in my household as we have access to a few prolific lemon trees. Recently I've been putting them to use making my own Limoncello – which is definitely a fun foodie project to try. The problem is you only need the lemon rind so I kept finding myself with a dozen peeled lemons that needed using. Never one to waste food, I figured it was time to revisit my love of home-made traditional lemonade.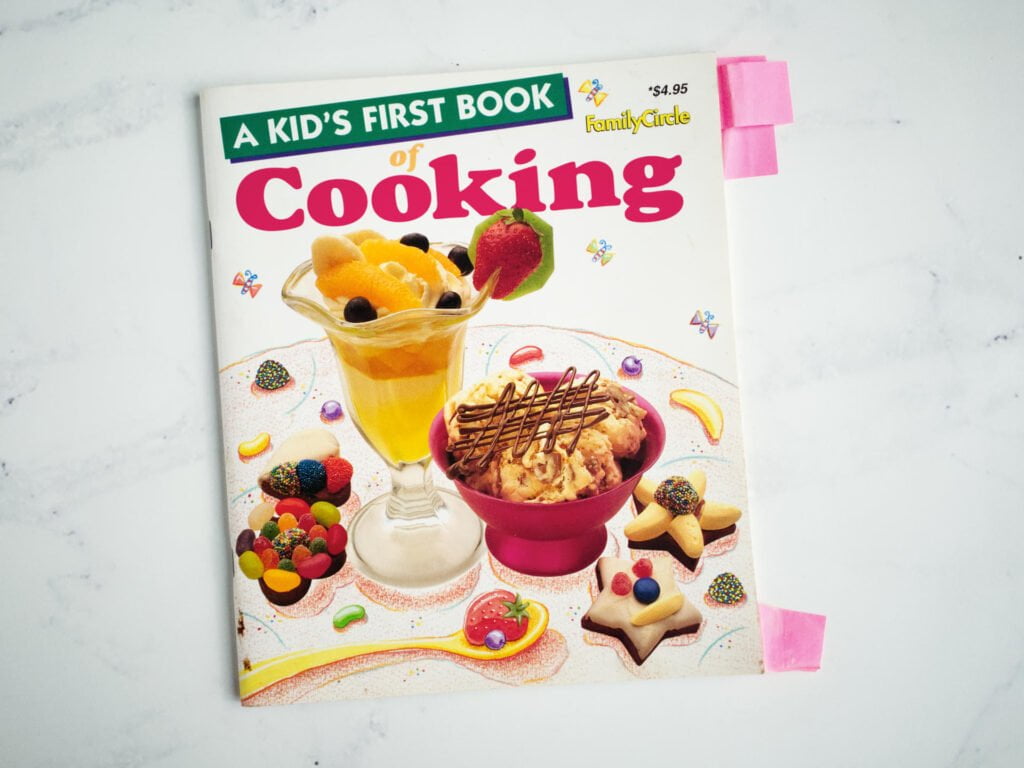 This was rather apt timing because only a month ago I was visiting my grandmother and found one of my original cookbooks buried in her kitchen cupboard – A Kid's First Book of Cooking. In fact, this is the earliest cookbook I can remember so this might even be where all my food adventures began. I was also very surprised to discover that even my 11-year-old self liked to bookmark recipes using fluoro tabs! That aside, this book contained the very first recipe for lemonade that I used to make all those years ago. 25 years on, my kitchen skills have obviously progressed and it got me experimenting with ways to improve on the original.
⭐️ Enjoying this recipe? Subscribe to my newsletter to be one of the first to receive my latest updates direct to your inbox.
Easy peasy lemon squeezy
Traditional lemonade recipes all follow a similar basic pattern. Essentially all you need is lemon juice, sugar and water. The kid's recipe also includes grated lemon rind but I can't say that I view this as a good addition. With so few ingredients to play with it's quickly apparent that changing the ratio even slightly causes a big difference to the end result. It of course comes down to personal preference, but I have a tendency to prefer sour over sweet. My lemonade needs to taste like a non-alcoholic version of the Southside. For that reason I'm not using as much sugar as some recipes call for. I think it's a tastier drink and presumably it's a little bit healthier.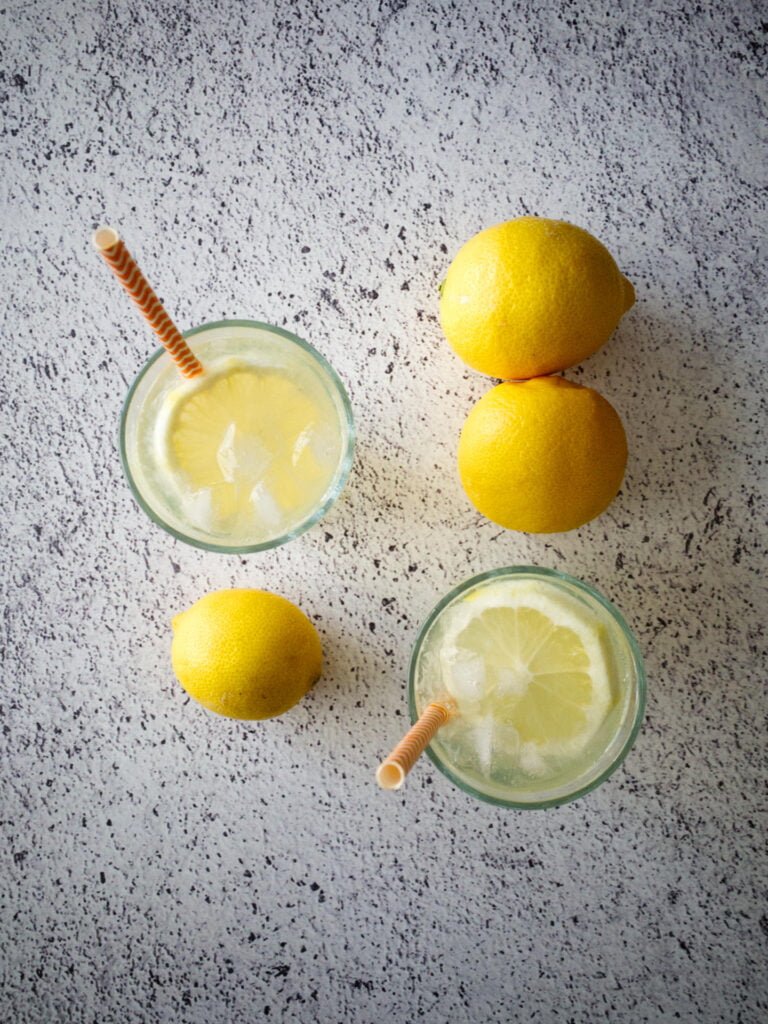 The only thing to be aware of is to not simply combine all three ingredients. If you do this, the sugar will seperate from the lemon juice and form a layer on the bottom of the jug. Therefore, the most important step is to first create a sugar syrup by dissolving the sugar in water. In doing so the final drink will have a smooth consistency without any sugar granules and a more balanced sweetness.
Be sure to chill the traditional lemonade in the refrigerator for a couple of hours before serving. Then serve over ice and garnish with a lemon slice or two. If you're looking for a meal to partner with your home-made lemonade, give my Kangaroo Burgers with Potato Wedges a try.
If you really want to take it up a notch, you can also turn this lemonade into a fun cocktail! Just add one shot of tequila to four shots of traditional lemonade. Serve it over ice and garnish with a slice of lemon. It's a great drink for a hot summer's day and is perfect for a backyard BBQ.
If you come up with your own cocktail creations, be sure to leave a comment below and let me know what worked for you. Cheers! ????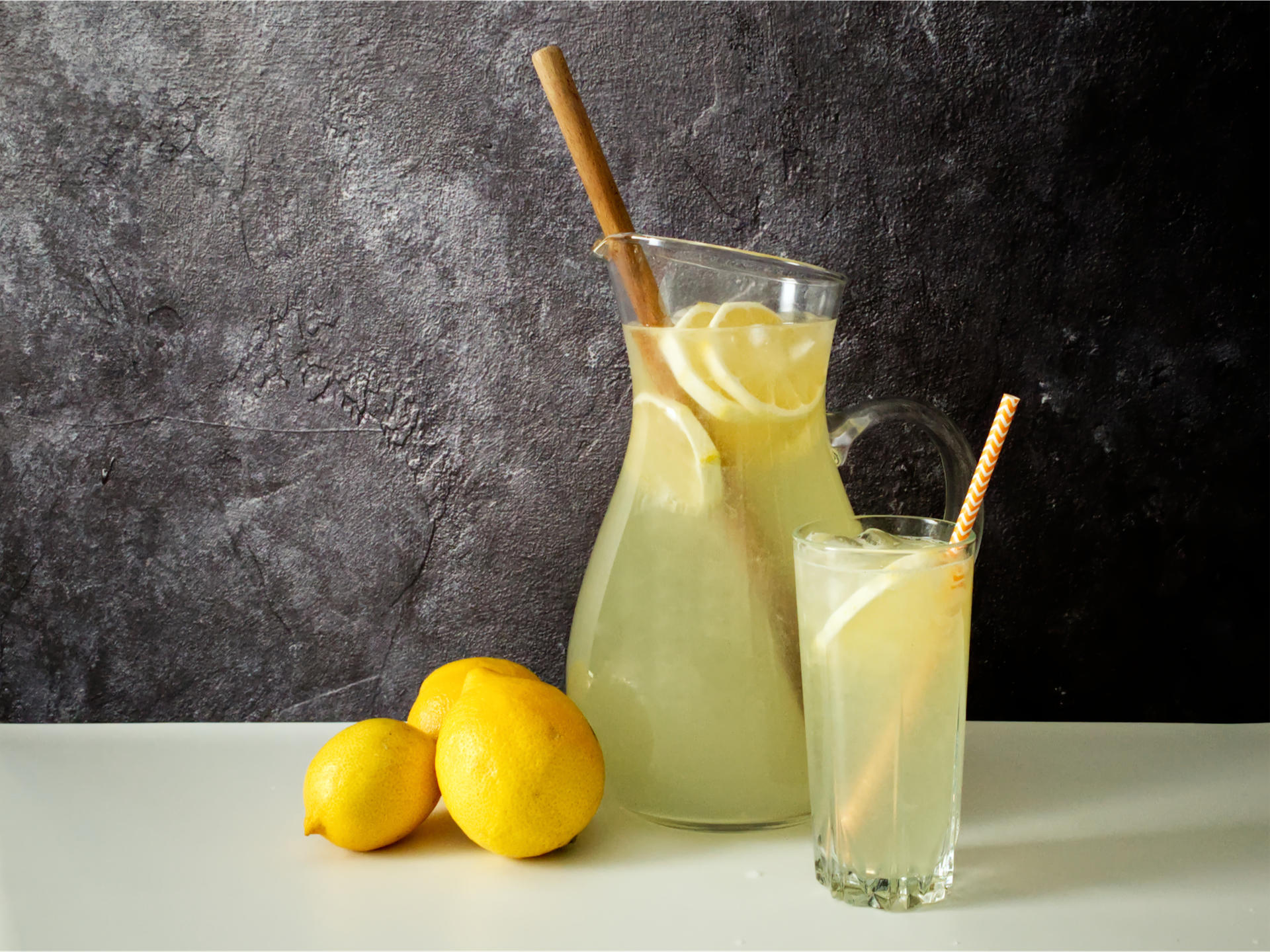 Traditional Lemonade
Traditional lemonade is a delicious and refreshing drink. This quick and easy recipe with teach you how to make it in your own kitchen in only 10 minutes.
Ingredients
Sugar syrup
120

g

caster sugar

125

ml

water
Lemonade
250

ml

lemon juice

1¼

litres

water

,

extra to dilute
Instructions
Place the caster sugar and water in a small saucepan and stir over medium heat without boiling. Continue until all the sugar has dissolved.

Bring the mixture to the boil then reduce the heat slightly and bubble for 1 minute. Take the syrup off the heat and set aside to cool.

Meanwhile, squeeze lemons and place juice in a large glass pitcher. Top with the extra water to dilute and add in the cooled sugar syrup. Stir to combine.

Chill the lemonade in the refrigerator for 2 hours. Serve with ice and garnish with a lemon slice or two.
Notes
For an added twist, you can also turn this lemonade into a fun cocktail. Just take 1 shot (30ml) of tequila and mix in 4 shots (120ml) of traditional lemonade. Serve over ice and garnish with a slice of lemon.
Calories:
259.7
kcal
,
Carbohydrates:
68.6
g
,
Protein:
0.4
g
,
Fat:
0.3
g
,
Saturated Fat:
0.1
g
,
Sodium:
5
mg
,
Potassium:
128.8
mg
,
Fibre:
0.4
g
,
Sugar:
63
g
,
Vitamin C:
48.4
mg
,
Calcium:
7.5
mg
,
Iron:
0.1
mg