Southside Kitchen may earn a commission through affiliate links in this post. Read disclosure.
I recently had an abundance of fresh lemons offered to me and decided to do something fun with them! Although I'm not a huge liqueur drinker, I don't mind the occasional limoncello. With so many lemons on hand I thought this would be a good recipe to experiment with. The general idea is quite simple – take the rind of several lemons, soak them in alcohol and add sugar syrup. The result is a tasty drink that can be enjoyed after a meal or with friends on a summer afternoon.
It's vodka time!
When researching the various methods of making limoncello, most call for a very strong alcohol like 95 or 100-proof vodka. In Australia it's quite difficult to source liquor with such a high alcohol content. If you do manage to find it, it's usually pretty expensive. Considering that all you're doing is watering it down with sugar syrup, it really doesn't justify spending the extra money. Therefore I've opted to make a variant that uses off-the-shelf vodka with 40% alcohol content. This is equivalent to 80-proof so I've adjusted the recipe accordingly by reducing the water content to compensate.
You can of course experiment to find your own sweet spot, but I definitely prefer my drink to have a bit of alcoholic punch to it and not be too extreme on the sweet side. Just keep in mind limoncello is supposed to be a sweet drink, so don't go too crazy!
The actual brand of vodka you use in this recipe is relatively unimportant. There's no point wasting money on a top shelf liquor when you're going to change its flavour anyway. My recommendation is to go with something at a lower price point that meets the alcohol strength requirement. I'm using 42 Below from New Zealand which was the cheapest 80-proof on offer when I was shopping.
When life gives you lemons…
The important thing to look out for in this recipe is the lemon pith – the white part of the lemon under the skin. You want to avoid having too much of the pith in your rind otherwise it will make your limoncello bitter. Use a light touch when peeling the lemon, but you'll probably find there's still a little more white than desired. A trick I use to fix this situation is to simply scrape over the white side of the rind with a blunt knife to remove any large bits. This way you guarantee clean lemon skins that are perfect for making sweet, lemony limoncello.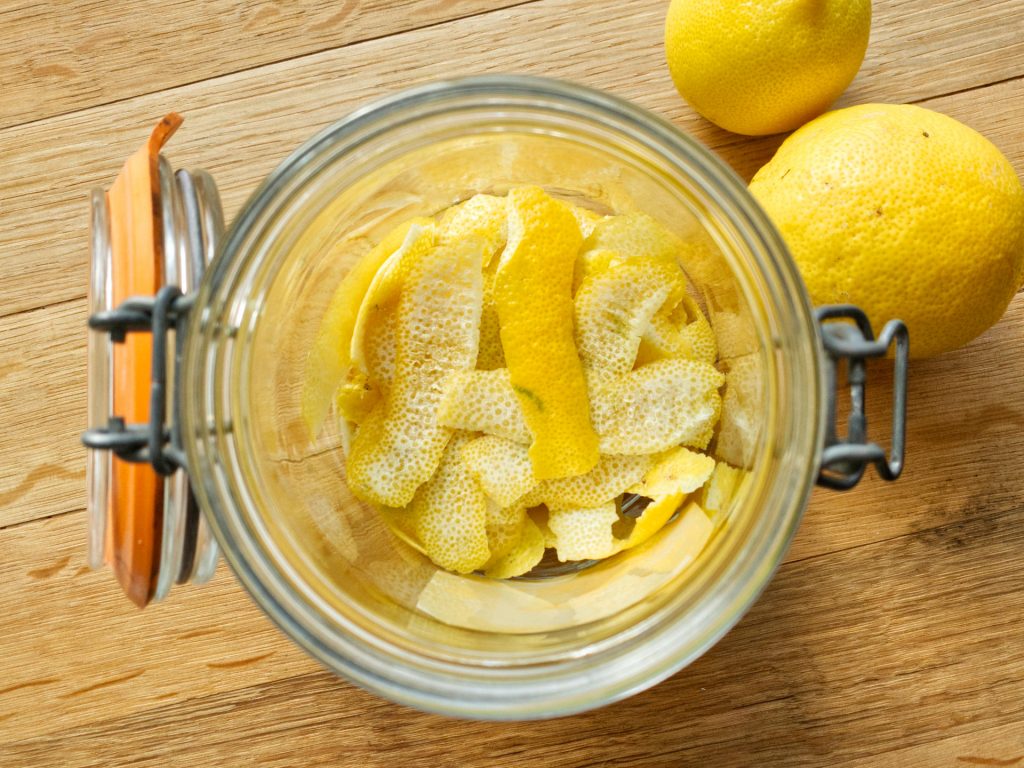 The only other thing to keep in mind is to have a little patience. You can't make the vodka miraculously infuse faster and the longer you leave it, the more potent the lemon taste will be. I say about 20 days in this recipe because that's about the minimum steeping time. The last batch I made, I left for an extra week (so about 27 days) and the vodka turned an even deeper yellow colour. It comes down to personal taste a bit but I really liked the extra zing from the strong citrus flavour. I wouldn't recommend leaving it too much longer than 30 days though.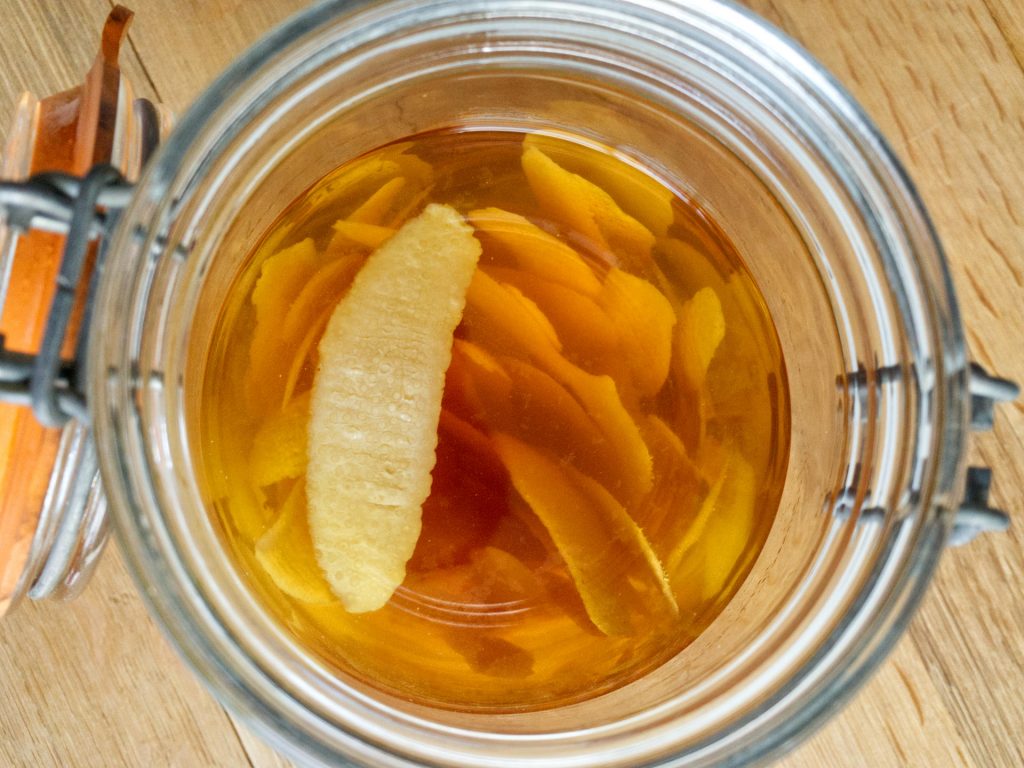 Make limoncello!
When your limoncello is finally ready to bottle, decant it into something that's airtight. I use water bottles that have the flip top, rubber ring lid that I picked up at a local homewares store. It's best to serve the drink chilled, and preferably in chilled glasses, so keep a bottle in the fridge ready to go. You can then store any extra bottles that you're not using right away in a cool, dark place to keep them in good condition – I keep mine at the bottom of the pantry.
And that's all there is to it. If you're looking for something to do with your left-over lemons, try making some of my Traditional Lemonade. Salute!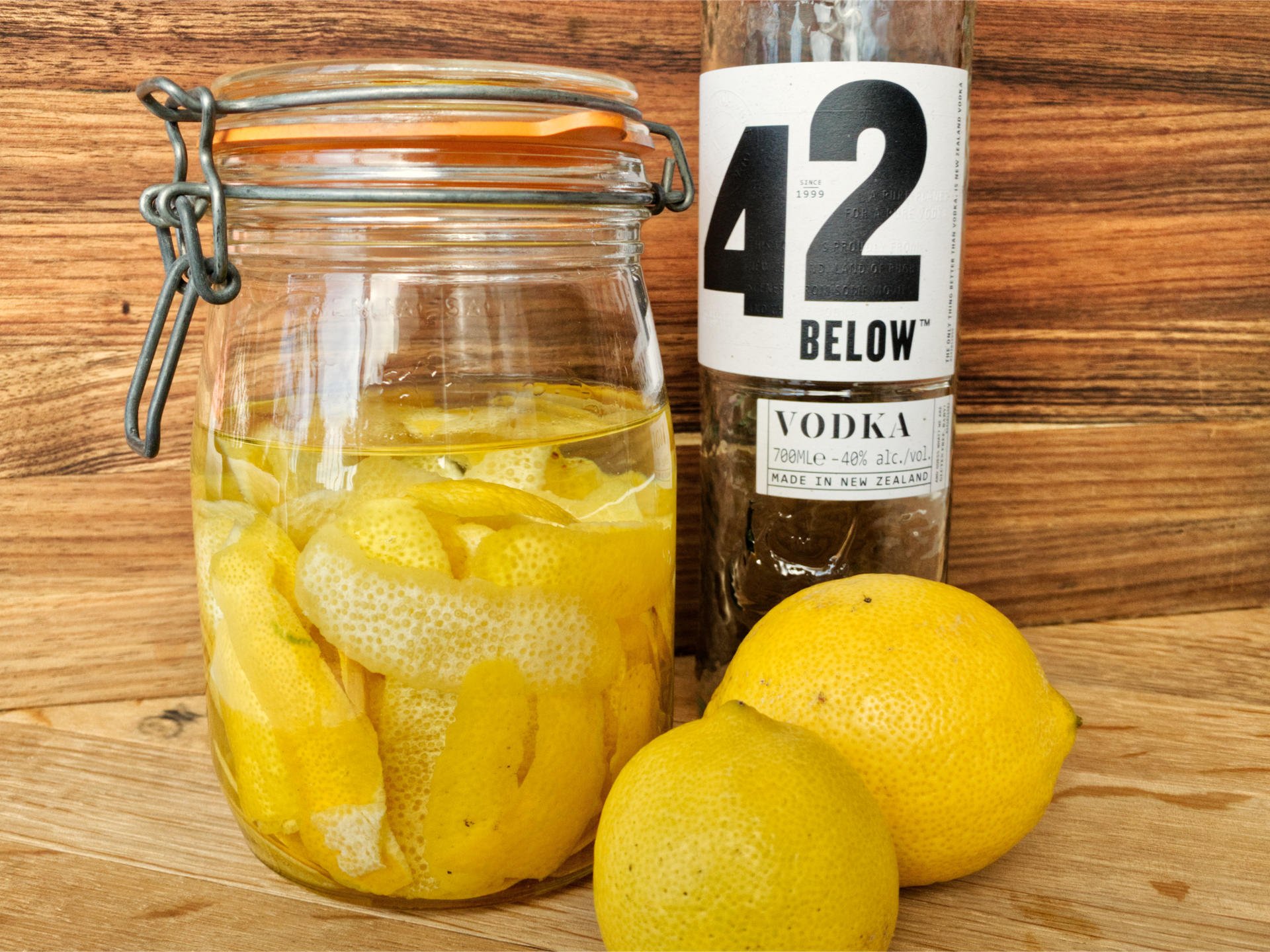 Limoncello
Limoncello is a simple and tasty drink that can be enjoyed after a meal or with friends on a summer afternoon. All you need are lemons, vodka and sugar.
Ingredients
9

large

lemons

700

ml

vodka

,

at least 40% alcohol

800

ml

water

350

g

caster sugar
Instructions
Wash the lemons thoroughly and pat dry with a tea towel. Using a peeler, lightly peel the zest off each lemon, being careful not to remove the white part of the pith. If you have some peel with white, you can use a blunt knife to gently scrape it off.

Place the zest into a large mason jar (at least 1L) that has a tightly sealing lid. Pour the vodka over the lemons, seal the jar and then shake the contents around to mix.

Store the jar in a cool, dark place for about 20 days, until the vodka takes on a rich yellow colour. Every few days, give the jar a light shake to move the contents around.

When the vodka is ready, place the water in a saucepan, add the sugar and warm slightly until the sugar has dissolved. Set aside to cool to room temperature.

Once the sugar syrup is completely cool, use a fine sieve to strain the vodka into the water. Then place the lemon peel back into the mason jar, add a splash of water and shake about to release any remaining vodka from the lemons. Strain this into the sugar syrup and press on the peel lightly to remove all the liqud.

Stir the liquid to combine. Place a funnel in a bottle and then using a ladle, carefully transfer the limoncello from the pot into the bottle. Refrigerate and serve chilled.
Notes
If you want a great way to use up your left-over peeled lemons, check out my Traditional Lemonade recipe.
Calories:
1626.7
kcal
,
Carbohydrates:
220.3
g
,
Protein:
5.3
g
,
Fat:
1.5
g
,
Saturated Fat:
0.2
g
,
Sodium:
35
mg
,
Potassium:
670.7
mg
,
Fibre:
13.6
g
,
Sugar:
186.8
g
,
Vitamin A:
106.9
IU
,
Vitamin C:
257.6
mg
,
Calcium:
138.4
mg
,
Iron:
2.9
mg