Southside Kitchen may earn a commission through affiliate links in this post. Read disclosure.
I can't get enough of these Chocolate Crackle Cookies. They are so delicious I have to keep going back for more! Although they're called chocolate crackle cookies, they've actually got a bit of spice in them that makes them extra tasty. The sweetness of the chocolate and the warming of the spices makes this a great wintertime treat. The yummy spice combination reminds me of German pfeffernüsse – another one of my favourite treats.
The signature crackle pattern comes from being dusted in icing sugar before baking. It makes the final cookies look stunning and great for entertaining. They're also a lot of fun to watch in the oven.
Making chocolate crackle cookies
The crackle cookie mix is very easy to put together. Take note that the butter needs to be softened ahead of time so take it out of the fridge ahead of making the recipe. A quick zap in the microwave will work in a pinch, but be careful not to actually melt the butter. Gradually incorporate all the ingredients, combining well as you go.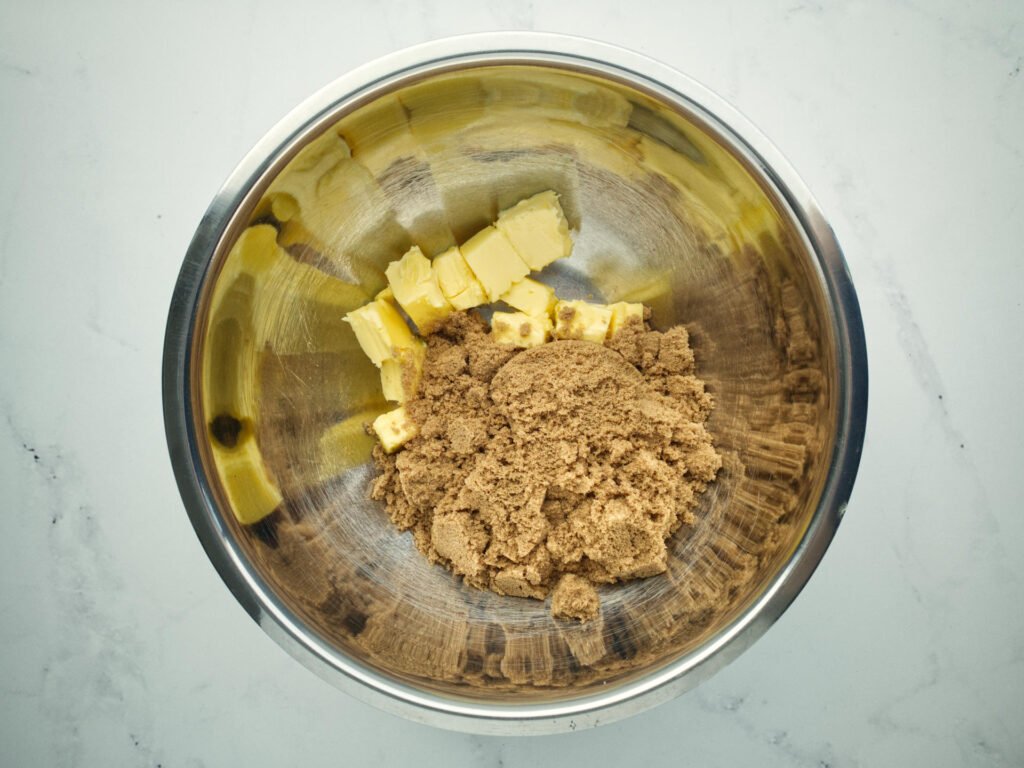 Once all of the cookie mix is combined, it needs to be covered and placed in the refrigerator until firm. It will take about three hours to cool completely, but I usually just make the batter a day ahead and leave it chilling overnight.
Three hours later…
When the chilled mixture is ready, sift some icing sugar into a bowl and prepare a couple of oven trays with baking paper. Taking about a tablespoonful at a time, shape the mixture into a ball in your hands and place it into the icing sugar. Toss it around until it is completely covered. The more icing sugar that sticks, the better the final crackle will be. Don't be fussy about dusting off any excess, it's better to have more than less. These are not treats that are good for your waistline!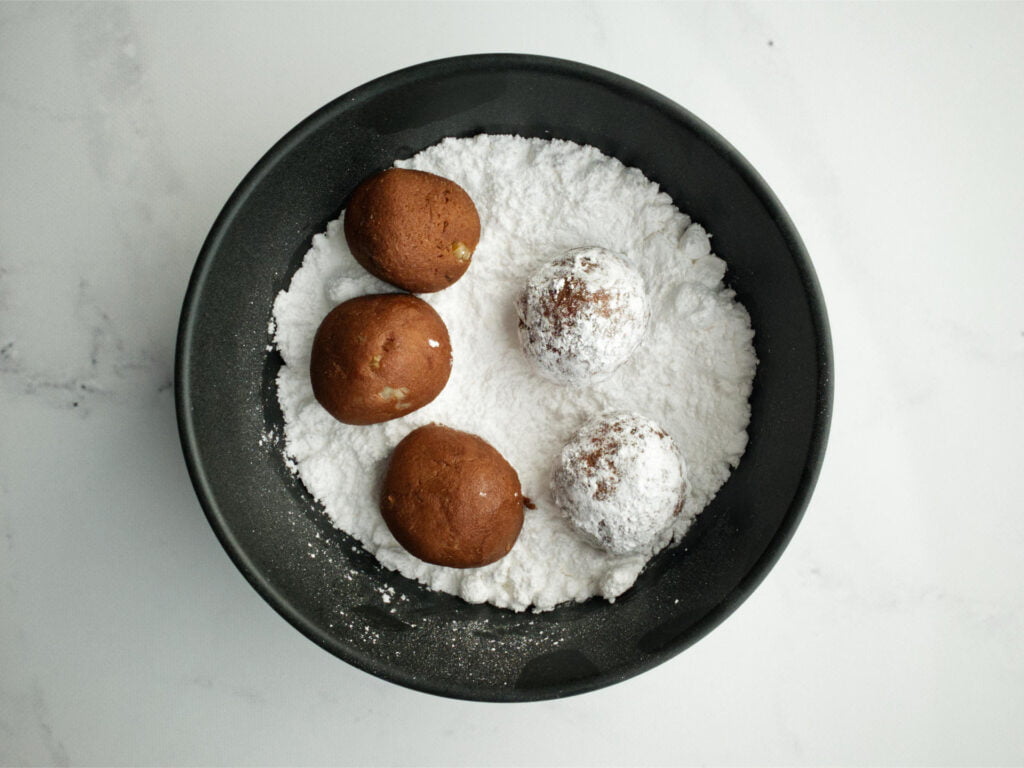 Although it may seem counterintuitive, align the cookies on the tray in an offset pattern. Doing this will ensure that there's optimal air circulation around each cookie and they'll all cook evenly. If you line them up in perfect rows, they'll have some edges that are more baked than others and the cookie texture will be uneven. This little trick rings true for any cookie recipe.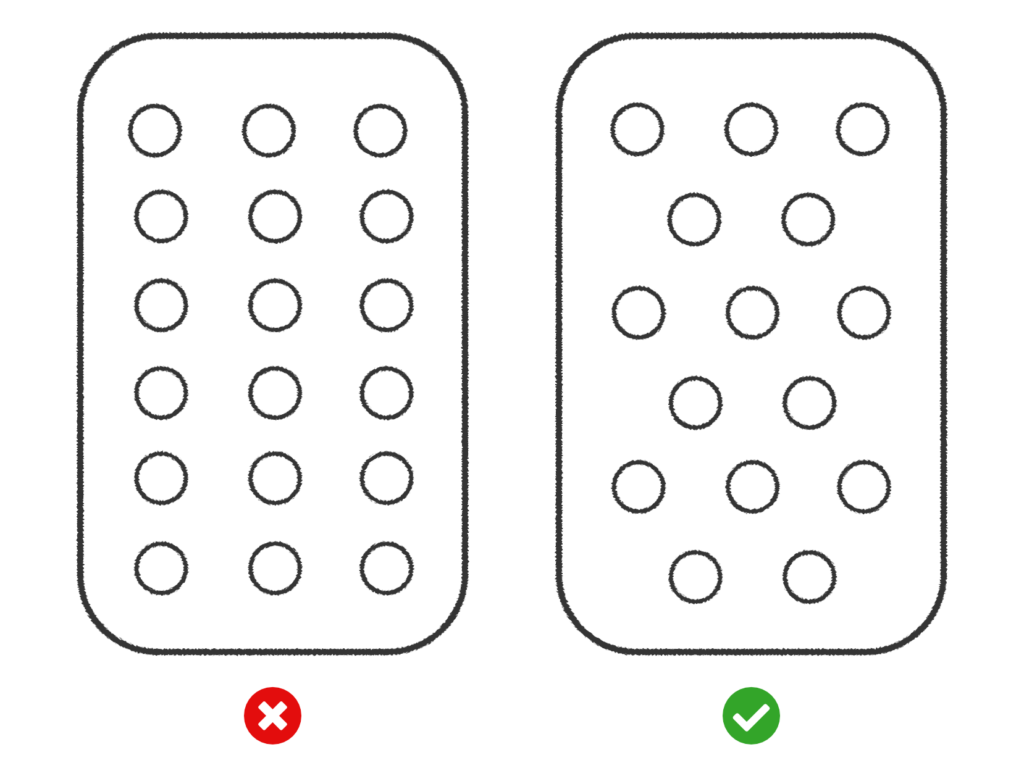 Once the tray is loaded, it's time for the oven.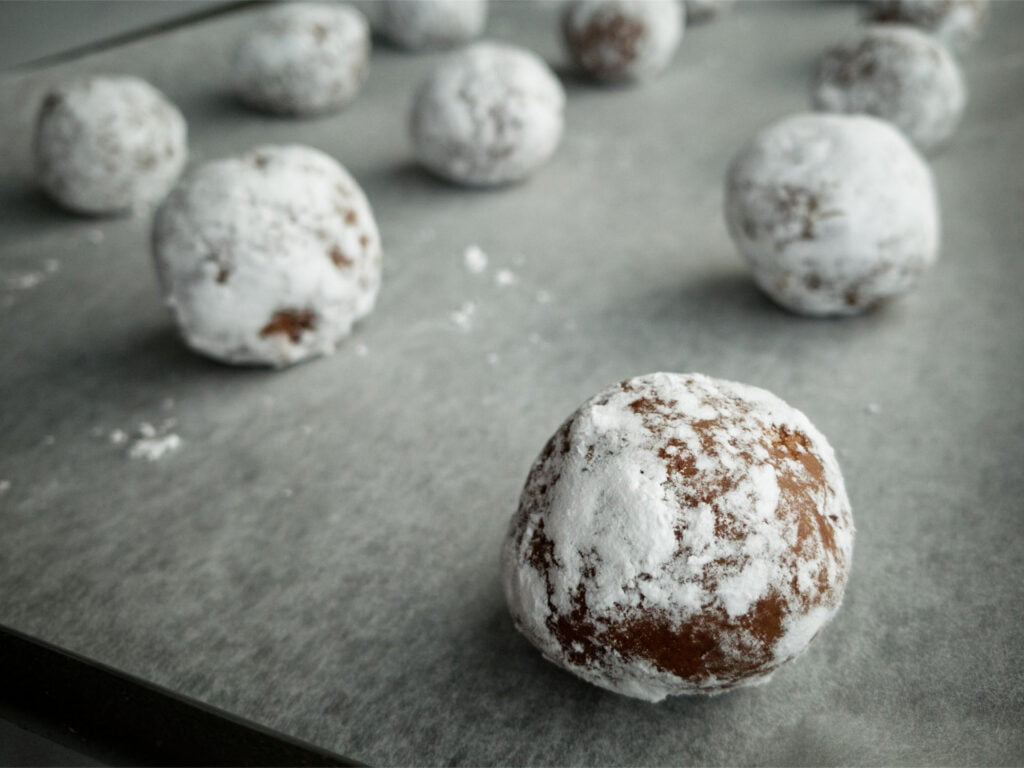 Into the oven
Baking these cookies is the fun part. Place them into a pre-heated 180ºC oven for about 20 minutes. Now sit back and be mesmerised watching them slowly take their crackle shape as they bake. This is a great recipe for kids as it's a lot of fun to check on the progress. Cookie Monster would be very proud of these cookies. Even I'm like a big kid filled with excitement peeking into the oven every few minutes!
Oh, and it's not just a feast for the eyes, as these cookies smell amazing too! A rich spicy aroma will waft through the kitchen and you'll be salivating in no time.
The recipe makes about 40-45 cookies depending on how large you make them. I find that it takes about three batches to get them all through the oven so I like to use two trays and alternate them. While the first tray is resting, the second goes into the oven, etc. Only put one tray in the centre of the oven at a time though. If you put two trays in at once they won't cook evenly.
C is for cookie!
When the cookies are baked and have rested for a few minutes on the hot tray, transfer them to a wire rack to cool completely. The cookies can be eaten warm, but they will taste even better once they've cooled. By the next day the flavours of the cinnamon and ginger will really come through.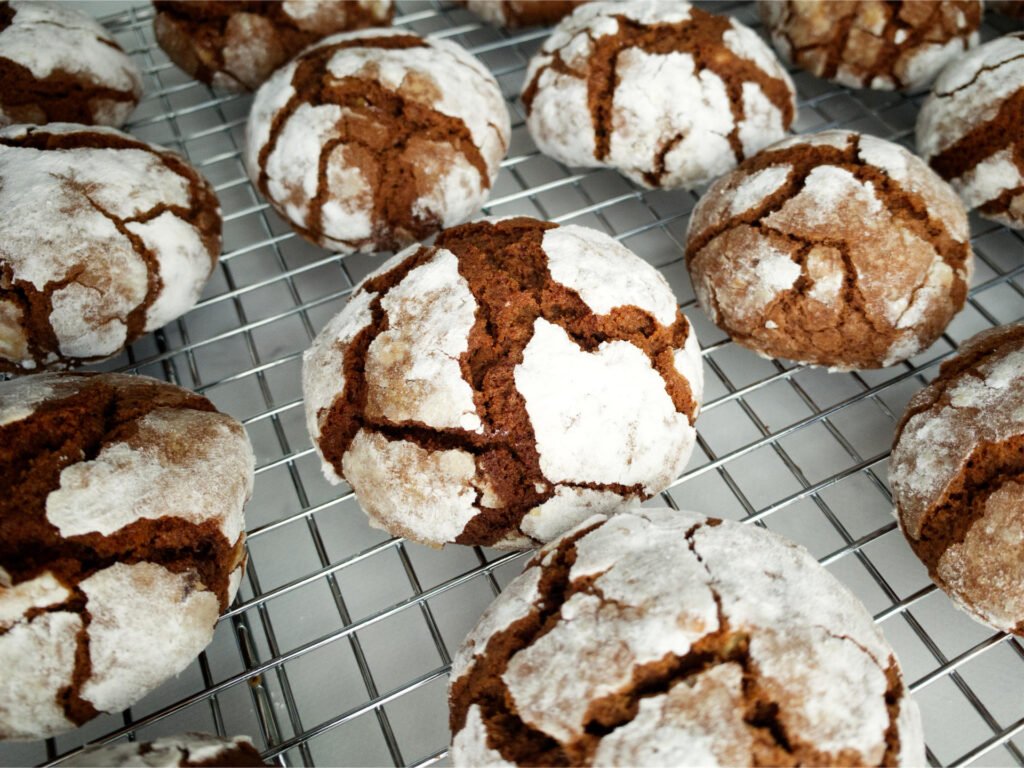 The chocolate crackle cookies can be stored in an airtight container for a couple of weeks. Good luck lasting that long with them in your house, but it's good to know it's an option. If you're in the mood for even more chocolate baking, be sure to check out my Chocolate Brownies or Raspberry and White Chocolate Muffins recipes.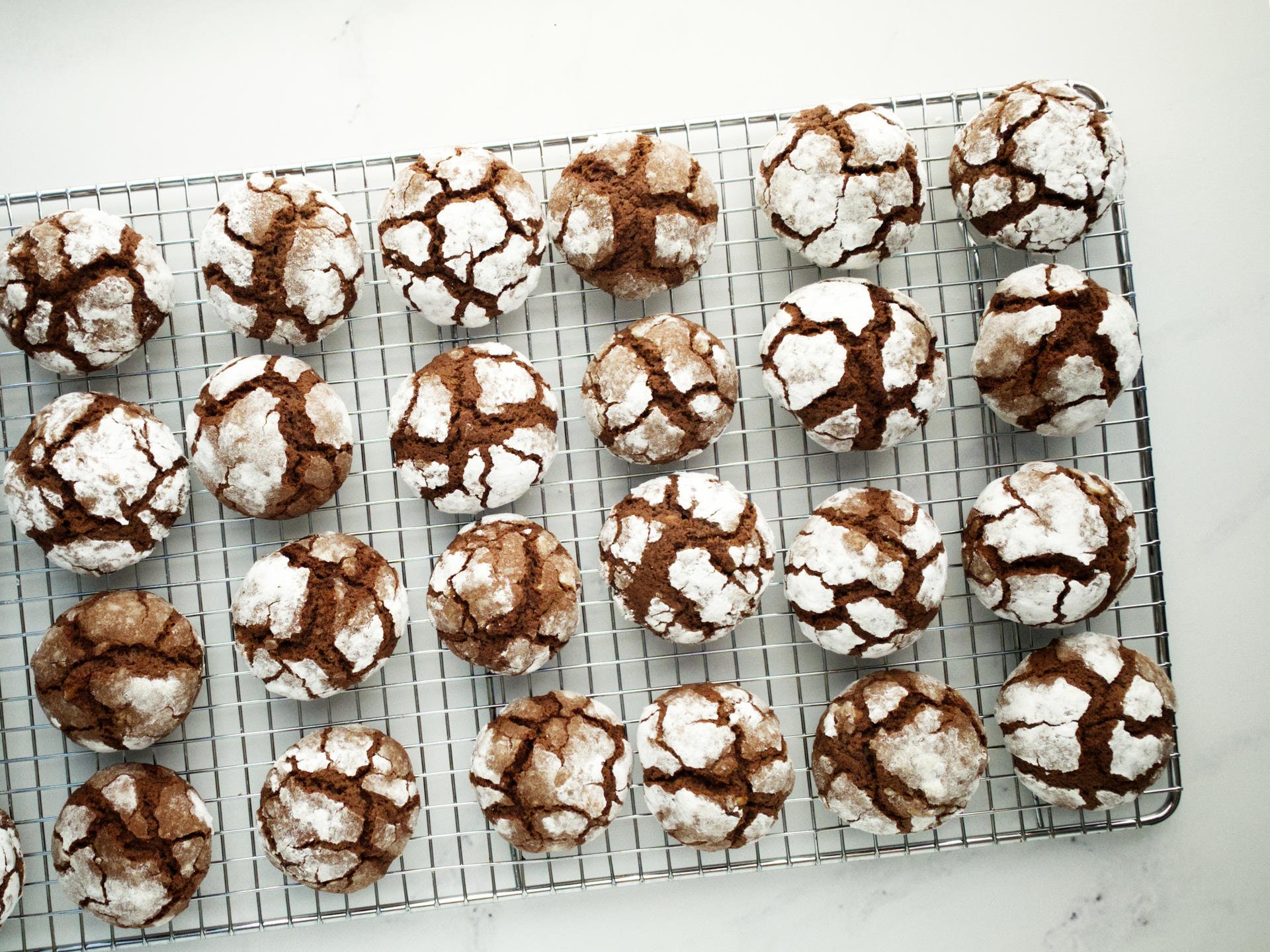 Chocolate Crackle Cookies
I love these Chocolate Crackle Cookies. The sweetness of the chocolate and warming of the spices makes them a great wintertime treat.
Ingredients
125

g

unsalted butter

,

softened

330

g

brown sugar

2

eggs

1

tsp

vanilla extract

60

g

dark chocolate

,

roughly chopped

80

ml

milk

410

g

plain flour

2

tbsp

cocoa powder

2

tsp

baking powder

1

tsp

ground allspice

1

tsp

ground cinnamon

1

tsp

ground ginger

85

g

walnuts

,

roughly chopped

100

g

icing sugar

,

to dust
Instructions
Place the chocolate in a heat-proof bowl, and place over a saucepan of simmering water to melt, careful not to get any steam or moisture onto the chocolate or it will split. Once melted, set aside to cool.

Using an electric mixer, beat the butter and sugar until well combined. Add the eggs, one at a time, beating well after each addition. Add the vanilla, melted chocolate and milk and beat on low for 15 seconds until combined.

Sift the flour, cocoa powder, baking powder, allspice, cinnamon, ginger and a pinch of salt into the butter mixture and use a wooden spoon to combine well. Stir in the walnuts and refrigerate for at least 3 hours, or overnight, until the mixture is firm.

Preheat the oven to 180ºC. Line a couple of large baking trays with baking paper.

Sift the icing sugar into a bowl. Roll tablespoonfuls of the cookie mixture into balls and roll each ball in the icing sugar to coat. Place each ball onto the baking trays, spacing them in an offset alignment. This allows for air circulation and leaves room for the cookies to spread slightly.

Bake for 18-20 minutes or until just firm to touch. Remove from the oven and allow to cool on the tray for 3-4 minutes. Transfer to a wire rack to cool completely.
Notes
When the cookies have cooled, they can be stored in an airtight container for up to two weeks.
Calories:
114.8
kcal
,
Carbohydrates:
18.2
g
,
Protein:
1.7
g
,
Fat:
4.1
g
,
Saturated Fat:
1.8
g
,
Cholesterol:
14.4
mg
,
Sodium:
26.9
mg
,
Potassium:
39.1
mg
,
Fibre:
0.5
g
,
Sugar:
10.2
g
,
Vitamin A:
88.8
IU
,
Vitamin B12:
0.1
µg
,
Vitamin C:
0.1
mg
,
Vitamin D:
0.1
µg
,
Vitamin K:
0.3
µg
,
Calcium:
26.5
mg
,
Iron:
0.7
mg