Southside Kitchen may earn a commission through affiliate links in this post. Read disclosure.
Today I'm talking all about Fish Cakes. A straightforward recipe that creates the most delicious fish cakes you'll ever eat! Served with a side of my Tartare Sauce, they are a tasty meal that can work as lunch, dinner or even a snack-size party food.
I'm always aiming to get more fish into my diet and it's sometimes a bit of an uphill battle. While I really enjoy eating seafood, I'm not a huge fan of preparing it. That's what makes this recipe so great – the fish is very easy to prepare and cook, and there's almost nothing that can go wrong!
So without further ado, let's dive in.
Preparing the fish
The type of fish you use in fish cakes allows for a lot of scope. I say in the recipe that you can use any white fish you like so feel free to experiment. You could go so far as to use any fish at all but my favourite pick is Rockling. It's kind of like an Australian version of eel and similar varieties go by different names around the world. The fish tends to flake in large chunks and is low in oil which is perfect for making fish cakes.
If you can't find Rockling, look for 'ling' or 'kinglip' fish varieties depending on your local availability. Whiting, Luderick or Barramundi are great alternatives. Nevertheless, the recipe will work no matter which fish you choose – and salmon or other non-white varieties will also work just as well.
It's best to buy the fish already skinned unless you're particularly good at filleting your own. About half a kilogram of meat will make 8 fish cakes but the recipe scales very easily so just adjust depending on your requirements.
Now for the simple part… just lay the fish in a large frying pan along with a few bay leaves. Fill the pan with milk and water so that the fish is almost covered. Place a lid on the pan, or cover with some aluminium foil, and bring the mixture to the boil.
Once it starts to bubble, reduce the heat to a simmer and cook for about 4 minutes. Then turn off the heat and allow the fish to stand with the lid on for another 10 minutes. This ensures the fish is cooked through and the milk keeps everything moist.
And that's all for cooking the fish! Easy, right?
The fish cake mixture
While the fish is cooling in the pan, it's time to prepare the rest of the fish cake mix. The filling is essentially mashed potato with spring onion, lemon and parsley. You'll also need some tartare sauce as it helps to bind everything together. I use my own Tartare Sauce recipe for this as the flavour is a perfect complement to this dish so be sure to check it out. It's very quick and easy to whip up a batch but if you don't have time to make your own, you can use a store-bought sauce as a substitute.
The mashed potatoes don't need any special preparation at all. Just peel and place into salted water and boil until they are soft and tender. My trick here is to let them stand in the colander for a few minutes after you drain the water. This dries out the potato flesh making them extra fluffy and preventing the fish cakes from falling apart when cooking.
Then all you do is mash them to a fluffy consistency and combine them in a large bowl with the other ingredients. You'll only need the lemon zest for the fish cake filling but you can serve the rest of the lemon as wedges at the end. For an onion-free alternative, you can simply omit the spring onion from the recipe – they still turn out fine. As with the choice of fish, you can experiment with the ratio of these ingredients to adjust the flavour but I find this recipe is a good balance of flavour and texture.
Finally, drain off the liquid from the fish pan, and crumble the flesh over the top of the potato mixture. Don't be super fussy about breaking it up evenly. Then simply use your hands to roughly combine everything into a thick mixture. Set aside to cool before moving on or you can also chill in the fridge to help speed up the process.
⭐️ Enjoying this recipe? Subscribe to my newsletter to be one of the first to receive my latest updates direct to your inbox.
Crumbing fish cakes
The final step before cooking is to form the mixture into cakes and crumb them. This part can be a little sticky but it's well worth it! Organise your work station so you have three bowls set out with flour, beaten egg and breadcrumbs. You'll also need a clean plate to place the crumbed cakes onto.
Take a portion of the fish mixture in your hands and form it into a fish cake. If you're following the recipe, you'll want to divide the mixture evenly into about 8 cakes but you can make them larger or smaller depending on your personal preference. Ideally they should be a disc shape and about 3 cm thick.
One at a time, roll them in the flour and then in the egg wash before finally dipping them in the breadcrumbs. It helps to gently press the cake into the breadcrumbs to get an even coating. Transfer to a plate and then cover and place in the refrigerator for at least 30 minutes. Chilling the fish cakes like this helps them to keep their shape when frying.
If you want to make this recipe ahead of time, this is also where you can pause and store the prepared fish cakes in the fridge until needed. It's a great way to have dinner ready to go with almost no lead time so it's a perfect meal to serve to dinner guests.
Plating up
Once the fish cakes have been crumbed, cooking them is extremely quick and easy. Place a large non-stick frying pan on medium heat. Fill it with vegetable oil until it comes to about 7-8 mm up the side of the pan. Once the oil has heated, gently place the fish cakes into the pan and cook for 5 minutes before turning. Then cook for another 5 minutes and transfer to a plate for serving.
It's important to be safe when cooking with hot oil like this. Be sure not to have the temperature too high otherwise the fish cakes will burn and you will risk the oil bubbling too rapidly. Place the fish cakes into the pan gently using metal tongs or a metal spatula. Some plastic kitchen utensils can melt in the hot oil which is definitely something to avoid! Finally, when lowering any food into hot oil, always angle it away from you so that if it accidentally falls into the pan, it is less likely to splash oil in your direction.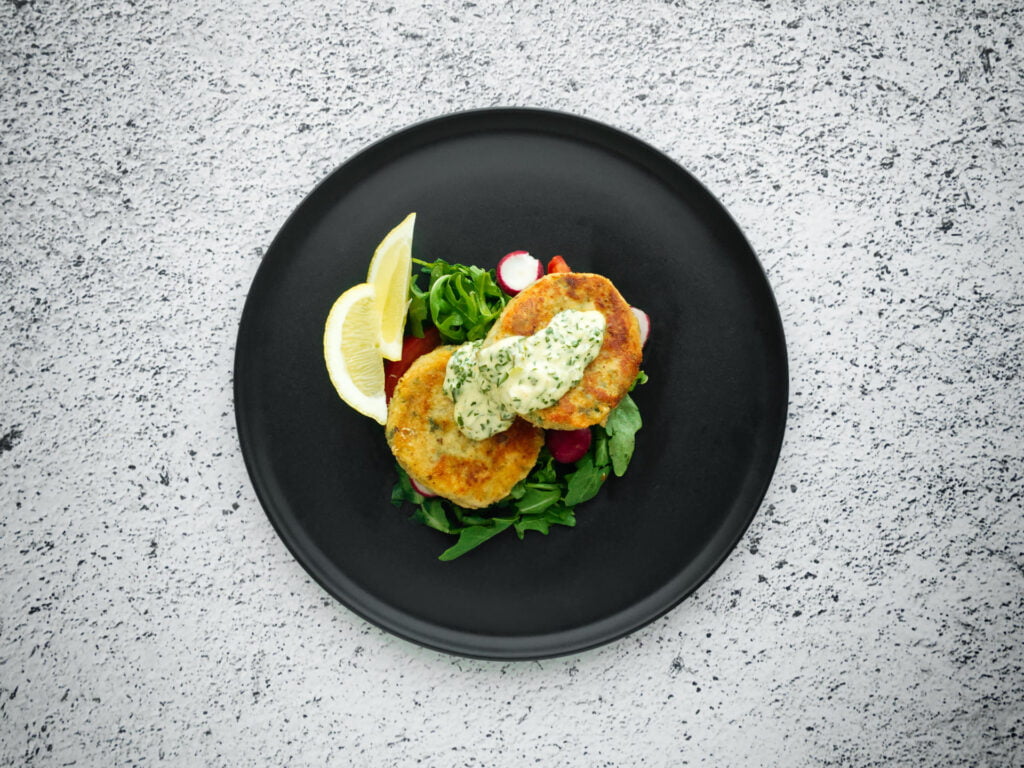 The fish cakes are ready to be eaten as soon as they come out of the pan. I like to serve them with a simple green salad, a side of lemon wedges and some extra Tartare Sauce. If you made a batch of my sauce, you will have plenty left over to serve alongside the meal.
These fish cakes also go well with vegetables like mushy peas or a side of roast potatoes. If you need some inspiration, check out my Braised Dutch Carrots and Baby Peas or Roast Potatoes with Sage and Garlic recipes.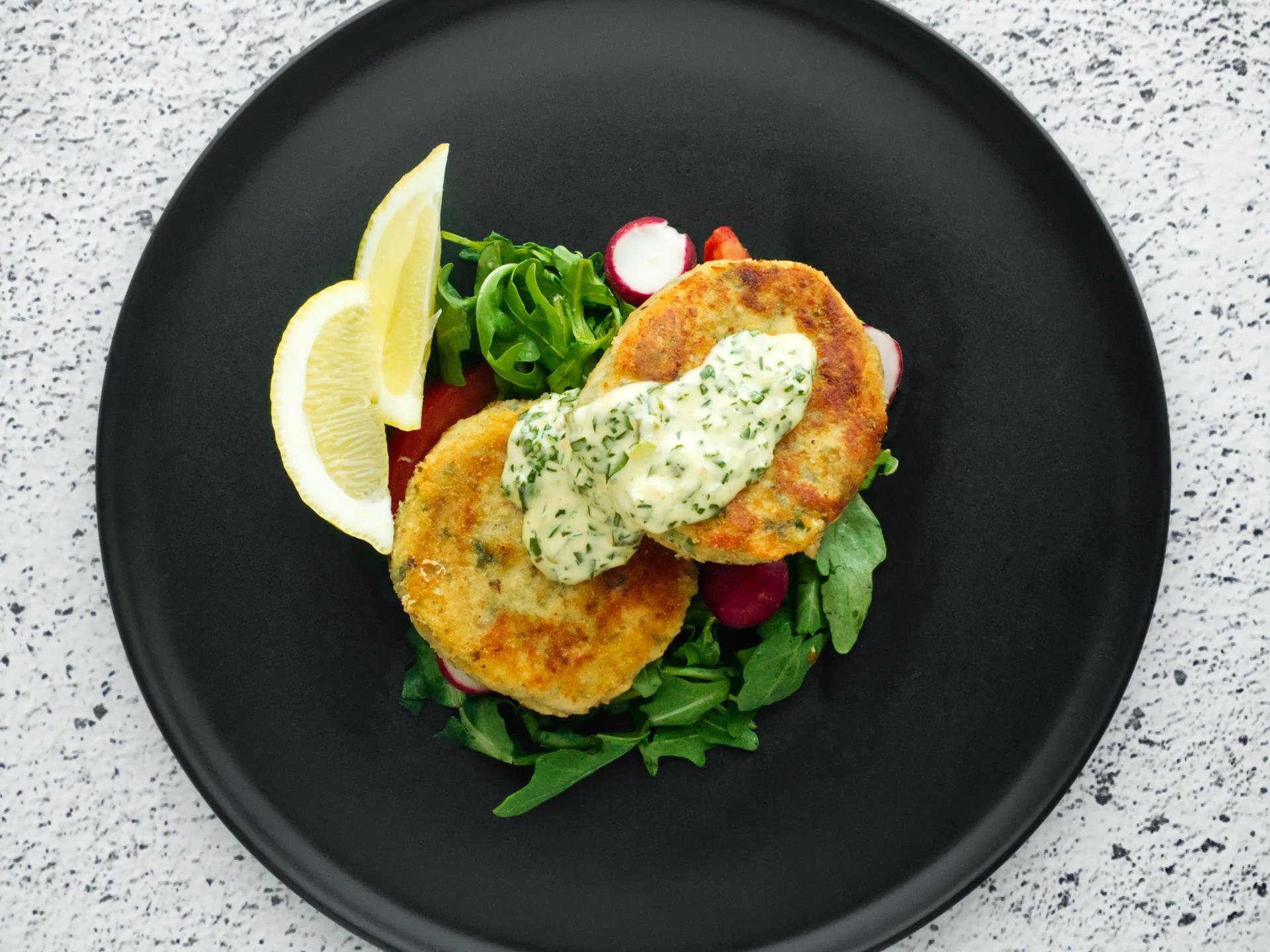 Fish Cakes
A simple recipe with foolproof preparation that creates the most delicious fish cakes every time. They're the best you'll ever eat!
Ingredients
500

g

white fish fillets

,

skinned, Rockling or similar

3

bay leaves

150

ml

milk

150

ml

water

500

g

potatoes

,

peeled and roughly diced

½

tsp

lemon zest

2

spring onions

,

finely chopped

2

tbsp

parsley

,

finely chopped

200

g

tartare sauce, see recipe (

1

batch)

sea salt

,

to season

black pepper

,

to season

50

g

plain flour

1

egg

,

lightly beaten

150

g

breadcrumbs

vegetable oil

,

for shallow frying
Instructions
Lay the fish in a large frying pan with bay leaves, milk and water. Cover and bring to the boil, then lower the heat and simmer for 4 minutes. Remove from the heat and let stand, covered, for 10 minutes to gently finish cooking the fish.

Meanwhile, place the potatoes into a pot of boiling salted water and simmer until just tender. Drain the potatoes in a colander, allowing them to stand in the colander for a few minutes to dry out. Then return the potatoes to the pot and mash to a fluffy consistency.

Lift the fish out of the milk with a slotted spoon and set aside on a plate to cool slightly.

Transfer the potatoes to a large mixing bowl and add

2

tbsp of the tartare sauce, the lemon zest, spring onions and parsley. Season with salt and pepper to taste.

Drain off any excess liquid from the fish and, using your hands, roughly flake it into the potato mix. Continue to gently mix using your hands until the fish and potatoes are roughly combined. Set aside to cool to room temperature.

Prepare a crumbing station using 3 bowls – one each for the flour, beaten egg and breadcrumbs.

Divide the fish mixture into

8

portions and carefully shape into cakes about 3cm thick. One at a time, roll in the flour then dip into the egg to coat. Finally, place into the breadcrumbs and press gently to coat on all sides. Transfer to a plate, cover and refrigerate for 30 minutes.

Heat the oil in a large non-stick frying pan over medium heat. Fry the fish cakes for 5 minutes on each side, or until golden and crispy. Serve immediately with the remaining tartare sauce, lemon wedges and a leafy green salad.
Calories:
341.4
kcal
,
Carbohydrates:
34.2
g
,
Protein:
18.6
g
,
Fat:
14.6
g
,
Saturated Fat:
7.8
g
,
Trans Fat:
0.1
g
,
Cholesterol:
55.3
mg
,
Sodium:
504
mg
,
Potassium:
566.4
mg
,
Fibre:
2.8
g
,
Sugar:
3.8
g
,
Vitamin A:
277.8
IU
,
Vitamin B12:
1.2
µg
,
Vitamin C:
15.7
mg
,
Vitamin D:
2.3
µg
,
Vitamin K:
47.9
µg
,
Calcium:
88.8
mg
,
Iron:
2.5
mg